Click here to get this post in PDF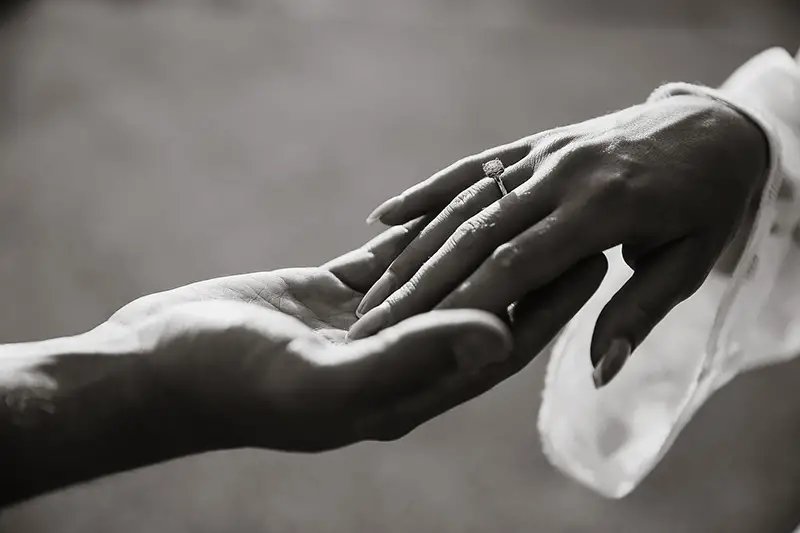 If you're not mindful of your appearance, you give the impression that you don't care about your job, even if this isn't true. Unfair as it may seem, people make impressions based on what they see, so it's in your best interest to avoid having an unkempt appearance. Make sure everything looks consistent, you use the right colors, and that you're portraying a strong message. Clothing, as well as accessories, can communicate a great deal about your character. Chances are that you haven't given too much thought to what your engagement ring means for your working life. After all, why should this small, delicate accessory impact your potential as a job candidate? 
Whether you're trying to land a job or climb up the career ladder, do your best to make an excellent impression. It takes just a quick glance for someone to evaluate you. Their opinion will be based on your appearance, besides your body language, demeanor, mannerisms, and how you're dressed. You know as well as we do that an engagement ring isn't a mere piece of jewelry. It can change what people think of you. Your jewelry is part of your consciousness, so you should better use it the right way. Picking the right piece for the workplace is no easy task, just to be clear. 
An Engagement Ring Is a Sign of Stability
An engagement ring is a sign of love, dedication, and commitment. Wearing the ring on your finger sends the message that you're a well-rounded person. You keep calm under pressure while practicing dignity and grace. An employer doesn't have to worry that you'll drop out of work, so an engagement ring can improve your odds of getting hired. It may sound old-fashioned, but society treats you differently just because you take your relationship seriously. You're treated as an equal, not a kid. People who are about to wed work harder and more strategically. You're seen as more responsible and dedicated to the profession. 
When it comes down to interviewing and negotiating in the workplace, women are judged for and by the engagement rings on their fingers. Hard as this may be to believe, it's the truth. Perception is reality, so decide what you want people to say about you. Your relationship status positively impacts the way you're viewed, so effectively communicate your commitment and illustrate your accomplishments. Even if you have a perfect track record, the ring on your finger is a detail that matters. Wear it with pride. Your resume has made the screening process, so make the most of this opportunity. No matter what you do, look polished. Opt for sleek styling and elegant touch.  
If You Have a Sizeable Ring on Your Finger, You'd Better Lose It
Wearing a diamond to a job interview isn't such a good idea. People make snap judgments and will automatically assume that you're wealthy. This, in turn, has an impact on salary negotiations. The engagement ring can make you look conspicuous. The point is that wearing eye-catching jewelry sends the wrong message. No one will believe that you actually need the job. Of course, no employer will ever admit to this reality. It's recommended to ditch any piece of jewelry that looks too expensive. The last thing you want is attention, questions, and judgments. Every accessory should be chosen with great care. 
You might be tempted to think that this is nonsense. It's not. And it's certainly not sexist advice. A flashy engagement ring may not suit your lifestyle. If you're thinking about changing yours, you can easily access jewelry from around the world at competitive prices online. Baunat jewelry, for instance, is simple, relatively inexpensive, and goes with whatever you're wearing. An ever-increasing number of couples are opting for engagement rings that are simple, underrated, and classic. What do you say? The ring is less likely to get damaged and you don't have to worry about thieves. Keep it simple. 
Some Employers Don't Notice Or Care If You Wear Expensive Jewelry 
The good news is that there are dozens of companies and organizations that don't pay attention to such details. So, it doesn't really matter what you wear for the interview. In addition to being polite, you need to show that you're open to new approaches. Communicate that you're flexible in thinking and can come up with new solutions. Experience matters in whatever you do. Instinct analysis, together with proven expertise, helps you get ahead in life. Experience is good for personal branding and increasing the perception of competence. Take the time to learn more about your own strengths and weaknesses. 
Final Thoughts 
An engagement ring, jewelry for that matter, makes you seem more competent and you'll be treated seriously. To put it simply, it helps you achieve better results. You can boost your status and respect. The accessory informs others about your ambitions, emotions, and habits. Not only does it bring light in your everyday life but also at work. Some people look at the deeper meaning of your choices, so use your engagement ring to change how others think about you. No matter what you do, it has to be a personal decision. Make it when you're ready and in your own time. Get the right job, with the right people, in the right place. 
Capability and knowledge aren't the only things that matter in the world of business. It's just as important to dress well. The way you dress, your expression, and the way you communicate with people are important for your career. From now on, don't go into wearing your favorite piece of jewelry without knowing the benefits (or drawbacks). With the information discussed earlier, it's pretty clear that the engagement ring isn't a mere accessory. It can change your career path. No one is going to develop a career for you, so it doesn't happen by chance. Leverage your strengths and build confidence. Don't compare yourself to others; it's best to rely on your own self-reflection. Also, don't forget about your soft skills.
You may also like: 7 Tips for Women Looking to Climb Up Further in Their Careers
Image source: Pixabay.com