Click here to get this post in PDF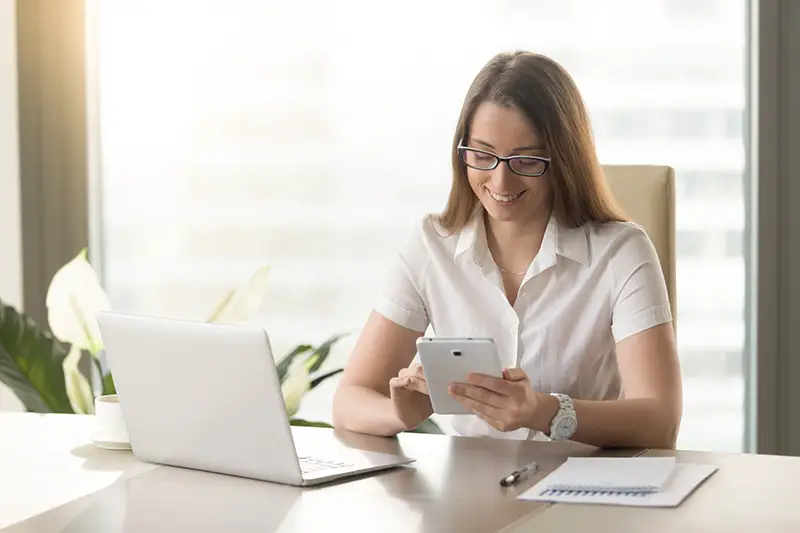 Women have always faced discrimination in the workplace, but thanks to the determination and perseverance of trailblazers throughout history, building a fulfilling career in nearly every industry is now possible. While you may face additional challenges that your male colleagues will never have to think about, you can still rise above them and climb the ladder. 
If you're ready to take the next step in your industry but aren't quite sure what that is, then it's time to sit down and do some planning. Here are 7 tips you can use to get started and advance your career.
1. Always Negotiate Your Salary
Although sweeping gender stereotypes rarely tell the whole story, it's fair to say that men are generally more comfortable negotiating their salaries. Women are much less likely to do so, with one report from Randstad finding that almost 60% of women don't do any kind of negotiation over their pay. 
Employers expect you to negotiate. Not only are you leaving money on the table, but you're missing an opportunity to showcase your value and your willingness to have professional discussions. Negotiation doesn't make you demanding—it makes you smart and business-savvy.
2. Make Sure an MBA Is Necessary (And Find Out If Your Work Will Pay For It)
Many women fall into the trap of thinking that they need more and more education before they can advance in their careers. This isn't always true, though. Sometimes, you just need to gain experience and confidence before climbing the ladder. 
In some cases, however, an advanced degree like an MBA may be very helpful or even necessary for your career path. It's a good idea to do some research before you sign on to an MBA program so you can find out if it's necessary and choose the right school for you. Also, find out if your employer will pay for it—it can't hurt to ask!
3. Find a Mentor at Work 
Learning from others with more experience is one of the best ways to climb the corporate ladder and to build a lasting professional relationship. See if you can find a mentor at work to help guide you and help you build your skillset. If possible, it's always a good idea to find a female mentor who can identify with your specific challenges.
4. Be Your Own Advocate
You might have to fight for what you deserve in a corporate environment, especially as a woman. Don't expect others to advocate for you—you may be disappointed and find yourself stuck. Instead, vow to be your own advocate. 
If you are subjected to inappropriate behavior from colleagues, talk to HR. Ask for raises when you deserve them. Put yourself up for open positions. You have to be proactive and confident to climb the ladder.
5. Network & Attend Business Events for Women
Other women will be your best support system as you build your career. It's a good idea to network as much as you can throughout your career. You never know who will become a good friend or help you find your next job! 
Business events specifically for women can also be a great way to get inspired and learn. You'll have plenty of networking opportunities, and you'll learn tips and tricks to thrive in the workplace. Plus, these events can be a ton of fun!
6. Mind Your Public Appearance and Use Your Socials to Further Network & Excel 
Remember, everything you say and do online is potentially there forever. Even if you delete something, it may not be gone for good. So be smart about what you post online and mind your public appearance. 
On the other side of the coin, you can use your social media profiles to help you in your career. There are networking and learning opportunities everywhere!
7. Work Smarter, Not Harder
It may be a cliché, but it's true: working smarter, not harder, will help you to succeed. So as you build your career, look for areas where you can optimize your performance without putting in extra hours.
Are you more productive an hour after your morning coffee? Knock out the toughest tasks then and leave something easier for the afternoon slump. Automate as much as you can and delegate when it's appropriate. 
Many women work harder than they need to in order to climb the corporate ladder. But if you instead focus on working smarter and more efficiently, your performance will improve, and you'll still have time and energy for yourself after work so you can rest and recharge.
You may also like: How To Choose The Right Career
Image source: Dreamstime.com