Click here to get this post in PDF
A business model canvas utilizes nine building blocks to illustrate how an organization delivers value.
Use the business model canvas as a diagnostic tool to visualize the current state of a business, especially to show the relative amounts of energy, time, and resources that are invested in various areas. 
As a planning and monitoring tool, use the business model canvas to understand inter-dependencies and priorities among groups and initiatives. This allows stakeholders to see where an enterprise is investing, where a particular initiative fits into the business strategy, and how that initiative relates to other initiatives.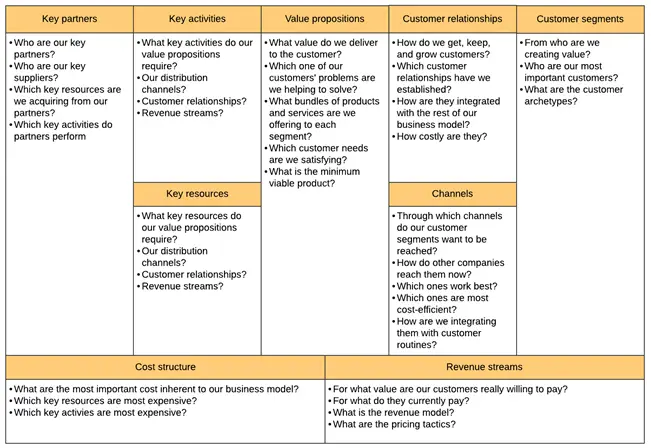 Nine building blocks of the business model canvas
Key partnerships: Sharing proprietary information or technologies can lead to formalized relationships such as mergers and acquisitions.
Key activities: Key activities are critical to the creation, delivery, and maintenance of value. 3 types of activities are:
Value-add: Characteristics, features, and activities for which customer is willing to pay.
Non-value-add: Aspects and activities for which the customer is not willing to pay. For example, the need to meet regulatory requirements, or costs associated with doing business.
Key resources: Assets needed to execute a business model. There are different types of key resources, including:
Physical: Applications, locations, or machines.
Financial: Cash and lines of credit.
Intellectual: Proprietary knowledge, patents and copyrights, customer databases, and brand.
Human: People.
Value proposition: The unique combination of products and/or services that a customer is willing to pay for in order to meet a need.
Customer relationships: How customers are acquired and retained. 
Channels: Different ways to interact with and deliver value to customers. Can be communication-oriented (e.g. marketing channel), or delivery-oriented (e.g. distribution channel), sales, and partnering channels.
Channels are used to:
Raise awareness about offerings.
Help customers evaluate the value proposition.
Purchase goods or services.
Provide support.
Customer segments: Customers with common needs and attributes. Analyze each segment to ensure that customer needs are being addressed effectively and efficiently.
Cost structure: Associated costs for every entity, product, or activity within an enterprise. This includes understanding different types of business models, differences in types of costs and their impact, and where the enterprise is focusing its efforts to reduce costs. check out the Business analyst article here for information on it. 
Revenue streams: A way or method by which revenue comes into an enterprise from each customer segment. Revenue can be categorized in two basic ways: 
One-time purchase of a good or service:
Sales: Grants ownership rights to customers for the product.
One-time license fees.
Recurring revenue from periodic payments for a good, service, or ongoing support:
Recurring licensing or subscription fees: Customer pays for right to access a particular asset as a recurring cost.
Transaction or Usage fees: Customer pays each time they use a good or service.
Lending, Renting, or Leasing: Customer has temporary rights to use an asset.
Business Canvas Model Summary
Strengths
Easy to understand and simple to use.
Allows stakeholders to understand and optimize business models.
Maps initiatives back to the strategy of the enterprise.
Limitations
Does not account for social and environmental impacts.
Does not provide insights for the business strategy.
Does not include the strategic purpose of the enterprise.
Business Model Canvas Example
A business model canvas for an IT consulting and services company could look like this:
Key partners
Solution development firms
Digital marketing/automation firms
IT infrastructure (cloud computing) firms
API technology providers
Big data and analytics firms
Key activities
Software development
Software implementation
Software testing
Enhancement and software maintenance (Post-implementation support)
Project execution across geographies and industry segments
Consistent engagement with partners and product engineering teams
Key resources
Humans-web application and development
Finance
Physical assets
Intellectual resources
Cost structure
Capital investments-IT infrastructure
Development costs
Sales and marketing
Value propositions
Develop unique solutions to address complex business challenges
Create and execute strategies for their digital transformation
Enhance client operations and streamline their business processes
Create value through sustainable innovation
Deliver extraordinary software projects based on the latest technology
Provide cost effective and user friendly solutions
Customer relationships
Personalized and contextualized content/service
Enhanced customer engagement and loyalty
Business friendly products and services
Seamless digital experiences in all interactions
Channels
Website
Social networks
Networking
Partner channels
B2B interactions
Digital marketing
Customer segments
Financial services
Manufacturing
Energy & utilities, communication and services (ECS)
Retail, consumer packaged goods and logistics (RCL)
Life Sciences, Health Care and Insurance (HILIFE)
Hi-Tech
Revenue streams
Application development and maintenance
Consulting services and package implementation
Business process management
Infrastructure management
Product engineering services
Use Lucid chart's free business model canvas template to create your own business model canvas: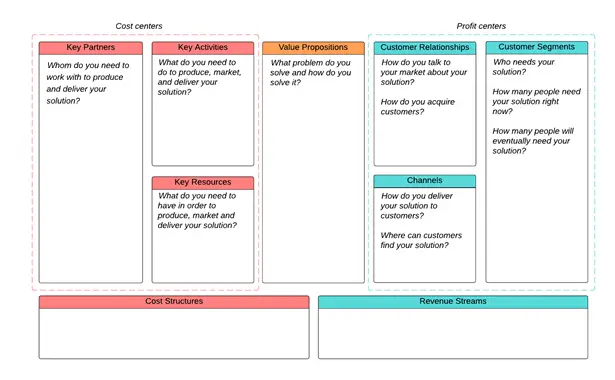 About Adaptive US
Adaptive US is an IIBA EEP with a number of deliverables. It is the only training organization that provides IIBA certification training with Success Guarantee. Adaptive is World Leader in CBAP  which is acknowledged as World's #1 BA certification.
Adaptive's first attempt success rate is more than 95%. Currently Adaptive prides itself in helping thousands of business analysts around the world in improving their business analysis careers.
You may also like: How Your Business Can Benefit from Using Data Analytics Services