Click here to get this post in PDF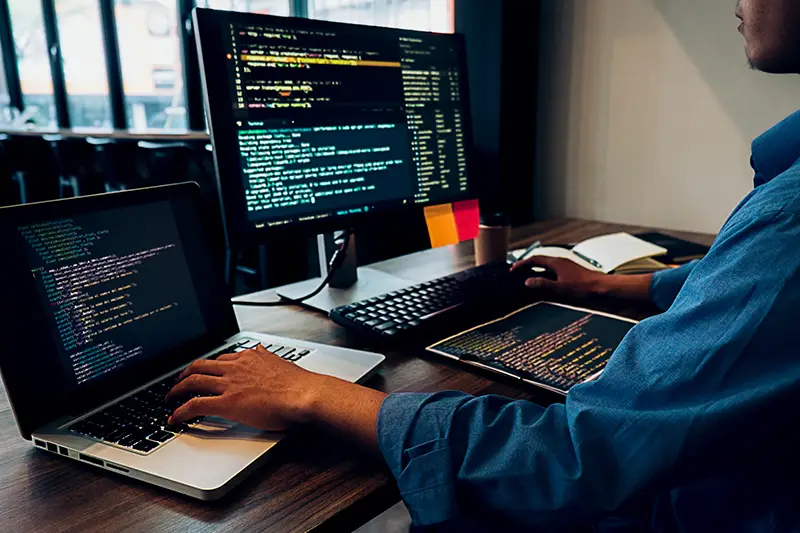 In today's hyper-competitive business landscape, achieving and maintaining operational excellence is crucial for success. For companies looking to stay ahead of the curve, continuous improvement software solutions offer an innovative approach to streamlining processes, reducing costs, and enhancing overall efficiency.
By exploring the benefits of adopting a culture of continuous improvement through modern software solutions, you'll gain valuable insights into how your organization can reach new heights in performance and productivity.
Features Of Continuous Improvement Software Solutions For Operational Excellence
Continuous improvement software solutions for operational excellence offer real-time monitoring, automated workflows, automated recruitment, root cause analysis, and analytics and data visualization to streamline processes and improve overall efficiency.
Real-time Monitoring
Real-time monitoring is a critical feature of continuous improvement software solutions, essential in achieving operational excellence. By continuously tracking and analyzing specific performance indicators, businesses can identify inefficiencies and opportunities for process improvements.
For instance, imagine a manufacturing company using real-time monitoring to track production metrics such as machine downtime or defect rates. This information allows management to pinpoint bottlenecks or technical issues that may be causing delays or compromised product quality.
Automated Workflows
Automated workflows are a crucial feature of continuous improvement software solutions for operational excellence. Organizations can optimize their business processes and effectively enhance overall efficiency by streamlining and automating routine tasks.
With automated process management, businesses can seamlessly assign tasks, manage deadlines, and track progress without the need for manual intervention or excessive communication.
Root Cause Analysis
Root cause analysis is a pivotal feature of continuous improvement software solutions, significantly contributing to operational excellence. This method involves identifying the underlying reasons for problems or inefficiencies within an organization's processes, ultimately allowing businesses to address and eliminate these issues at their core.
For example, consider a manufacturing company experiencing frequent delays in production due to equipment malfunctions. Instead of solely focusing on fixing the machinery each time, a continuous improvement software solution would allow them to perform root cause analysis and discover deeper issues—such as improper maintenance schedules or inadequate operator training—that might be causing these breakdowns.
Analytics and Data Visualization
Analytics and data visualization are crucial features of continuous improvement software solutions for operational excellence. These tools allow for analyzing complex data sets, identifying trends, and gaining a deeper understanding of business operations.
Additionally, dashboard reporting provides real-time monitoring and easy-to-digest visualizations, which enable data-driven decision-making. For example, quality management software can automatically capture real-time production data and present it in user-friendly graphical formats.
This makes it easier for managers to quickly understand how well their operations perform at any given moment, enabling them to make better decisions about improving efficiency or reducing costs over time.
Benefits Of Implementing Continuous Improvement Software Solutions
Implementing continuous improvement software solutions has several benefits, including improved efficiency, reduced costs, enhanced quality, and better decision-making.
Improved Efficiency
Implementing continuous improvement software solutions can greatly enhance operational efficiency. These software solutions provide real-time monitoring, automated workflows, root cause analysis, and analytics that enable businesses to identify areas for optimization and improvement in their processes.
By focusing on improving process efficiency through the use of continuous improvement software solutions, companies can reduce costs and increase productivity. Such a shift toward lean manufacturing has already proven successful for many organizations today.
Reduced Cost
Implementing continuous improvement software solutions can significantly reduce costs associated with operational inefficiencies. These solutions enable organizations to identify areas of waste and streamline processes, leading to increased productivity and reduced expenses.
For example, businesses can use data analysis tools to evaluate their performance metrics and quickly identify improvement areas.
Furthermore, utilizing root cause analysis features can help companies get to the bottom of problems more efficiently. Instead of treating symptoms, they can address underlying issues effectively, thereby reducing recurring costs.
Enhanced Quality
Continuous improvement software solutions are designed to enhance the quality of organizational processes and outcomes. By facilitating real-time monitoring and analysis of operational data, these solutions can help organizations identify areas for improvement, reduce waste, and increase efficiency.
For instance, companies can use such software to track their inventory levels in real-time, thereby enabling them to respond quickly to fluctuations in demand.
Moreover, implementing continuous improvement software solutions helps organizations make better decisions by providing them with comprehensive analytics and Data visualization tools.
Such tools enable companies to gain greater visibility into their operations and performance by generating customizable reports on key metrics related to process optimization, quality management, efficiency improvement, and decision-making.
Better Decision Making
By implementing continuous improvement software solutions, businesses can enhance their decision-making capabilities related to operational excellence. These systems provide real-time monitoring and automated workflows that help identify areas for improvement and optimize processes.
For example, lean methodologies can be used to streamline operations, root cause analysis identifies the source of problems so they can be fixed quickly, and quality management ensures consistent results through the standardization of processes.
The agile methodology supports iterative development cycles that enable teams to prioritize workloads efficiently while decision support systems provide vital input into key decisions affecting overall strategy.
Conclusion
In today's fast-paced business environment, achieving operational excellence is crucial to staying ahead of the competition. Continuous improvement software solutions are the future of streamlining processes and improving overall efficiency.
Although implementing these solutions may pose some challenges initially, overcoming them will give your organization an advantage in an increasingly competitive marketplace.
You may also like: Some Essential Software for Your Business
Image source: Depositphotos.com