Click here to get this post in PDF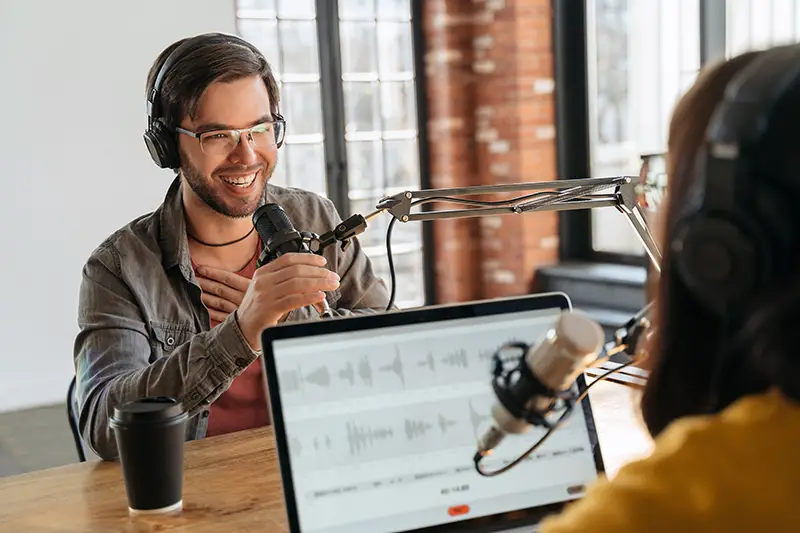 Ready to launch a private podcast for your company but confused about the process? We've all been there! Starting a corporate podcast involves a lot of planning. You have to motivate yourself, think of a target audience, pick a name, and so on. So many things to consider!
Well, that's why this guide is for you. It explains how to launch a private podcast. This article also addresses how to publish and post your podcast on an engaging platform.
Podbean's Private Podcast Platform for Corporations is our top choice because of its suitability for beginners and professionals. 
Interested in getting started? We've categorized everything you need to learn into six simple sections: 
Planning the podcast
Creating the podcast
Recording the podcast
Editing the podcast 
Decide on podcast hosting
Promoting the podcast 
1. Planning the podcast
Whether it's private podcasting for your employees, team members, or designated customers, it's important to plan well. Failure to prepare is preparing to fail. In the planning stage, you confirm your reason for the internal company podcast and what you aim to achieve.
Other important considerations are: 
Picking a niche: The niche should be your company's industry, except you are starting a corporate podcast for customers or an external audience. 
Pick a podcast title: Pick a catchy name that resonates with the internal communication podcast ideas. 
Determine schedule: How often do you plan to release new podcast episodes? Using podcasts in large companies for communication requires regular intervals before the next release. Let your employees know when to anticipate a new episode. That way, they prepare their time and mind to listen to you.
Decide podcasts' length: For starters, you might want to keep your episodes short. A little above 20 mins is enough. Focus on creating value and leaving the listeners wanting more. 
Target audience: These are your employees or team members. In some cases, your target listeners can be a specific department. For instance, an internal employee podcast on a recent update in that team. 
Choose a podcast format: Will it be a solo podcast? A co-host form? Or an interview series? It's great to stick with one layout for a start. 
2. Creating the podcast 
This step is where you finalize the little details before thinking of recording the first episodes. Notice we said "episodes"? We'll come to that later.
Before that, here are some key parts of creating the podcast:
Design a cover art: Excellent cover art should be simple and professional since it's the face of your internal podcast brand. You can choose to DIY or outsource to a professional artist.
Sound & music: While it's not mandatory, some background music might spice things up. Check out sources online for background, intro and outro music options. Note that copying music from a radio broadcast is copyright infringement.  
Use engaging podcast outlines: The basic format is having a catchy intro, interactive content, and an interesting outro. 
3. Recording the podcast
Now, we are going to discuss how to record a podcast. The first thing is obtaining your recording equipment. Get a microphone, computer, recording room, and recording software. 
The recording room can be your home or a rented studio. Just ensure background noise is as minimal as possible. You can use a software or application to record. It's normal to fidget on your first podcast; a good trick is talking like you're having an actual conversation with a target person. 
You can also consider drafting a script. While it shouldn't be verbatim, let it cover all essential details in bulleted points. It helps the flow and helps you speak more naturally. 
4. Editing the podcast
You probably have questions like: how do I fix an error after recording? 
Relax! It's your first time, and it's normal to have some little errors, awkward pauses, etc. That's why the editing process exists. You can always remove those parts from the recorded content. Editing is done in two ways: self-editing with a free tool or purchasing editing apps.
One more thing before we proceed…
It's great to record and edit three to five podcasts before the first podcast release. It creates awareness among your employees or team members and relieves the pressure of meeting up with future publishing schedules. 
5. Decide on podcast hosting
One common mistake is thinking you can directly upload audio content to players and distribute your podcast. You have to first decide on an excellent podcasting platform, such as Podbean private podcast platform, and you register for an account for free. 
Proceed to upload your podcast on the selected hosting tool. These podcasting platforms use an RSS feed to connect with podcast directories. So, when you upload your new content on your hosting platform, it gets published on these popular podcast directories, too.
But how does this work for private podcasts?
The hosting platform also allows you to link the podcast player to your website. It increases access to your content and provides extra traffic to your business' page. Win-win situation! Go with Melon when deciding on your next podcast host. 
6. Promote your podcast
Congratulations, you just learned how to launch an internal company podcast. However, your podcast won't get to your employees itself. Our first suggestion is to create a podcast landing page that can be linked to the hosting platform. 
Another alternative is utilizing the company's email list. Start by sending a first-time mail where you inform your staff about your internal communication podcast ideas. Get them anticipated for the first launch. But again, remember to keep to the proposed schedules for new podcasts. 
Conclusion
Walt Disney states, "the way to get started is to quit talking and begin doing." Conquer your doubts and carefully follow the tips in this comprehensive guide to create and launch your podcast today.
Plan your podcasts by picking a suitable podcast name and confirming a niche. You should also decide on a suitable podcast format with a defined publishing schedule and length of episodes.
Also, select a creative podcast art cover that depicts your private podcast content. Consider using non-copyrighted sound and music. Proceed to write your first set of scripts and record. Take time to edit and choose an excellent podcast hosting platform. Promote the podcast and keep working on getting better with each episode.
You may also like: Thinking of Podcasting for Your Business?
Image source: Shutterstock.com