Click here to get this post in PDF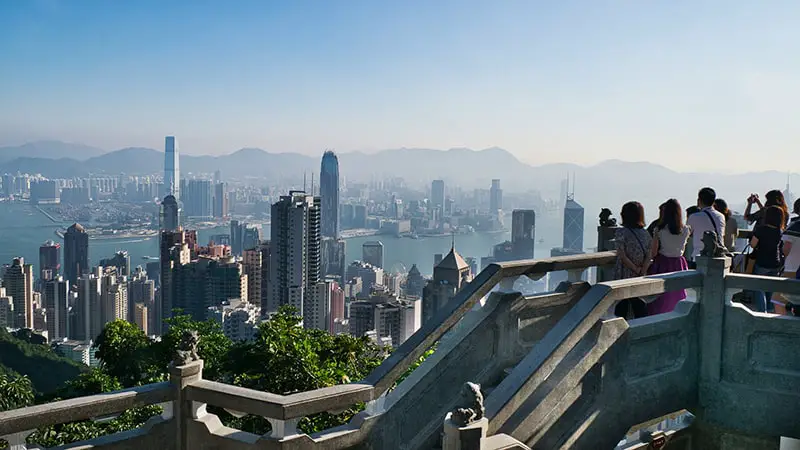 Today, one of the best offshore business hubs is Hong Kong. For years, Hong Kong, which operates as a Special Administrative Region of China (SAR) has stood out because of its pro-business economic model. Since 1997 when Hong Kong Gained independence, the focus has been to make it a more attractive destination for both local and foreign investors.
This is why most of the largest enterprises that you know of today are likely to have some presence in Hong Kong.
To take advantage of this high-potential jurisdiction to grow your business, the most important thing is business registration. In this guide, we will tell you about the benefits of registering a business in Hong Kong, the main types of business formation in Hong Kong, and the key steps of registering the enterprise.
The Main Benefits of Registering a Business in Hong Kong
The most notable thing about Hong Kong is its well-developed infrastructure. From roads to internet connectivity, Hong Kong has everything that you would look for in a perfect offshore jurisdiction for investment.
The health system of the island jurisdiction also sparkles in every way. For example, it has been very effective in fighting waves of COVID-19 infections, keeping related infections, and deaths low. While the global deaths from the pandemic have accelerated past 500,000 persons, Hong Kong has reported only 1,414 fatalities. The overall infections from COVID-19 by 10th July 2020, reached 12.2 million people. 
In addition to the good health system, you should anticipate the following benefits after taking your business to Hong Kong:
Supportive administration
To encourage businesses to come to Hong Kong, its administration has passed very supportive programs and policies. For example, startups with innovative ideas are supported through incubation programs to ensure they thrive and become big enterprises. 
Easy business registration process
Unlike other jurisdictions that have lengthy and complicated business registration processes, Hong Kong is different. Indeed, you can even register a company in Hong Kong without flying there by working with an agency.
Serves as the gateway to Mainland China
One of the primary determinants of business success is the ability to access and exploit a bigger market. In Hong Kong, you get an added advantage because it acts as the main gateway to Mainland China, meaning that you can sell your products to over 1.4 billion people in China.
Strategic location in the Far East
In addition to allowing you to gain access to the large Chinese market, Hong Kong is also strategically located in the heart of the Far East. Besides, it has entered into many trade agreements with neighboring countries. This implies that you can easily grow your business into a giant brand by selling both in Hong Kong and neighboring countries such as Malaysia, Singapore, India, and Japan.
The Main Types of Business Formation in Hong Kong
When opening a company in Hong Kong, it is very important to determine the preferred business formation. Here is a summary of the main types of businesses that you can form in Hong Kong:
Limited Liability Company
A limited liability company is the most popular business formation in Hong Kong. This type of business implies that your liability is limited to the shareholding you have in the company. Another notable thing about this type of company is that income generated from operations outside Hong Kong is not taxed.
As the name suggests, this type of company is considered a unit of its parent company back home. Therefore, it does not have a separate legal entity, meaning that things such as positive or negative financial impact directly impacts the parent company back home. A branch office is recommended for businesses that want to run small operations in Hong Kong.
This is another type of business formation that is considered a branch of the parent enterprise back home. Unlike a limited liability company or branch office, a representative office is not allowed to engage in commercial activities such as making direct sales. Therefore, it is recommended for things such as promoting the parent company or for market research. It is also a great option if you want to study the Hong Kong market before business incorporation.
How to Register a Company a Company in Hong Kong
The process of registering a company in Hong Kong is outlined in the Companies Ordinance, and includes the following steps:
1. Establish a business name: This step is very important in ensuring that your business name does not conflict with others.
2. Prepare articles of association: This is an important document that defines the company's directors' responsibilities and the method that the shareholders use to control the board of directors.
3. Select the shareholders and directors: The shareholders are the investors (call them owners of the company) while the directors are responsible for the daily operations of the company.
4. Select the company secretary: The company secretary is a senior staff in the company who acts as the custodian of the statutory documents. The secretary is also required to be part of the board meetings, update the statutory records where necessary, and advise the board on compliance with different regulations in Hong Kong. Note that the secretary must be a Hong Kong resident. 
5. Get a company address: This is the main office where your company will operate from in Hong Kong. Note that if you need to change the office, the details of the company registration will require to be updated.
6. Submit the documents and get the certificate of incorporation: Once you have all the documents, submit them to the registry, pay the required fees, and wait for the certificate of incorporation to get processed.
---
Three Most Important Things to Factor when Registering a Company in China
---
Although the process of registering a company in Hong Kong is simplified, many people still find it lengthy. For some people, preparing the documents for company incorporation is never easy. To simplify the process, you should consider working with an offshore company registration agency.  A good agency can serve as your company secretary, address, and help you register a company in Hong Kong without flying there!
Image Source: Pixabay.com