Click here to get this post in PDF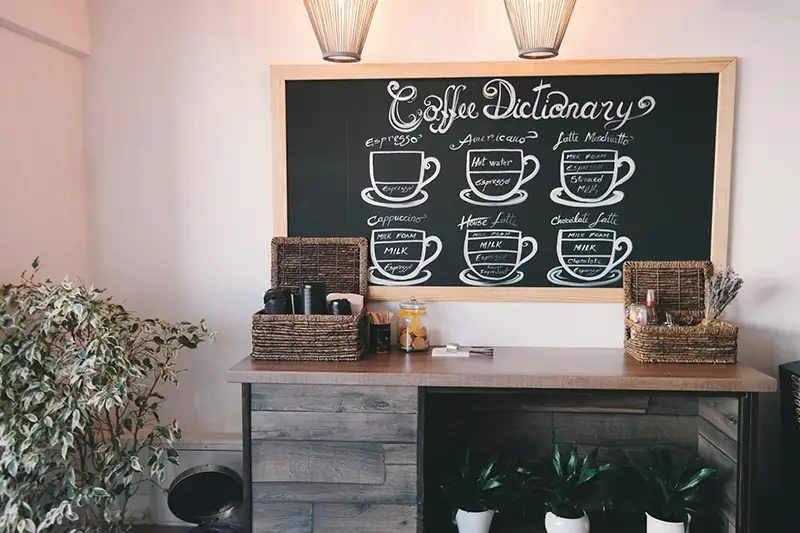 Are you passionate about coffee, or an entrepreneur at heart and keen to launch your own coffee shop? It is easy to set up a nice and chic coffee shop but to get known among customers is a really challenging aspect. Of course, it's easier to set up an online coffee shop (like this beautiful ecommerce shop of Greenwell Farms), but we recommend you to do both. To develop your customers and retain them, it is indeed necessary to make your coffee shop known and to forge a link with your potential customers.
Here are the ways to promote you're your coffee shop
1. Distribute Flyers to Promote Your Cafe
Handing out flyers around the restaurant is without a doubt the most obvious way to make yourself known. Depending on the distribution times, it will allow you to get to know people working in the neighborhood (at lunchtime for example) or people living near your new structure (early in the morning or in the evening). It's also a very economical way to get people talking about you because restaurant flyers aren't very expensive.
2. Create a Facebook Page for Promotion
The creation of a Facebook page in the name of your restaurant will allow you in particular to explain your concept but also to communicate on the restaurant news: menu change, daily menu, special offers, announcement of places of passage for a food truck, announcement of special opening night event etc. The Facebook page also makes it possible to collect customer opinions, comments and messages from interested persons or customers, and thus forge links with your community. It is therefore a real promotional, complete, interactive, and free showcase, not to be overlooked.
In addition to the paranoiac number of people connected to Facebook, Mark Zuckerberg's social network is particularly interesting because it allows you to very precisely define your target by taking into account the geographical area, age, centers of interest (for example, people aged 27 to 49 who like the pages of other restaurants in your city). You can also choose to reach out to friends of people who "liked" your page first, for a "word-of-mouth" effect that works well when it comes to exit ideas. You can also launch a promotional campaign announcing your opening hours and setting up an exceptional Happy Hours. Or just promote your latest blog post. The targeting possibilities and the relatively affordable cost of this platform make it a very suitable means of communication for promoting small restaurants.
3. Establish Partnerships at the Local Level
To promote your coffee shop and ensure a regular flow of customers, consider setting up partnerships with various structures linked to tourism such as of course the local tourist office but also one or more hotel (s), possibly guest rooms. 'hosts, or even travel agencies.  In some cases, you will have to offer a discount to the customer or pay a percentage of the bill to your partner; in exchange for which he will recommend you to his clients.
4. Set up a Press Relations Campaign
To ensure good publicity for your coffee shop, you can, during the launch, inform the local media and bloggers about the opening of your structure specializing in ideas for outings or gastronomy and cooking, or the art of living in a way. more general. You can contact an agency specializing in press relations or write and distribute your press release yourself. Do not hesitate, in addition to a press campaign, to use advertising inserts in local newspapers. Also think of local TV, radio or even displays. All channels are good to use to market yourself!
To advertise your coffee shop and ensure a clientele made up of as many workers as residents, rely on partnerships with businesses located nearby.
You can offer your services both for private events organized by a particular company: Christmas party, seminar, etc.; or else offer reductions to the works council to attract employees to their lunch break, business lunches, or dinners with colleagues.
In the same vein, you can establish partnerships with all the local actors of the associative life. Sponsor the city's handball tournament, run a booth at the garden festival. It's a great way to get to know your neighbors and give your food a taste.
5. Set up a Loyalty Program
To retain customers, what could be better than setting up a loyalty program that will offer gifts and/or discounts to your customers after a certain number of visits to your establishment. In the form of a card or completely dematerialized, a loyalty program also allows you to have the contact details of your customers to remind you of their good memory! You can take advantage of knowing their email addresses to set up a newsletter that will inform them of the latest news and current promotional offers.
Be careful to find the right balance: few or too many Newsletters and your customers will lose interest in your activities. Also, consider alternating between informative/entertaining content and promotional content.
You may also like: 6 Ways to Boost Your Video Marketing Strategy in 2021
Image Source: Pexels.com