Click here to get this post in PDF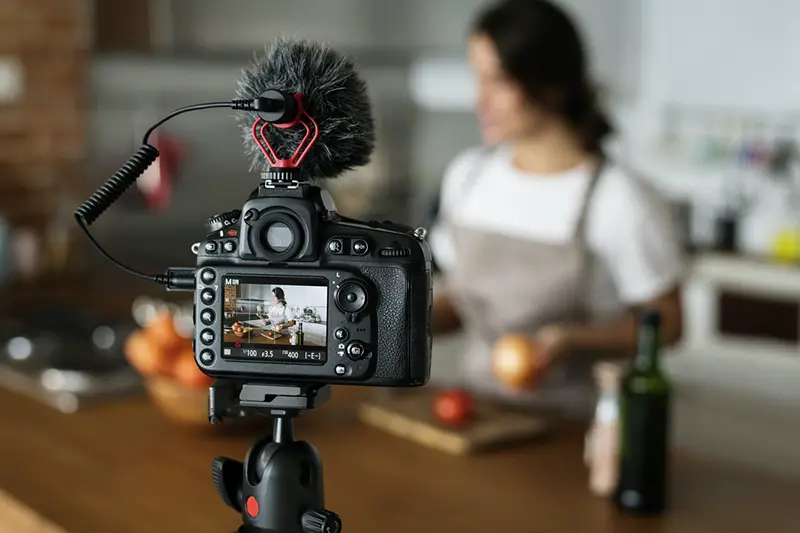 For what seems like years, marketing professionals have been telling us that video is taking over the internet, that it's here to stay, its use is only going to increase, and that we need to adapt our own marketing strategies to utilise video if we want to keep up. Well, video has now taken over. 85% of businesses report using video in their marketing, and 54% of consumers want to see more videos from their favourite brands. Over the last 12 months, we've all embraced video in our home life, with apps like Zoom letting us keep in touch with friends and family, and even work and learn from home without too much disruption. Without video capabilities, the last year would have been very different, and far more challenging.
If you haven't already, it's time to embrace video in your business. Everyone from cottage industries to global brands is using video to share adverts online, to let people into their business, to build relationships, and to keep in touch. Social media platforms like TikTok are growing in popularity, and with Fleets, even the more text-based Twitter is keeping up with the video revolution. Even if you are already using video, this is a great time to brush up on your strategy and give your video marketing a boost. Here's a look at six ways that you can do it.
Outsource to 3D Visualisation Experts
If you see video as just one more thing on your to-do list, that you don't have the time to commit to, don't.
Outsourcing video creation to 3d visualization experts from Cadesign form can mean that you have professional videos to use across your platforms. These videos can advertise, entertain, educate, and catch people's eyes.
Using Cadesign form to create stunning 3D visualisation films means that you can easily show even complicated product features, and quickly create videos ready to bring products to the market, or ready to use across different platforms to boost existing campaigns without having to invest in expensive equipment or hire in-house experts.
Give Your Customers What They Want
Not every brand has the same video strategy, and nor should they. There's no point in committing time and money to short vanishing videos on social media if your target market isn't using them. You'd be wasting your time creating longer-form videos for your website and YouTube channel if your customers aren't going to sit and watch them.
Now is the perfect time to use video to increase sales. Explainer videos, both long and short form, are growing in popularity as consumers seek easier, more visual ways to learn more about the products and services that they are interested in. How-to style videos are some of the most searched for on YouTube, and most of us would rather watch a quick, easy-to-follow video than reach out for help or read the instruction manual. Filmed well, these explainer videos can educate, help you to build trusting and loyal relationships, and advertise your products, helping consumers to make purchase decisions.
Monitor your analytics, see what your customers respond to, and make this the focus of your video marketing strategy. But, remember, things change so don't be scared to try new ideas.
Don't Be Scared to Go Live
Live videos are growing in popularity all the time, and they are a great way to make connections with your audience. In 2019, 57% of marketers used live video in their strategies, and this number is set to grow. Most people are a little nervous of lives to start with, but short Q&As can be a great way to get started, and an effective way of giving your audience greater access to your brand.
Turn the Sound Off
Statistics show that a massive 87% of videos on Facebook are played with the sound off. When creating short videos for social media, make sure the sound isn't necessary, and if it is, stick to short, easy-to-subtitle dialogue. To easily create subtitles, you can use a subtitle generator.
Prioritise Accessibility
Alt text, easy-to-read subtitles on social media, and captioning on longer-form videos are essential, and people are starting to speak out against brands that don't provide accessible viewing options. In 2021, accessibility shouldn't be a luxury, it should be a given.
Keep Things Short
Longer-form videos have their place, and in some cases, the only way to get a message across is with a longer video. But social media is fast. People scroll quickly, they click away from videos the second something more interesting comes along, and consumers' attention spans are shortening. Jump straight to the point of your video, skip lengthy introductions, and where possible keep things under 60 seconds.
Online video isn't a fad. It's very much here to stay, and the sooner you boost your video marketing strategy, the sooner you'll start to reap the rewards. A great way to start, if you haven't already, is to pay close attention to what your favourite brands and those in your niche are doing for inspiration and ideas.
Also Read: Video Marketing: A Guide for Newbie Entrepreneurs
Image source: Rawpixel.com