Click here to get this post in PDF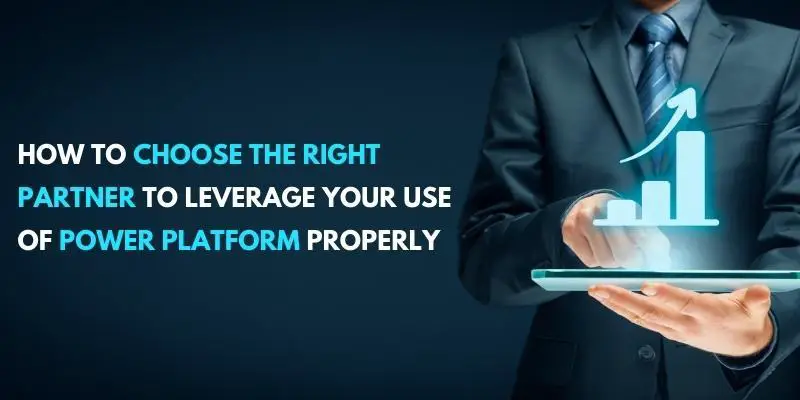 At the recently concluded Microsoft Business Applications Launch Event on April 6, 2022, Microsoft shared an interesting statistic – over 500k organizations and 97% of Fortune 500 companies are using Dynamics 365 and the Power Platform. Combine this with Microsoft getting recognized by Gartner as the leader in the 2022 Gartner Magic Quadrant for Analytics and Business Intelligence Platforms. 
Data, AI, and Collaboration – Cornerstones of the Power Platform
The Power Platform has emerged as the preferred choice for organizations looking to break down data silos, use AI for augmented analytics, and enable collaboration during development. But the critical question is whether companies are leveraging the Power Platform to its fullest potential. 
The competency matrix within your company might be skewed towards a particular skill such as Power BI and Visualization (Dashboards), which are seen as top priorities and rightfully so. 
However, when you integrate Power Automate visual in a Power BI report, "your end users can run an automated flow by clicking a button in your report. Furthermore, the flow can be data contextual, meaning that the flow inputs can be dynamic, based on the filters the end-users set." Source: Microsoft Power BI Documentation.
Maximizing Returns from Power Platform Investment
The Power Platform allows business users to create workflows, dashboards, and applications through collaborative development. In 2021, a Total Economic Impact (TEI) study by Forrester Consulting found that the Power Platform has reduced Application Development costs by 48%. The same study also found that companies were able to replace third-party business applications and BI tools with Power Platform resulting in a three-year risk-adjusted savings of about $829,000. 
So how do you maximize ROI from your Power Platform Investment?
Assess your competency matrix to identify resources skilled in using Power Apps, Power Automate, Power BI, and Power Virtual Agents. 
Evaluate whether your IT team can unlock value through Azure Synapse Link for Dataverse to get real-time insights.
Understand how to integrate data across your organization so that the narrative is complete and actionable. 
Identify a competent technology partner who can work with your team on data preparation, visualization, and augmented analytics.
Benefits of Working with a Power Platform Implementation Partner
While the Power Platform aims to democratize the development of Business Intelligence and Analytics solutions, companies leverage the services of Microsoft 365 Implementation Partners. The role of a partner is not just limited to procuring licenses. You can maximize your ROI when you work with a partner who understands how to use data connectors, AI builder and Dataverse together for Integrated Analytics. 
Here is a checklist of technical competencies of Power Platform experts who will work with your business users in integrating analytics with workflows and applications:
Integrate Power Platform with other applications in Microsoft 365, Dynamics 365, and Azure
Leverage Microsoft AI Builder and Power Fx for automated insights
Build a common data store using Dataverse for an "easier app-building experience"
Connect the Business Application Platform products – Microsoft Power Apps, Microsoft Flow, and Microsoft Forms
Access Power Platform within Enterprise & Team Collaboration Platform Products – SharePoint Online, Microsoft Teams, and Yammer
Develop apps and embed dashboards within documents, web applications, and mobile apps
What to look for in a Competent Technology Partner?
Microsoft Partner Network (MPN) is an extensive set of solution providers who are capable of building solutions based on the Microsoft stack for customers. Microsoft has created a National Solution Provider (NSP) list to help customers identify partners to work with but there is no ranking to understand their specializations and expertise. 
You can leverage Microsoft AppSource to use your location and find partners near you. But how do you evaluate their competencies? You should not limit the evaluation to just technical competencies but also rank the service providers based on the following parameters:
Proven track record in developing web and mobile apps, application modernization, application integration, and cloud migration
Onshore-Nearshore-Offshore Engineering Teams with hands-on experience in delivering solutions based on Microsoft 365, Business Intelligence, and Big Data Analytics
Microsoft Gold Partnership and Azure Circle Partnership 
Competencies such as Data Platform, Cloud Platform, DevOps, Application Development, and Application Integration
Expertise in Operational BI, Embedded Analytics, OLAP, KPI Analysis, Portal Integrations, Microsoft Azure, Microsoft Teams, Dashboards and Scorecards, Benchmark Reporting, Reports Customization, Power Automate Flows, Machine Learning, and Conversational AI
Integration Experience in embedding analytics dashboards into web portals and applications that facilitate collaboration
Security and Governance capabilities – implement rules-based protocols for access permissions and dashboard views
Experience in setting up Conditional Access Policies and Data Loss Prevention Policies in Microsoft Azure.
Proficiency in Agile DevOps Development Framework for Continuous Integration and Continuous Delivery to accelerate releases
Strong Quality Assurance, Test-Driven Development, and Code Reviews
Process Certifications such as CMMI and ISO 27001
Post the pandemic, companies are going through a generational shift in implementing cutting-edge digital solutions that can connect data from the supply chain, marketing, sales, and operations to provide near-real-time actionable insights for decision-makers. The Power Platform transforms your organization into a data-centered, AI-powered enterprise with in-house custom app development capabilities. We have used our 25+ years of experience in working with customers across industries to crystallize the parameters our customers use to select us for architecting BI & Analytics solutions. Cloud-based Business Intelligence solutions can drive your sales higher, rationalize costs, and boost your operational efficiency. Scale up your analytics capabilities by working with the right partner who excels in data analysis and data security.
You may also like: What is a Microsoft Gold Partner?