Click here to get this post in PDF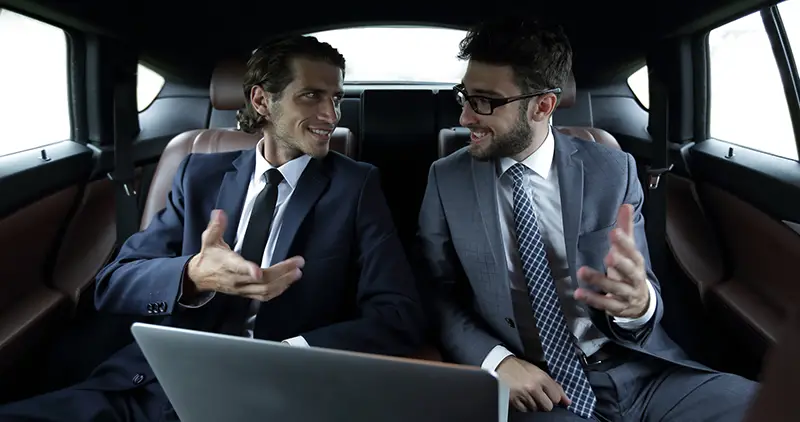 Uses for business cars:
There are many uses for business cars in a variety of industries. Some common uses include:
1. Sales and marketing: Business cars can be used by sales and marketing teams to travel to client meetings, trade shows, and other events.
2. Delivery and transportation: Companies that require the transportation of goods or products can use business cars to make deliveries and pick-ups.
3. Customer service: Service-based businesses, such as plumbers and electricians, can use business cars to travel to customer locations.
4. Executive transportation: Business cars can be used to transport executives, such as CEOs and board members, to business meetings, events, and other important appointments.
5. Fieldwork: Business cars can be used by field workers, such as engineers and surveyors, to travel to job sites and work locations.
6. Employee transportation: Companies with multiple locations can use business cars to transport employees between locations or to provide transportation for employees who do not have personal vehicles.
7. Promotional purposes: Business cars can also be used for promotional purposes, such as displaying company logos or branding.
Using business cars can help increase efficiency, save time, and provide a professional image for the company. If your budget does not allow you to purchase a business car, a business car lease is a great option.
Identify your business needs:
Purpose: It's important to consider what the car will be used for as it will determine the type and size of the vehicle needed. For example, if it will be used for transporting clients, a luxury car may be appropriate, while a van may be better suited for transporting equipment or products.
Budget: The budget for the car is an important factor as it will determine what type of car is within reach. This can also help you determine whether you should lease or buy the vehicle, and what type of financing options are available.
Space: The amount of space required for the car will depend on what it will be used for. If it will be used to transport people, a car with sufficient passenger space should be chosen, while a van or truck may be needed if the car will be used to transport equipment or products.
Fuel Efficiency: Consider the car's fuel efficiency, especially if it will be used frequently for business purposes. A more fuel-efficient car will lower operating costs and carbon emissions.
Safety Features: The car's safety features are important, especially if it is used to transport people or valuable goods. Consider features such as airbags, anti-lock brakes, stability control, and backup cameras.
Maintenance Costs: The expected maintenance costs of the car should be considered, as this will impact the overall operating costs of the vehicle. Consider the car's reliability, the cost of parts and labor, and the warranty offered by the manufacturer.
Brand Image: If the car will be used for business purposes, it may be important to reflect the company's brand image. Consider the car's make, model, and color to ensure it aligns with the brand image and message.
By considering these factors, you can choose a business car that is well-suited to your company's specific needs and requirements and will provide the best value for money in the long run. Checking out what other businesses are up to could be beneficial and be a guide as to which factors might be relevant today.
Technical things to consider:
Vehicle Usage: Consider the type of vehicle that best suits your business needs. For example, a larger van or truck may be necessary if you have a small business with a lot of equipment or products. On the other hand, if you have a sales team that travels frequently, a more fuel-efficient car might be a better option.
Length of Lease: Determine how long you need the vehicle for and choose a lease term that aligns with that. A longer lease term may mean lower monthly payments, but it also means that you will be stuck with the same vehicle for a longer period of time. Keep in mind that you may also have the option to purchase the vehicle at the end of the lease.
Maintenance Costs: Make sure to factor in the cost of maintenance, which includes routine services and repairs. Some car leases may include maintenance in the monthly payment, while others may require you to pay for these costs out-of-pocket.
Contract Terms: Carefully review the contract terms and conditions before signing. This includes understanding the restrictions on the use of the vehicle, any early termination fees, and the process for returning the vehicle at the end of the lease.
Supplier Reputation: Choose a reputable supplier with a good track record of customer service and support. Look for a company that offers transparent pricing and has a clear and simple process for returning the vehicle at the end of the lease.
Negotiate: Don't be afraid to negotiate the terms and conditions of the lease to get the best deal for your business. Consider negotiating the length of the lease, the monthly payment, or any additional fees or charges.By considering these factors, you can make an informed decision and choose a car lease that is the best fit for your business in the UK. Stay up to date with the world around you to ensure you are doing your best to raise the bar in your business.
You may also like: 7 Interesting Benefits of Old Car Removal
Image source: Depositphotos.com