Click here to get this post in PDF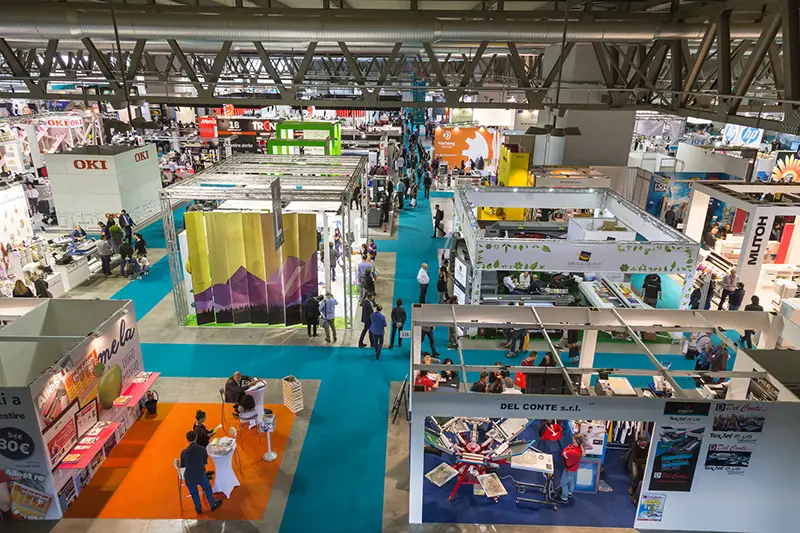 It's all too true – a lot rests on our shoulders when we are planning – and hosting! – a big event, such as a trade show or business conference. We need not tell you that there are more than a few considerations you need to think about, and there are lots of ways to excite and engage your audience. Nevertheless, hosting a big trade show or business conference can be an exciting and rewarding endeavor. However, it also requires a great deal of preparation. So, what can you do to effectively plan and host a trade show, exhibition, or business conference? Let's find out. 
1. Define and set your goals and objectives
Before you can begin planning your trade show or exhibition, it's important to define your goals and objectives. What are you hoping to achieve with this event? Are you trying to generate successful leads, educate your event attendees, or showcase exciting new products? Once you have a clear knowledge and understanding of your goals and objectives, you can begin planning your event.
2. Choose your venue
Of course, choosing the right venue is critical to your event's overall success. You would need to consider factors such as the venue's size, location, and amenities. It may be wise to look for a venue that has ample space for your exhibitors and attendees, along with convenient transportation and parking options. Ensure that your venue also has the right audio-visual capabilities – if it doesn't, think about an AV hire expert. 
3. Create your budget
Hosting a trade show or conference can be quite expensive, as we all know, so it's important to create a budget – and stick to it. Be sure to factor in all the costs related to your event, including venue rental, marketing, catering, and staff. You may also want to partner with exhibitors or sponsors to help offset the costs.
4. Develop a plan for marketing your event
As with any event, marketing is essential to its success. That said, you will need to promote your event to your target audience, generate adequate buzz around it, and drive attendance. You might want to use a variety of marketing channels, like social media, advertising, and email marketing, to reach your potential attendees.
5. Plan your schedule
It's also important to plan your event schedule and keep it well-organized and easy to follow. There should be ample time for registration, keynote speakers, breakout sessions, and networking. You can even provide attendees with a mobile app or printed schedule to help them navigate their way around the event.
6. Choose your exhibitors wisely!
Exhibitors are a critical component of any business trade show or conference, so choose exhibitors that align with your event's objectives – and will provide your attendees with value. For instance, you may want to offer different booth sizes and pricing options so you can accommodate different types of exhibitors.
7. Hire the necessary staff and vendors
Hosting a trade show or conference is a lot of work, so you will also need a team of dedicated staff to help you. You may need to hire marketing professionals, event planners, and support staff to help manage your event. Don't forget to work with vendors to provide catering, security, and other necessary services.
You may also like: How To Make Your Booth Stand Out On A Trade Show
Image source: Depositphotos.com