Click here to get this post in PDF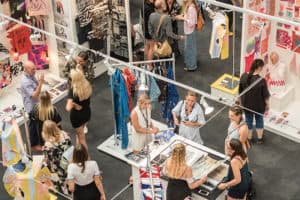 An exhibition is an exciting time for your business. The opportunity to display your work has the potential to bring great success. While much consideration and focus are placed upon the product itself, there are many other factors at work that might affect the impact of your display. Those attending and viewing your exhibition are going to be influenced by each aspect of the environment, many of which you may not be inclined to consider. To help bring you peace of mind, here are hassle-free tips for your next exhibition.
Image source: Unsplash
Light
Many of us rely on our sight above all senses. This means that a person is inclined to approach an object by viewing it before any other sense is acknowledged. This is why, when considering your display, the lighting is one of the most important and influential factors on the impression it will make. Low lighting will draw people closer and, while harsh lighting can have the opposite effect, it can also be used to create harsh shadows. If your products are being displayed on shelves, be sure to consider each individual level under the room's lighting as you may find one without any illumination.
Quality
Your product is sure to be of an impressive quality, which is why your fittings should match. If you place a great display upon poor shelving or furniture, your overall impression will worsen. Be sure to find the best quality display options for your exhibition that support the standards of your product. If you are deterred by the potential cost of appropriate shelving, then consider hiring your fittings. Many stores, such as Crown Display, offer a hire service for each of their shelving products. This means that you can find the appropriate display without the cost or responsibility of purchasing it outright.
Setting Up
It is easy to consider the event of an exhibition while simultaneously forgetting the arrangement involved with setting up and clearing away. To prevent any stress before the show, be sure to put aside a generous amount of time so you can deal with problems that may arise. Since your exhibition space may be a new environment, uncertainty is likely to create surprises. Hiring your equipment may be an appropriate option again, since you will not be faced with the responsibility of constructing the necessary displays for your product and, instead, hand the responsibility over to professionals, who will also remove the products once the event is over.
Space
The space you chose to give your product is important. While you want it at a focal point, positioning it far from other items or displays can often feel awkward. However, a more common mistake made is the lack of consideration given to how attendees will view your product. People, especially those who do not know each other, are inclined to feel awkward in small and intimate environments. If your product does not allow the appropriate space for an individual or crowd to examine it, they are likely to feel irritated and this impression will pass onto the product.
You may also like: You Are Running Your Exhibition Stand All Wrong! (Here's Why)