Click here to get this post in PDF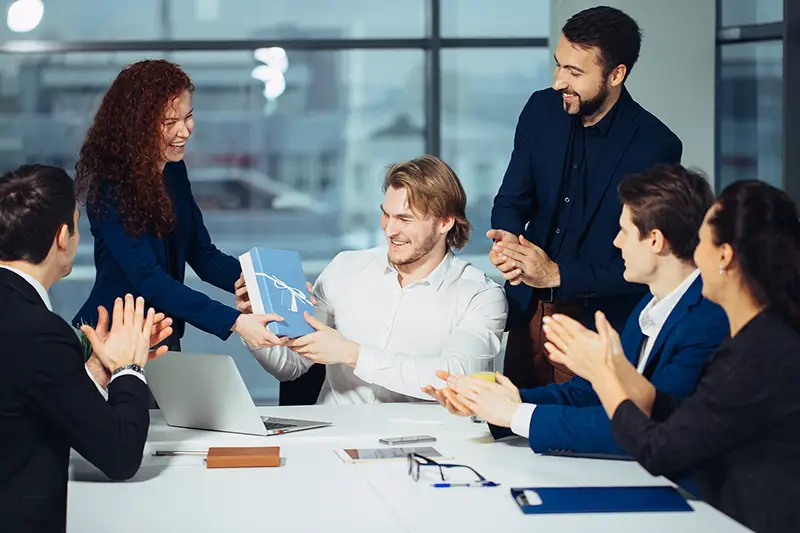 Buying gifts for your co-workers can be a tough task sometimes. Maybe you're not sure what they like, or if they're going to like what you got them.
But, don't worry, Swag got your back. 
Swag is a great platform for your co-workers to choose (what they actually want to get) from the items you listed. It's quite simple, too. 
Create a unique gifting experience by choosing products from their page, add your logo and branding, then collect your co-worker's email address, and they'll handle the rest.
You will get a unique recipient landing page, making this experience even better.
Sending promotional products has never been cooler, and it's quite a nice surprise because the items listed are not only some dull pens, or whatever companies used to give to their employers in the last century.
Branded Apparel
Promotional products don't need to be dull. On the Swag website, you can choose from various T-shirts, pullovers, hoodies, joggers, jackets, and even socks. Besides, there are many more items, from Ray-Ban sunglasses and hats to scarves and caps.
You can even get your co-worker a pair of branded flip-flops. The choice is almost endless, and all you need to do is take a few days to pay attention to what your co-worker usually wears, so you'll match their style easier.
Branded Office Products
Everybody working in the office has at least one notebook full of ideas and memos. You can choose one of the high-quality notebooks and put your logo or some cool design on top of them.
Other branded office products you can get for your co-worker are accessories. There are desktop sets, note pads, anti-blue lamps, frames, and even adorable plants. We're sure you'll browse their page for a while, but your co-worker will be really happy with the gift, we promise!
Branded Tech Products
For all the tech junkies, there is a whole category devoted to the best gadgets you can transform into the best promotional products.
JBL speaker or headphones? Got it. Cube video light? Also got it.
There are so many items in this category that we don't even know what to write over here, so you should head out to the Swag website and check it all out.
You can choose from headphones and speakers from different brands, wireless buds, power banks, lighting kits, charging pads, laptop sleeves, etc.
You can put your logo on almost everything
We weren't kidding when we said the choices are almost endless. There are so many products that we don't even have the room to mention them all.
But there is a food & candy category that covers every taste. Liquorice, S'mores, grill master set, oh you'll probably get hungry scrolling through all of this.
Now that you've found the best idea for your co-worker's gift, it's time to stalk them a bit and try to find out what they really, really want, then get their email and create their gift in just a few minutes.
You may also like: 7 Creative Employee Appreciation Gifts They'll Love
Image source: Shutterstock.com