Click here to get this post in PDF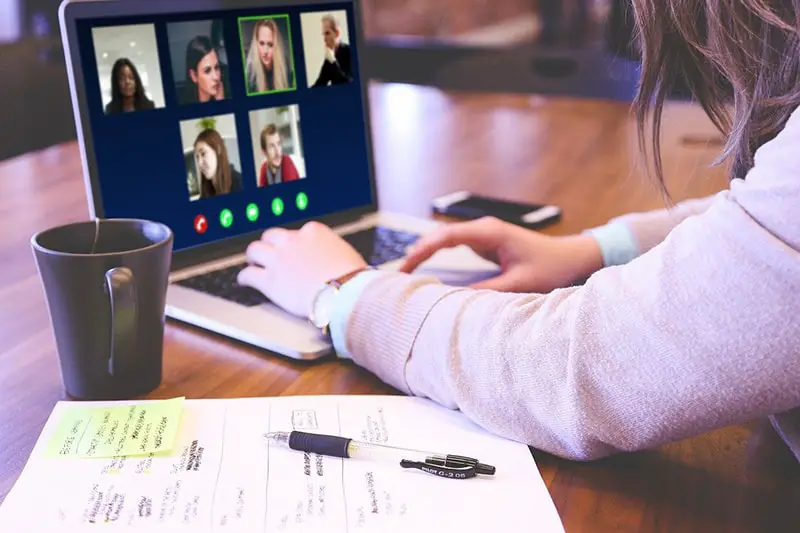 Is your organization struggling with remote collaboration? The recent pandemic has made online efficiency of paramount importance as people leave the office for work at home. If you do not have the tools to make the change seamlessly, then it will cost you time and money.
Having the right communication platform is half of that battle. Below, we give you our 8 best business communication platform tools.
1. BlueJeans Business Communication Platform
Bluejeans is one of the most flexible and easy-to-use video conferencing apps available. It can be used on a web browser, desktop application, and mobile app. Its whole operation is cloud-based.
The service differs from other video conferencing facilities as it has a range of features unique to its program. You can record meetings, share screens, and hold meetings in locations such as board rooms and conference centers.
It enhances its team communication features with easy integration into other programs. You can chat on Skype, and use your Outlook calendar to synchronize and schedule meetings along with a host of other seamless integration into popular apps. People who do not have video and audio services can even use a regular phone call to join in meetings.
2. ProofHub
Proofhub is a center for all your team projects and collaborative activities. It is a one-stop solution for team management. You can get started almost immediately, as it is very user-friendly with almost no learning curve.
It has pretty much every feature you would need from a platform such as this; document storage, project templates, calendars, and workflow management. To help you stay in touch and on time, it offers instant messaging, prioritizing, time tracking by project, and task scheduling.
For conducting the task itself, they have Gantt charts, Kanban boards, along with reporting and statistics tools. It also has a host of very neat integrations. These include Google calendar and drive, Dropbox, Fresh Books, and Microsoft Outlook. The whole thing comes with a very reasonable, neat, and tidy pricing structure that starts with a free trial.
3. Slack
Slack is becoming the go-to platform for real-time chat and workplace communication. It has a sleek, clean design that is easy to use right from the start. It is available on a desktop or as a handy app.
You enter Slack by joining or creating a team. It uses channels in the sidebar to group different conversations. These can be made by your managers, or you can create your own custom channels for departments, HR, and IT services.
To communicate you can use private messaging or make your own channel. Notifications are in real-time, so you are always up to date with conversations and what is going on.
4. Cisco WebEx
While it may look a bit more utilitarian than the rest, Cisco WebEx is a real workhorse in the field of internal communication apps. It has a wide range of file-sharing capabilities for a huge range of meeting types. These include online training sessions, web-based events, and sales demos alongside more traditional presentation software.
The app is available on iOS and Android. If you have a team of no more than 3, then it is free to use. After this, pricing is extremely reasonable and includes 24/7 live support should you encounter any problems.
5. Filestage
Filestage is a great team management platform for proofing projects. It is available on most of the major platforms, including an app. It has all the features you would expect from an internal communication tool, but with the addition of special features designed for proofing files and projects.
Features include the ability to annotate files, install one-click approvals, add custom branding, and customizable projects with built-in file versioning. In addition, you get all the materials you need for staying in touch, such as instant messaging, task lists, due dates, and private comments.
Pricing is a little more expensive than other platforms but can start with a free trial. It also integrates with many major applications like Dropbox and Slack.
6. Fuze Meeting
Fuze is another extremely easy-to-use team communication platform. You can access the meetings on any device, and easily integrate it with Outlook and Google calendar. It starts with the capacity to add 10 workers to the team, but you can onboard others as the pricing plan goes up.
Its facilities include HD audio and video for meetings and conferencing. It also has some excellent presentation facilities, allowing you to show documents, videos, and multimedia files easily and without problems.
7. BlogIn
If you have used the backend of WordPress, with its left side column and lists, then you will be familiar with the interface on BlogIn. It is a unique proposal that has shown blogs to be a great way to share company news and updates. It collects all your relevant information in one place, so it is well-organized, easily searchable, and up-to-date.
Blogs allow you to pitch ideas, share news and announcements, gain feedback, and ask give suggestions. The open communication channels allow questions to be posed that can be replied to by everyone, so responses are much quicker and more accurate. You can try it out for free, and it can be integrated with Google or Slack.
8. Troop Messenger
Troop has been cleverly designed to connect smaller teams across businesses and organizations. It has a freemium pricing structure, starting at free, then moving to premium and enterprise. It is easy to use, and navigate and has virtually no learning curve to operate.
Features include video calls, audio messaging, one to one messages all comprised of easy-to-use navigation features. File sharing and project management tools are all included.
9. Blink
Blink is an employee communication software that provides an all-in-one solution to enable frontline workers and remote employees to stay connected to their organization. Blink improves the employee experience in meaningful, everyday ways, giving employees mobile access to the communications, and applications they need to do their job and feel part of the company. This creates a culture of productivity, retention, and conversations, where the frontline is engaged, gives feedback, and feels valued.
Blink offers a wide range of features such as shared files, polls, calendar & content management, one-to-one & group chats, personalized feeds,  micro-apps, and audience filtering. These are easy to use and keep employees engaged, ensuring that everyone can contribute in their own way. 
Stay Motivated in an Online Workplace
Once you have the business communication platform that is right for you, you just need to keep your workforce motivated. Remote working needs an extra push to keep your staff motivated and social, so use your communication tools not just for business, but for morale as well.
If you have enjoyed this helpful list, then browse our other articles. We have lots of helpful blog posts on current business matters to keep you up-to-date and ahead of the curve.
You may also like: 7 Must-Know Facts About Technology and Communication in 2020