Click here to get this post in PDF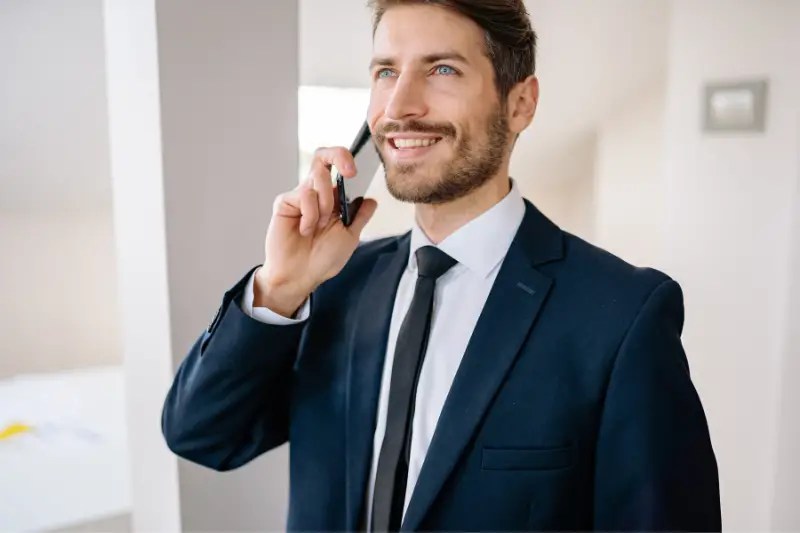 In today's fast-paced business world, communication is paramount to success. With the advent of various digital channels like email and text messaging, one might assume that traditional phone calls are on their way out.
However, it may surprise you to learn that phone calls still reign supreme as the best method for conducting business. This blog post will explore the advantages of telephone communication in maintaining personal connections, providing quick response times, and ensuring clarity and understanding while enhancing trust among clients and customers alike.
Key Takeaways
Phone calls provide a personal connection and foster stronger business relationships than email or text messaging.
They offer quick response times for problem-solving, enhancing customer satisfaction and brand loyalty.
During phone conversations, tone of voice and inflection convey emotions and intentions better than written text alone—boosting clarity and understanding while increasing trust among clients or colleagues.
Although digital communication has advantages, it often falls short regarding the personal touch that only phone calls can provide.
The Advantages of Phone Calls for Business Communication
Phone calls provide opportunities to build personal connections and relationships, offer quick response times for problem-solving, enhance clarity and understanding of discussions, and increase trust and credibility in business communication.
Building Personal Connections and Relationships
In the age of digital communication, it's easy to overlook the power of a simple phone call in building personal connections and fostering strong business relationships. Unlike emails or texts, which can often be impersonal and devoid of emotion, phone calls allow both parties to hear each other's voices, convey tone, and engage in real-time conversation.
For example, imagine a sales representative attempting to close a deal with a potential client via email. The back-and-forth exchange could take days or weeks as messages are delayed or missed altogether.
Meanwhile, one well-timed and engaging phone call might be all it takes to secure the deal by establishing trust between the two parties in just minutes.
Quick Response and Effective Problem-Solving
In the fast-paced business world, quick response times and effective problem-solving are crucial for success. One of the primary advantages of using phone calls as a mode of communication is their ability to facilitate real-time discussions on pressing issues.
For instance, a virtual business phone system can provide immediate solutions when addressing customer complaints and concerns. Instead of waiting hours or even days for a reply via email or chat, customers get prompt attention over the phone. That not only expedites resolution but also improves overall satisfaction levels.
This direct interaction also helps businesses identify potential obstacles before they become major problems – saving time and resources and potentially averting future crises.
Enhanced Clarity and Understanding
One significant advantage of using phone calls for business communication is the enhanced clarity and understanding of real-time conversations. During a phone call, both parties can immediately address any questions or concerns, making it easier to resolve without the back-and-forth nature of email exchanges.
In addition to immediate response times, hearing another person's tone of voice and inflection helps convey emotions and intentions better than written text alone. This verbal component allows for more nuanced discussions incorporating empathy and sincerity – two critical factors for successful communication in professional settings.
Utilizing virtual business phone systems also enables seamless collaboration across teams in different geographic regions while maintaining efficient communication lines.
Increased Trust and Credibility
Phone calls are a powerful tool for enhancing trust and credibility in business communications. When you speak to someone on the phone, the tone of your voice and how you express yourself can help build personal connections with clients or colleagues.
This is important because establishing strong relationships helps foster a sense of trust critical to success in any business setting.
Moreover, communication through phone calls allows individuals to hear each other's voices, which makes interactions more human-like than digital text, where it's easy to misinterpret the intent and emotions behind messages.
Why Email and Text Messaging Fall Short in Business Communication
Email and text messaging may be convenient, but they lack the personal connection and quick response time that phone calls provide; read on to discover why phone calls are still the best way to conduct business.
Limited Personal Connection
Email and text messaging are popular forms of communication in the digital age, but they cannot replicate the personal connection that a phone call provides. While email and text messaging can convey information quickly, they don't have the human touch required to build relationships and create trust between business partners.
It is difficult to gauge their emotions or motivations without hearing someone's tone of voice or seeing their facial expressions. This can lead to misunderstandings or misinterpretation of intent, potentially harming business relationships over time.
Delayed Response Times
Email and text messaging can be convenient ways of business communication but often lead to delayed response times. This can create frustration, impede progress, and increase the risk of missing out on opportunities.
For example, if a client sends an email with a time-sensitive inquiry, waiting for a response can cause unnecessary stress and confusion.
In addition to reducing delay times, phone calls provide more significant benefits, such as personal connections and relationships between clients or colleagues. While emails may seem formal or impersonal at times, voice conversations present the opportunity to build rapport with customers by conveying tone through inflection or emphasizing specific points during discussions.
Misinterpretation of Tone and Intent
One of the most significant disadvantages of digital communication in business is the potential for misinterpretation of tone and intent. Without the ability to hear a person's voice or see their facial expressions, it can be difficult to determine their mood or intention behind written words.
This can lead to misunderstandings and even conflict between colleagues or clients.
To avoid such situations, phone calls are a much better option as they allow for a clear tone and intent to be conveyed through vocal inflections and emphasis on certain words.
In speaking directly with someone, you can also ask clarifying questions if any points need further explanation.
Preparing for the Call
Before making a business call, it is crucial to be prepared. This involves gathering all necessary information beforehand and clearly defining what you want to accomplish during the call.
It's also helpful to have a script or list of talking points ready in case you get sidetracked during the conversation.
One best practice for preparing for a business call is to research the person or company you will be speaking with ahead of time. This can help you establish common ground and build rapport more quickly.
Finally, ensure that your virtual business phone system is set up properly with clear audio quality and no technical glitches that could hinder effective communication.
Practicing Active Listening and Effective Questioning
Active listening and effective questioning are critical skills for leading successful business conversations over the phone. Active listening involves being fully present in the conversation, showing interest through good eye contact, and engaging with the speaker by asking relevant follow-up questions.
Effective questioning is also crucial in leading successful business conversations on the phone. You can improve your active listening skills and build empathy with customers or colleagues by posing relevant clarifying questions.
Maintaining Professionalism and Courtesy
Maintaining professionalism and courtesy is paramount for leading successful business conversations on the phone. Being consistently courteous improves the customer experience and can lead to long-lasting relationships.
Some best practices for maintaining professionalism and courtesy include introducing yourself, listening attentively, asking relevant questions, avoiding jargon or technical terms, being patient with customers who may need more time to articulate their needs, expressing gratitude after the call ends, and following up promptly.
These actions help build trust between you and your customers while ensuring that their inquiries are resolved efficiently.
Summarizing Key Points and Next Steps
Summarizing the key points and next steps is an important aspect of successful business communication on the phone. This helps to ensure that both parties are on the same page and that there is no room for confusion or misunderstandings.
When summarizing, repeat back what was discussed during the call concisely and clearly.
For instance, if discussing project deadlines, summarize when they are due and who is responsible for delivering them. If you're speaking with a customer about a solution to their problem, be sure to reiterate what was agreed upon, as well as any follow-up actions needed from either party.
Overcoming Objections to Phone Calls in Business 
In conclusion, despite the advancement of technology and digital communication methods in business, phone calls remain an essential tool for effective connectivity. The personal connection and relationship building that can be achieved through phone conversations is unmatched by other media.
While email and text messaging may have their place in business communication, they often fall short when it comes to quick response times and clarity of understanding. With proper preparation, active listening skills, professionalism, and courtesy, businesses can overcome objections to phone calls and maintain strong connections with customers.
You may also like: Ten Tips To Enhance Business Communication
Image source: Pexels.com