Click here to get this post in PDF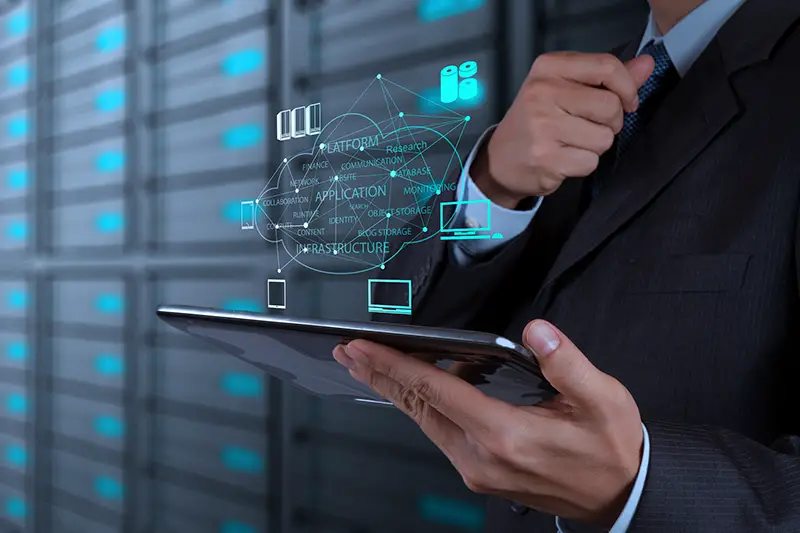 Cloud computing is a set of programs and services hosted on a server connected to the network, accessible through any device (computer, cell phone, or tablet) with an internet connection. That's right! You can access data, systems, platforms, and infrastructure from anywhere in the world as easily as having them installed on local computers.
To be more precise, some examples of cloud computing are the services of Dropbox, OneDrive, iCloud, and Google Drive, and sites for storing and sharing photos or videos, such as Flickr and YouTube. Cloud computing has recently transformed the information technology market and has become a useful technological model for small businesses. You can also embrace this technology or migrate to a more reliable cloud service. Romexsoft offers an application migration service to help your business migrate to a reliable cloud service like AWS.
Cloud computing is affordable, simple, cost-effective, and requires no hardware or technical expertise. For a long time, large corporations held competitive technological advantages that were not available to smaller companies. With digital transformation and cloud computing, they may have the chance to compete on an equal footing, especially in innovating how they conduct their business. In this article, we will look at cloud computing benefits for small businesses.
The benefits of cloud computing for small businesses
Cloud computing has become an excellent ally for small businesses. Discover the advantages of cloud computing for small businesses:
Productivity
Access to information is made at any time and place. You can even work from the home office, as employees do not necessarily need a physical space to perform their duties. With easy access to data, the delivery of results and decision-making become more agile.
Low Investment in IT
With the adoption of cloud computing, there is no longer any concern with servers, purchase of hardware and software, constant infrastructure maintenance, IT staff for monitoring, etc. All this generates a lot of costs. The money left over from this economy can be invested in improving other areas of the company. You should look for the right company offering cloud computing solutions for small businesses and migrate to this technology.
Increased Scalability
Scalability is a company's potential to grow without losing the quality of its performance. Scalability is arguably the biggest benefit of cloud computing. Cloud computing for small businesses enables business expansion without needing local infrastructure and staff growth. As a result, you can optimize resources without excessive spending and reduce operating costs.
Security
Cloud platforms always invest in advanced technologies to increase the protection of stored information and data. The risk of losing them is minimal, almost zero. They also recommend basic precautions, such as not using public Wi-Fi to access or use cloud applications.
Focus on the Core Business
The cloud also frees up IT to be more productive. It allows the team more time to create innovative solutions for its customers and focus on the company's main activity (core business), that is, on what it does best.
Adjustable to the Pocket
In addition to being extremely flexible, the user only pays for what he consumes. Following the pay-per-use, billing model, and on-demand usage costs, it is possible to start with a small amount of storage and, as the business progresses, increase it according to needs. There are free options too, but they are limited.
How to Choose the Right Cloud Computing Model for Small Businesses?
You already know that knowing and using the cloud today is essential for any modern company to become more competitive. Now, how to start using this technology? There are several cloud computing options for small businesses.
In addition to keeping an eye on the experience and reliability of the cloud computing provider, you need to carefully assess your company's real needs. As a result, you avoid wasting resources and extrapolating your budget.
Cloud computing means cost reduction and a greater possibility of offering quality services to customers, which is why many companies are already "walking in the clouds."
Don't be left behind. The future is in the cloud!
You may also like: How Do I Start Cloud Computing?
Image source: Depositphotos.com