Click here to get this post in PDF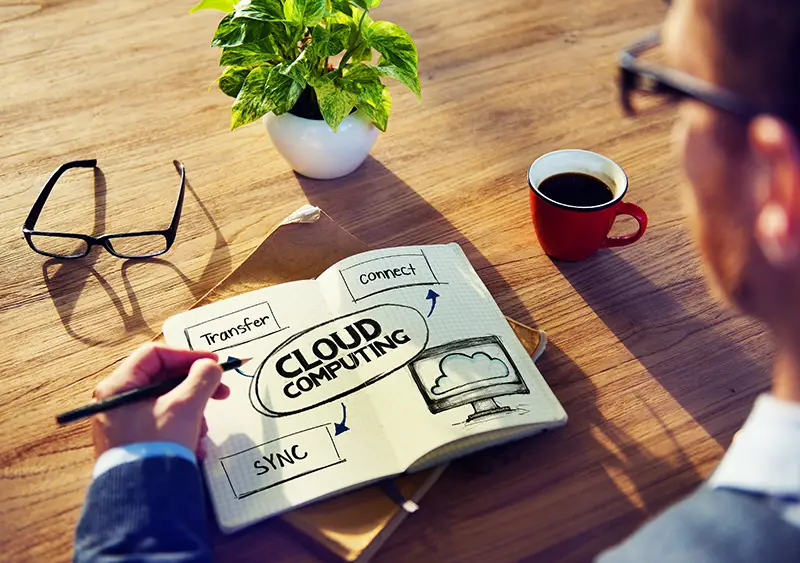 The core infrastructure of the software business has altered with cloud computing. As a result, everyone in IT can adapt to cloud computing regardless of their role and build a career as cloud-like managers, developers, testers, and executives. 
Starting with the basics is the best way to understand cloud computing! Knowledge of operating systems, virtualization and networking are the core concepts needed to master cloud computing basics for beginners. In addition, it is necessary to know how IT works and how the OS, virtualization, and networking act at a higher level.
What is Cloud Computing?
Cloud Computing is defined as data storage and access and on-demand computing service typically over the internet. It does not store any data on your computer. It means that computer services such as servers, data storage, networking, databases, and others are available on demand. Cloud computing is mainly aimed at giving access to data centers for numerous users. The users can also use a remote server to access data.
Why Cloud Computing?
Cloud computing reduces the demand from users for hardware and software. The only thing that users need to run is the interface software for cloud computing systems, which is as simplistic as web browsers and handled by the cloud network. We all encountered cloud computing; some of the prominent cloud services we've used or currently use are, such as Gmail, Hotmail, Yahoo, and more.
Cloud computing successfully utilizes limited resources for small enterprises and allows small companies access to previously unavailable technologies. Small companies can convert their maintenance costs into profit using cloud computing.
Steps for starting your cloud computing
Step 1: Check what you know
Ensure you know about Windows, basic Linux, fundamental networking abilities, and an understanding of how your operating system works instead of knowing nothing about cloud computing. These are some essential skills but sufficient to begin your cloud computing job.
Prerequisites to learn cloud computing:
Step 2: Must grasp the concepts of cloud and virtualization
When we talk about cloud computing, virtualization plays a significant part. The virtualization notion is a discovery that allows the cloud and enterprises to join their server locations. It enables virtual environments to be created. Start, therefore, and ensure that you use this technology as much as you can. You can follow a course on virtualization technologies and understand what we mean by the virtualization guest system. You will find several ideas concerning repetition and scalability once you start using a cloud platform.
Step 3: Learn cloud computing basics
For a newbie, the core idea of cloud computing will be an adventurous path. You have countless fundamental courses online to learn that it is almost difficult to select the best. The changes, both economic and technical, must be taken into account.
Step 4: Networking
Networking is a rather tricky issue and takes longer than OS, servers, and virtual machines. You can begin with a private virtual cloud (virtual machine) to communicate with and connect with its actual server, which is a virtual communication center known as VPC on each virtual machine. VPC consists of the configuration options available to start deployment and be secured.
Step 5: Temporarily try to work for free
You may find non-profit organizations seeking additional assistance. Doing free work for your IT team allows you to develop your portfolio, acquire references and obtain practical experience in a professional environment. 
Step 6: Build social networks
Making human connections is an excellent approach to know what potential occupations could be.
You will also want to reach people you know. Allow them to know that you are interested in cloud career options and are undergoing training. They will enable you to identify the best training courses, introduce you to new contacts who can help you look for your career, and function as references.
Step 7: Be interesting enough to play in the cloud
Cloud-based technology changes so frequently, so a person's skills need to change with it. Curiosity is a crucial characteristic for cloud engineers. It can be a more significant advantage than experience. It implies that you are taking the initiative to develop your abilities.
The cloud certification already demonstrates initiative and curiosity. Let curiosity lead you to practical experience with cloud apps and services.
Step 8: Show determination
If you're denied a few times or fail to land at interviews, don't give up. Commit yourself to your aim and allow those rejections to lead you to strive harder.
As you wait for the proper time, stay on top of the latest trends in the cloud and retain your knowledge with cloud labs and exercises. The closer you dive into the cloud community and practice with cloud technology, the closer you move to your perfect career.
The certification shows that you have cloud computing knowledge. Your hands-on experience shows you can put it into action even if it isn't a professional experience. The most remarkable work in cloud engineering is always challenging, and you face severe competition. Gaining certifications can provide you with a competitive advantage and taking proper steps to ensure that you can put your knowledge into practice to excel in your career. Although you will not achieve certification, your dream job will undoubtedly take you closer than you are at present.
Final note
Cloud skills are so popular that some analysts have suggested that a cloud profession can be nearly future-proof. The future may not be clear, but the way to the present offers a convincing story. Study! And use cloud technologies for your business. Learning by doing is essential to grasp the cloud. The majority of cloud providers make it easy to start playing free accounts. Alternatively, if you choose an expert development platform like Simplilearn, hands-on labs and cloud playground make it easier to learn by not having concerns or breaking a large cloud bill. You can now take your examination online or personally if you are ready to be certified.
You may also like: Should Your Business Get a Cloud Computing Tool?
Image source: Dreamstime.com