Click here to get this post in PDF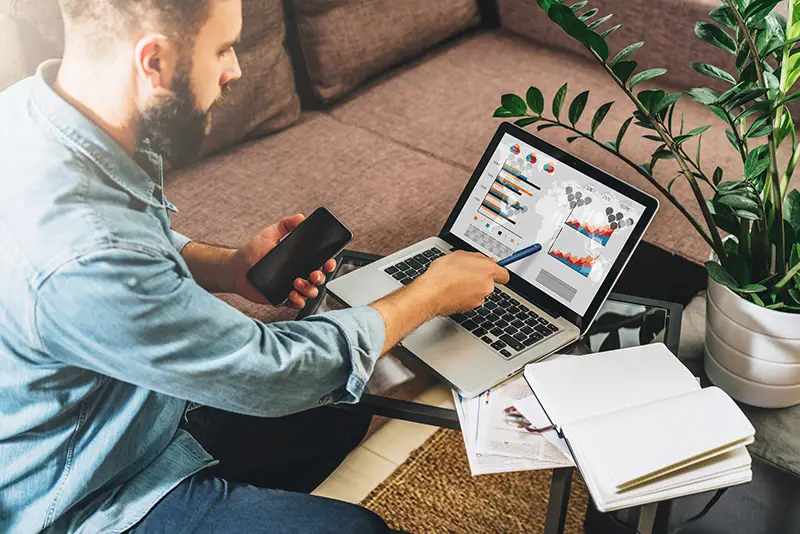 Starting a business may be the most popular way to make money. In the US alone, the number of new business applications has surpassed 1.37 million in the first quarter of 2021.
Many people take on the challenge of entrepreneurship for various reasons. Besides having complete control over your time, owning a business allows you to do what you love. Plus, you get personal satisfaction from growing your business from ground zero.
While there's no fixed formula for success, having a proper plan will help mitigate the risks of failure. The following are eight questions to ask yourself before starting low cost business ideas with high profit. By the end, you will know whether being an entrepreneur is the right choice for you at the moment.
Why Start a Business?
Establishing a business requires hard work and dedication. Without the right motivations and goals fueling the company, you'll end up getting burned out. Therefore, it's vital to have solid reasons why you want to do it in the first place.
What's more, you must be prepared for the risks of failure. Around 20% of small businesses in the US fail within the first year. Knowing this, you should have a strong business plan to anticipate every possible scenario ‒ even the worst ones.
If the fear of taking risks outweighs the goals you want to achieve, being an entrepreneur may not be the right career path for you. 
How Much Business Funding Will You Need?
The amount of funding you will need depends on your business model. For instance, an online store needs a web hosting provider and a domain name to operate. Also, if you don't know how to code, you need to hire a web developer and an administrator to build and maintain the website.
The way you obtain the products will also affect the business expenses. Producing them yourself means an extra budget for processing raw materials and packaging the products. With dropshipping, your biggest expenses would be the packaging and delivery service.
After calculating the total costs, you can determine how to fund the business. Whether you self-finance, seek investors, or get a loan, be ready to fulfill all the financial obligations that come with your choice.
Will the Business Remain Profitable?
Most new entrepreneurs focus on profitability as their primary metric. However, it is not possible to achieve that without nurturing the company's growth. Having a business idea that's not only profitable but can also stand the test of time is one of the best ways to ensure both.
The ultimate goal should be making the business a sustainable source of income. The last thing you want is to spend more on your business than what you earn.
Who is the Target Audience?
Knowing your target audience will help to craft the right marketing campaigns. Narrow your focus by analyzing the demographics and behavior of customers in your business niche. Then, develop a marketing strategy that caters to that specific audience's preferences.
By focusing on a specific niche market, you can concentrate all marketing efforts on the right group for optimal conversions. Plus, you will spend the allocated marketing budget on prospective audiences instead of wasting money by promoting your business blindly.
What is the USP?
A Unique Selling Point (USP) is the element that makes your business different from the rest. It will help your brand stand out from the competition and build a solid audience base. Without it, your company will be forgettable and short-living in a saturated market.
Identify your USP by researching competitors and their USP. By knowing how the market operates, you get to identify the current market gaps and turn them into your brand's strengths. 
Who Are the Primary Competitors?
Primary or direct competitors are businesses that sell similar products or services and operate within the same industry as you. They also target the same audience, meaning that your marketing campaign will likely go head-to-head with theirs.
Other than helping you discover the business' USP, identifying your competitors will give you better insights into the market trends and opportunities. You will learn what works and what doesn't, therefore creating better marketing strategies.
How Will You Market the Business?
The answer to this question depends on your target audience. Each demographic group has different preferences, including their method of communication. Therefore, promoting your business on the right platforms will bring better results at lower marketing costs.
You can gain this information by doing a competitive analysis or a survey. It will show, for example, if your audience leans towards social media platforms or prefer traditional media like cold calls and print advertisements.
How to Measure Success in the First Year?
The easiest way to measure your success is by looking at its financial statements. Creating a balance sheet will help list your assets and liabilities, giving you a better understanding of the company's financial position.
Other metrics to consider are customer satisfaction, conversion rate, and employee performance. You can also include your personal goals and expectations, like getting enough recognition or opening a second store.
Conclusion
Starting a business is a popular way to make money. That said, it carries many risks that may intimidate potential entrepreneurs. 
However, by knowing what to expect, you can minimize the chances of failure and identify opportunities for optimal results.
We hope our list of questions helps you decide whether you're ready to start a business. Good luck!
You may also like: Starting A Business? Do These Things First
Image source: Dreamstime.com