Click here to get this post in PDF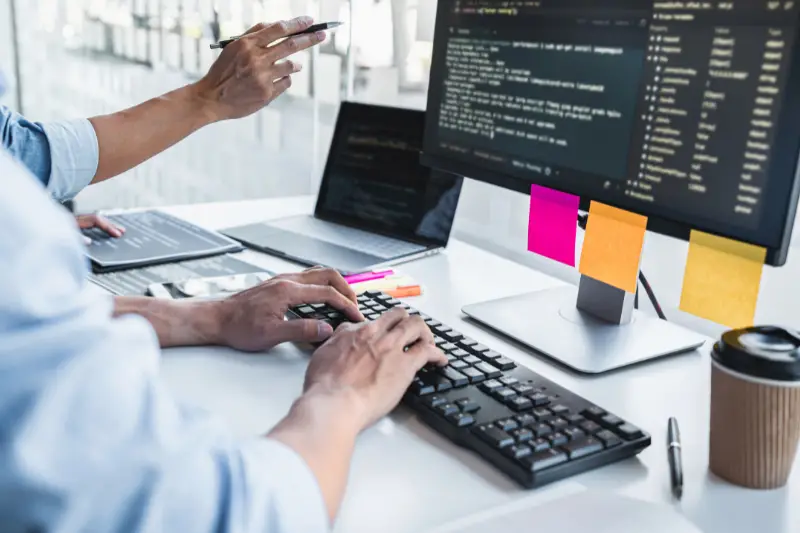 Every startup owner sooner or later faces the issue of business scaling. There are a lot of moving parts in this process, and things can quickly get out of control if you're not careful. The good news is that there are various ways to scale your startup with the help of smart technologies such as artificial intelligence (AI) and machine learning (ML).
In this article, we will discuss five strategies you can use AI for scaling your business.
Boosting Marketing Efforts
As a startup, it is essential to get your marketing efforts right in order to scale. AI can help with this in many ways.
Creative analytics can assist you in identifying which marketing strategies are working well and which ones need to be tweaked. AI and ML algorithms allow you to analyze large amounts of data such as click-through rates, conversion rates, and social media engagement. From here, you can gain valuable insights for developing personalized campaigns and allocating your marketing budget.
AI is also good at generating demand forecasts, which can help you predict trends and adjust your production schedule to meet customer demand. This is especially useful if you have a limited budget and must strategically allocate your resources.
Finally, machine learning algorithms can be used to generate content for your website or blog. For example, GAN technology, using neural networks, can generate new synthetic instances of data such as images, video, and voice. For automatic text generation, BERT or GPT approach is usually used. BERT can develop the whole article on any topic with just a few sentence inputs.
Making Smarter Business Decisions
As you scale your business, you'll need more data and insights to make better strategic decisions and, of course, resources for the effective analysis of such volumes of information. AI can help you by delivering powerful predictions and recommendations at scale. AI-powered data analytics provide managers with valuable insights to guide operational, strategic, performance and customer-related decisions.
Suppose your company is looking to expand into a new city or country. In that case, AI could help determine which locations are most likely to succeed based on previous experiences with other businesses in that market. This can save time and money on costly experiments that may not pan out as expected.
Businesses can use ready-made AI-powered software or resort to custom AI app development depending on the goals they pursue. If you are going to introduce artificial intelligence into your decision-making system, start by consulting with experienced engineers who can find the best solution for you.
Improving Customer Experience
As you scale, you must look for ways to reduce the costs associated with customer support while still delivering quality services. AI can help with this too.
Intelligent chatbots and AI assistants can provide a more personalized customer experience by engaging them in natural conversations. This allows you to get to know your customers better and provides you with an opportunity to upsell or cross-sell products and services without additional investments in human resources.
AI assistants can automate customer support, data entry, and marketing tasks. Powered with Natural Language Processing (NLP), such assistants can simulate a conversation with a customer just like human agents. By offloading such time-consuming tasks as handling general inquiries, answering frequently asked questions, and monitoring customer activity, you'll be able to free up your team's bandwidth to focus on more important things.
Automating HR processes
Automating HR processes can boost your startup's productivity, efficiency, and cost savings in the short and long term.
For example, you might use AI to automate your employee onboarding process. This can save you time by automatically collecting relevant candidate information from job listings and matching it with the data collected from social media sites such as LinkedIn, Facebook, Twitter, and others. With an automated system for hiring new employees, you won't have to spend countless hours sifting through resumes again.
You could also use machine learning technology for training purposes. For example, AI systems can help optimize training programs by providing feedback on what works best for different types of learners.
Securing your IT infrastructure
Securing IT infrastructure can be difficult for startups, as many different components need to be considered. But with the right approach, it's not as daunting and will help you grow more efficiently.
Here's how AI can help with securing your AI infrastructure at scale:

Identify and prevent cyberattacks
Automate patch management and security updates
Monitor network activity and flag any suspicious behavior
Create user profiles to determine normal usage patterns
Use natural language processing to read and interpret logs
Final Thoughts
AI can help your startup in many ways as you scale. It can increase the effectiveness of marketing, customer experience, HR, IT security systems, and so on. Automation frees up valuable time and resources you can use more productively. The key to success is to create a clear roadmap for implementing AI into your business and enlist the support of an experienced development team that understands your business needs and can meet them.
You may also like: 5 Industries that are Pushing the Boundaries of App Development
Image source: Shutterstock.com