Click here to get this post in PDF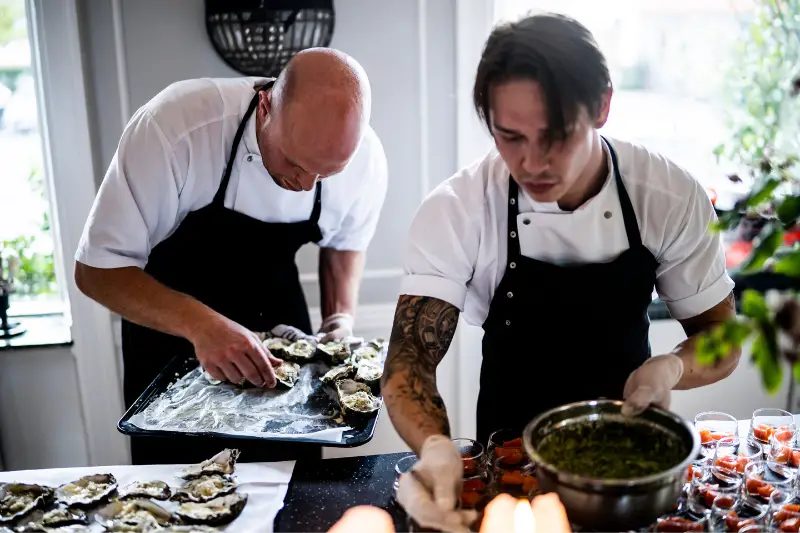 Starting the exciting path of operating a restaurant requires careful preparation, commitment, and attention to detail. As a prospective restaurateur, you are about to enter a cutthroat business where success depends on a winning mix of top-notch food, first-rate service, and savvy management. This in-depth guide will provide you with all the information you need to effectively launch your own restaurant. You will be given the knowledge and practical assistance you need to make sure your restaurant succeeds in the competitive and rapidly changing hospitality industry.
Define Your Unique Concept and Target Audience
A clear idea that distinguishes it from competitors is the basis of a successful restaurant. Considering the likes and preferences of your target audience, start by outlining the concept, food, and ambiance of your restaurant. Finding gaps or untapped possibilities in your local market can help you create an idea that appeals to your target audience. A distinct and distinct idea will function as your restaurant's identity and draw in a following of regular customers, whether it's a fine dining institution, a comfortable bistro, or contemporary fusion cuisine.
Craft a Memorable Menu
The heart of your restaurant is its menu, so designing a distinctive one is crucial if you want to draw people in and encourage them to return. Work together with creative chefs to develop a menu that is varied, balanced, promotes your restaurant's talents, and satisfies a range of dietary requirements. To improve the eating experience, put an emphasis on high-quality food, seasonal vegetables, and creative cooking methods. Make sure the menu is brief and updated often to reflect seasonal specials and gastronomic fads so that clients can always find something novel and intriguing to eat.
Hire a Competent and Passionate Team
The crew behind a restaurant is key to its success, from talented chefs and attentive waiters to productive kitchen workers and welcoming hostesses. Make it a priority to hire qualified and enthusiastic people who share your vision and dedication to providing outstanding service. Conduct in-depth interviews and think about putting a trial period in place to evaluate applicants' abilities and cultural fit. Invest in training and development initiatives to help your staff provide dependable, exceptional service while establishing a supportive workplace that rewards loyalty and commitment.
Implement Effective Marketing Strategies
Creating brand recognition and enticing clients both depend on effective marketing. Create a thorough marketing strategy that includes interesting social media posts, a strong online presence, and partnerships with regional influencers like food bloggers. To draw in new customers and promote your restaurant to the neighborhood, hold events, tastings, or promos. To reach a larger audience and provide convenience to your consumers, think about collaborating with meal delivery companies. To speed up reservations and improve client experience, spend money on a quality website and online reservation system.
Invest in Essential Restaurant Equipment
For efficient and dependable operations, restaurants need the right restaurant equipment. Invest in high-end, commercial-grade equipment, such as trustworthy ovens, freezers, and commercial ice makers. A crucial element for your restaurant's ability to satisfy customer demand for cool drinks and preserve perishables is an ice machine. Select an ice maker that delivers energy efficiency and is simple to maintain and that fits your anticipated production and storage requirements. A properly operating ice machine enhances the eating experience and makes a good first impression on your visitors.
Prioritize Food Safety and Hygiene
In the restaurant business, cleanliness and food safety are top priorities. To avoid foodborne diseases and maintain the highest standards of cleanliness, implement stringent procedures for the handling, preparation, and storage of food. Make sure your team receives regular training on food safety procedures and that they follow hygienic rules. To keep a clean atmosphere, do regular inspections and buy commercial-grade cleaning products.
Provide Outstanding Customer Service
A successful restaurant has outstanding customer service as its defining characteristic. Train your personnel to be aware of your visitors' wants and preferences while still being polite, attentive, and educated. Encourage your staff to go above and beyond to satisfy customers, handle problems quickly, and provide memorable dining experiences. Positive online and word-of-mouth recommendations from pleased clients will encourage repeat business and draw in new clients.
Conclusion
To succeed in the cutthroat hospitality market, opening a restaurant takes rigorous preparation and execution. You may create the foundation for a prosperous and profitable dining facility by developing a distinctive idea, creating a memorable menu, etc. In addition, you can prioritize food safety and cleanliness and provide exceptional customer service, much like an ice maker. Your ideal restaurant may become a beloved destination for foodies and an important improvement to the culinary scene in your neighborhood with commitment, passion, and expertise.
You may also like: Everything You Need To Start a Car Washing Business
Image source: Pexels.com