Click here to get this post in PDF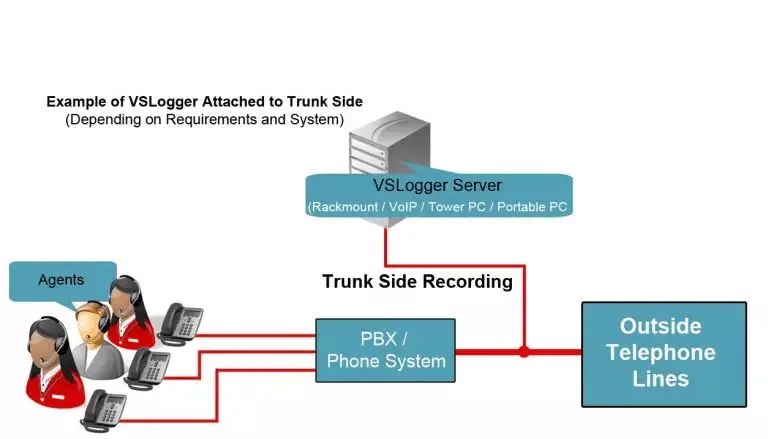 With the rise of globalization and the spread of business functions shared across locations and the world, more companies are turning to Voice Over Internet Protocol to address their communication needs. Instead of simply relying on traditional phone lines, firms are looking into cheaper and more efficient communication solutions that allow them to make voice calls over a computer network.
There are basically two types of VoIP systems. One that involves Internet telephony, which passes through a regular phone line, and one that directly operates via your computer network, with the goal of bringing in offices from various locations, no matter how far, into a single unit. Having such a business IP phone will not only make communication much faster, but it will also reduce telephone costs significantly.
VoIP phone systems can work either in large corporations or in small office units. It has even been predicted that all companies will eventually shift to IP PBX phone systems as their costs go down.
The Advantages
IP telephone systems are best, however, for firms with a number of locations, and those that have work-at-home or telecommuting stations. All the features of your VoIP system may be accessed by anyone from a remote location, as long as he or she is connected to the company's Wide Area Network (or in a small office's case, a Local Area Network).
The best thing about having an IP PBX phone is the rate of expenses saved. Aside from free phone calls, with an IP telephone system, all office units connected to the LAN or the WAN will be able to enjoy all the benefits of a standard office phone setup, such as call transfers and extension dialing. It also makes it easier for employees to share information and files even from locations miles away.
Another major cost-saving factor VoIP systems bring is that network administrators do not need to monitor multiple networks and servers. Because everything goes in and out one network, only one location needs to be maintained.
The Disadvantages
Choosing to put up IP telephone systems can also have certain drawbacks.
Of course, since your IP phones operate on a computer network, there will be instances that they shut down because of server crashes and certain maintenance checks. Also, since they do not run on traditional phone lines, once power is out, IP PBX phone systems and other IP systems will also be out. To operate such, you will need to plug them to an outlet, as opposed to standard phone lines, which draw power from another source.
Bandwidth strength will also be a challenge. In order to work perfectly, VoIP systems need significant bandwidth to be able to maintain high communication quality. Apart from this, VoIP systems also require more frequent checkups, maintenance and upgrades, which can be quite costly in the long run.
In sum, having VoIP telephone systems is an investment. If you think your office is up to the challenge, particularly if you operate in various locations, then, PBX IP systems may just be for you. Just make sure that you've talked to the right people and asked all the questions before you decide to push through.
Three reasons why you are going to love VoIP
VoIP, or Voice over Internet Protocol, is rapidly becoming a top choice for people wishing to avoid costly telephone service. Why? The system works by allowing you to make phone calls using a computer network, such as your Internet provider. The way it works is similar to email; most providers offer unlimited long-distance calling for a low monthly fee or for a low per-minute rate. Where long-distance fees can run high very quickly through traditional phone providers, Voice over IP can provide the same types of calls for a much lower rate. VoIP is the calling choice of the future, and providers are already scrambling to provide the best service for the best price, for example, virtual phone number. For the consumer, this is great news. As companies compete for business, rates and service options continue to improve. Why will you love VoIP? The following are three top reasons.
Huge Savings
Imagine being able to keep your current phone number and make as many long distance calls as you wish (within a certain area) for one low price. No more fluctuating phone bills, outrageous long distance charges, or other surcharges that repeatedly shows up on your bill. Voice over IP offers just that. Just as email changed how people communicate, so too will VoIP.
Depending on the provider you choose, you may be able to combine your Internet service with your phone service into one lower monthly bill. As VoIP becomes more common, it will be available in more areas. However, even for those who are not yet able to change their local number to Voice over IP, there is still the option of switching your long distance. This requires a phone number outside of your area code, but the savings will be well worth it. Further, if you make many phone calls to a particular area code, choose a number from that area and your contacts will be able to call you as if it were a local call. Not a bad way to go while you're waiting for local service!
Options
Voice over IP comes with many options, including both the ones you are used to as well as some new ones. Imagine checking your phone calls through your computer while you are traveling, or having an email sent to you every time you have a new voice mail message! The technologies that integrate your computer and your phone service are opening up a whole new playing field in communications. VoIP combined with your computer, mobile phone, and other gadgets will keep you more connected than ever. Of course, if you choose not to be connected, that is possible as well. Many Voice over IP providers include features you're used to, such as caller ID, call waiting, and call forwarding. You may also have the option to block callers, use an "away" message, or "do not disturb" options.
Additional features may include three-way calling (again avoiding costly charges), speed dialing, distinctive rings, and many other options. Moreover, if you don't want to give up some of the benefits to which you've become accustomed, many providers offer directory assistance (for a fee, although this could change) and the ability to access 911 emergency personnel, which is a concern for many people.
It's Not Going Anywhere
VoIP is the future of calling. As technology evolves, more and more integration options will come available. Depending on the use, you may be ready to switch over now and enjoy the cost savings. For home users, switching to Voice over IP can be a very cost-saving option, particularly for those who make many long-distance calls. Home-based businesses may also benefit from switching. A larger business may do well to wait a bit or start integrating the technology on a smaller scale. As VoIP evolves, so too will the options for larger businesses.
When making the switch to VoIP, do a bit of research to choose the best option. Avoid getting locked into a long-term contract, as new providers are competing with existing ones, and you'll want to take advantage of better rates and services if they come along. The basic information to look into includes:
If local numbers are available in your area.
If you can call 911 emergency services.
What the flat rate is for long-distance calling.
What geographic areas are included in the unlimited long-distance plan.
The services available and extra costs, such as directory assistance.
The terms of the contract.
As you can see, the VoIP service and PBX have a lot of features and have huge advantages to increase usability for your business.
You may also like: Take Full Control of Your Business Phone System