Click here to get this post in PDF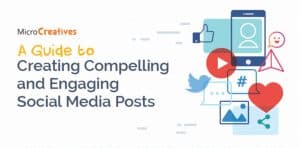 Social media may seem simple, but when it comes to doing business-related stuff on such a platform, things are completely different.
You probably often post on Facebook and Twitter and not stress over what you've written on your timeline. A business, however, cannot do this. They must consider their audience before they post anything.
Before using any social media platform, you should understand all the updated features and how you can maximize them. There are numerous features you can choose from—all of which are very important in getting the attention of your readers. You want them to engage and connect with the content that you publish or whatever you post.
A great way to learn new things is through an infographic, which is a quicker and easier way to explain information without reading long articles. Below is an example of how you can create a compelling and engaging social media post.
Here, you will find out what to write on Facebook, what tone to use, how to shorten your tweets, what to share on Instagram, what graphics work on YouTube, and so much more.
Hopefully, you'll get more shares and likes on your posts by following these tips. So start creating remarkable content and influence your followers in positive ways, and see better results from your social media posts in no time.

Infographic by MicroCreatives.com