Click here to get this post in PDF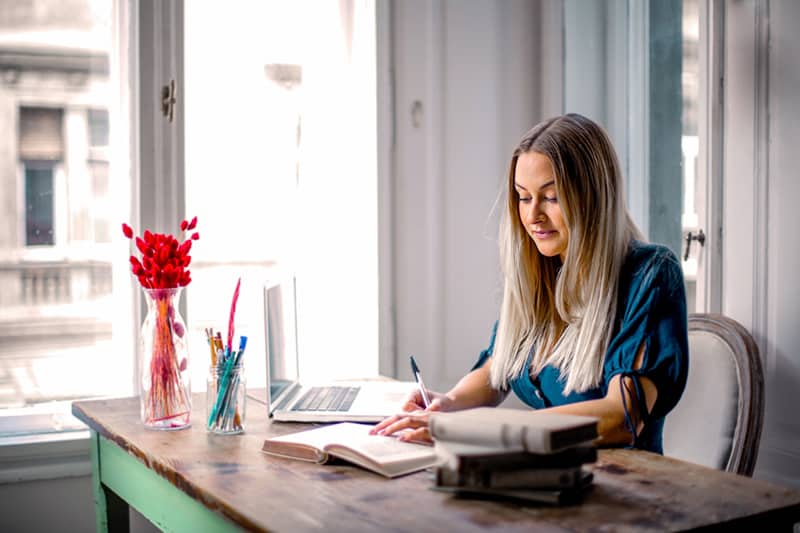 With the current Covid-19 outbreak many of us are now finding ourselves working from home. But how do you turn your house into the ultimate home office? My Baggage have laid out 9 ways you can create the best space to ensure you stay motivated and don't end up on the sofa.
Pinterest is your friend
To get your creative juices flowing why not start looking for inspiration on Pinterest? It offers you plenty of ideas on how to create the ideal home office, from simple IKEA hacks to show-stopping designs that are Instagram worthy. Create a Pinterest board to inspire your work from home station but remember to take all design inspiration with a pinch of salt. You will be limited in what you can do to this space and with the UK currently under lockdown, you will have to pick items online that can be delivered to your home. 
Also, be practical! Some designs on Pinterest might look great but aren't functional enough for the working week. A cosy armchair won't provide you with enough support, retro or vintage desks aren't going to be eye level or handy for placing your laptop on and bright colours which look great in pictures can be a real headache dealing with on the day-to-day.
Get things eye-level
When sitting at your desk in the office you often take for granted that your desk is set up to ensure your computer is at eye-level. When setting up your home office, it's important to ensure that your screen is level as failing to do so can result in backache. 
Your computer screen should always sit at or a little below your eye-level. You should not be straining your neck up or looking down. Your keyboard should be in parallel with your arms and your chair should be adjusted so your feet touch the floor. If your home chair isn't supportive you can invest in back supports or cushions to help ensure you stay comfortable during this time.
Let in the light
It's time to step away from the standard office cubicle, at home you can make your setup incorporate natural light. A good idea is to move your desk towards the window, allowing you to take advantage of the daylight, but also have a handy distraction for whenever you need to take your eyes off the screen. Also, with many of us now having to work from home for the foreseeable future, by ensuring that your office space makes the most of natural daylight will help to keep the cabin fever at bay.
It's important to also incorporate artificial lighting for when the sun sets. Invest in a good table lamp that will give you a warm glow and adequate brightness as you don't want to strain your eyes working in a dark environment. 
Get comfortable 
You are going to be spending your working day in this space, so it's important to make it as comfortable as possible. Invest in a chair that is both supportive and easy to sit in as the last thing you want is an uncomfortable chair causing you back issues. Choose to incorporate a back support or seat cushion that helps make this chair just as cosy as the one in the office. An added benefit of working at home is that you can also cuddle up with a throw if things get chilly.
Storage is important
In your office at work, you will have filing cabinets and places to put your papers and files, however, at home finding space can be tricky. It's important to incorporate storage into your working from home station. Instead of purchasing filing cabinets that you won't use again, invest in bookcases or wall shelves that will provide a purpose after you stop working remotely. You can store your paperwork in files and can even treat yourself to some quirky bookends. It will also double as a sophisticated backdrop for when you're having your morning meetings via Zoom. 
Add in some greenery
There's nothing better than watching things grow! Remember to include some plants in your new home office. Not only will they brighten up the place, but greenery just always seems to make people happier. If you aren't good at remembering or looking after plants, pick ones that will not need to be watered regularly, like a cactus. There are many options available and you can easily purchase them online. 
Get personal
At our work desks, we often have photographs of family or friends or little trinkets that make our desk ours. Continue this whilst working at home! Include photographs of friends or family, incorporate personal trinkets or mementoes or even bring the ones from your office home. It's important to create a barrier between your new workspace and your home so you can set the two apart and leave your work in the home office. Some people find putting funny cards or postcards with slogans on their desks as a good way to keep themselves motivated and smiling, especially during the current crisis.  
Hide unsightly cables
In your working office, you don't have to think about cables as they are always hidden behind the power strip and out of sight and mind. However, when you have a home office your cables will be everywhere. It takes time to put everything together from your home laptop to the printer and even your new desk. There are ways you can hide these cables, such as putting your printer in a cabinet or running the wires along the back of your desk. The last thing you want to do is accidentally trip over one of them. 
Treat yourself to the little things
This might be a comfy blanket, a coffee machine or even a digital radio. Remember to allow yourself a few additional extra home comforts to create an inviting office space. It will be these added touches that will make working from home feel like a treat more than a chore. 
Also Read: Tips to Set Up a Healthy Home Office That Increases Productivity