Click here to get this post in PDF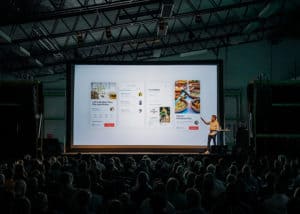 Got an important business presentation coming up? You might be nervous, but you shouldn't be. If you prepare properly and follow these simple steps, your presentations should have the impact you want it to, whether that's wowing potential clients or achieving something else in your workplace.
1. Make sure you've rehearsed your presentation
It's understandable that you might be busy in the lead up to your presentation, but you'd be surprised how many people simply don't rehearse before their talk. It's one of the biggest mistakes you can make, but it's so easy to avoid. Make sure you've worked through your presentation and ironed out any issues. Your talk will come across much better if you can speak about the subject freely rather than having to follow your notes to the word. And practice can help with this, too. Try rehearsing with friends or colleagues and listen to their advice. Practising with an audience can help make you less nervous, too.
2. Make sure you've got the right tools to help
Make sure your talk is aided by the right tools, like projectors, slides and other technology. Try and aid your presentation with images and make sure it isn't all talk. Services like inkjet transparencies can help you here.
3. Make sure you've tested your equipment
If you are using equipment (which you should be), make sure you've tested it and know exactly how it works beforehand. Many great potential presentations have been ruined by a faulty projector or slides that don't load.
4. Make sure your guests are comfortable
If your talk is long, you don't want your guests getting tired or uncomfortable. You might want to give them a break halfway through. Make sure the lighting is good so they can concentrate. Try providing drinks, food and other refreshments to help make the occasion more enjoyable.
5. Hand out supplementary documents
Don't simply talk at your guests. Make sure they've got something to look at. Getting them involved early is helpful, too. Try handing out documents and other things for them to look at while you talk. This will help keep them engaged and give them something to have their mind on at all times. Presentations can sometimes be boring to sit through, and you want to avoid this as much as possible.
6. Present clearly
Don't just tell people stuff, show them. Examples are always great. Use charts and other tools to present data clearly and concisely. Stats are important to back up any and all of your claims.
7. Ask for questions at the end
Make sure you keep your audience involved and ask them for questions at the end. Be prepared to spend a bit more time answering everything so that nobody goes home without being sure about something. If you want to make your presentation even more interactive and engaging, you can try asking them to get involved throughout the talk rather than just at the end.
8. Relax
Try not to be too nervous. Breathe deeply if you need to. If you prepare properly, your presentation should be fine.
You may also like: 6 Types of Presentation Styles: Which One Do You Fall Into?
Image source: Unsplash