Click here to get this post in PDF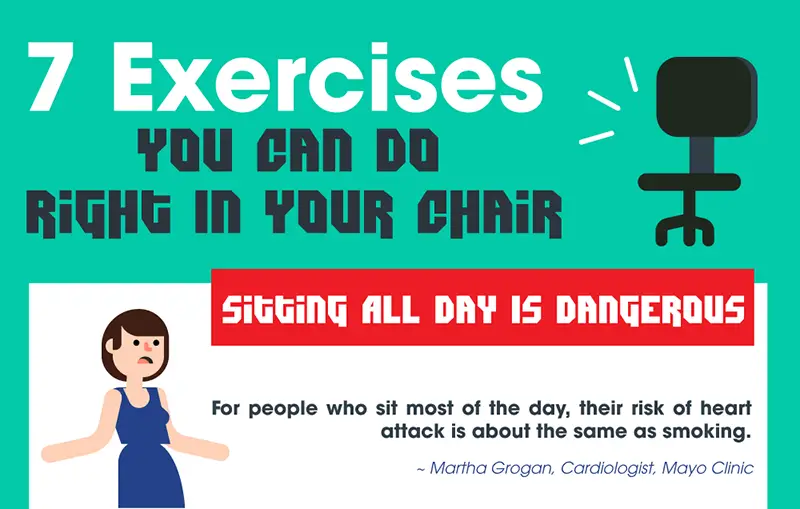 Do you know that being seated for a very long time poses great health risks? According to studies, people who are seated for a long time run the risk of heart attacks and other problems. It is because the body is in a state which is worse than being a chain smoker.
This is why if possible, you have to interrupt sitting. You have to set an alarm in the office to remind you that you have been sitting for a long time. You have to move at least every 40 minutes. This allows your body to burn more calories.
You need to understand that the moment your body is in a relaxed mode, calorie burning drops down to just 1%. In short, if you have just finished eating and you sit for the next few hours, it could lead to weight gain and belly fat.
Your job requires you to be in front of the computer for a long time and there is nothing you can do about it. The good thing is that there are exercises that you can do on your chair. There is something that you can do though to keep your body moving while you are working.
There are simple exercises that work. They are easy to follow, convenient and effective. You can give them a try now and see how they could positively affect your health. Before you know it, doing these exercises becomes a part of your daily habits at work.
To know more about these exercises, below is an infographic that you can check out. It contains the techniques that can be done in the office and how to execute them properly. If you want to change your lifestyle and be healthy, you have to start doing these exercises now.
Please include attribution to GarageGymBuilder with this graphic.