Click here to get this post in PDF
Make Your Site Mobile-Friendly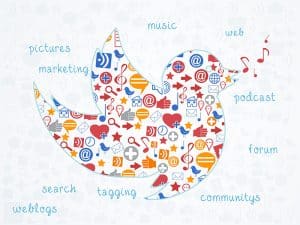 Everyone is on their mobiles these days – in fact, more than half of search engine queries come from a mobile browser and many people use their phones in place of a desktop or laptop. One way to make sure your small business will grow in 2018 is to have a fast-loading, mobile-optimised site. Potential customers or clients may be using their smartphone to access your site and they could be put off if they have a negative mobile experience. No user wants to struggle to see images or not be able to read content because it won't load properly. The layout of your website should naturally adapt to a smartphone device and the site should be easy to navigate. Consider the design of your mobile site and make sure that it is engaging for visitors.
Use Social Media Platforms
As a small business in the 21st century, it is not enough to just have a website that you use as a point of contact between you and clients. Social media is a great marketing tool and one way that you can continually engage with your customers and network to find new customers. Building a social media presence is an important way of growing your business and there are countless options when it comes to deciding what platforms you will use and how you will use them. For example, if you're selling a product, particularly one that is visually or aesthetically pleasing like clothes, plants, healthy snacks or art, then a visual platform like Instagram is an ideal way to showcase your products to the right demographics. Facebook can be a great way to share funny, interesting or informative content that your followers can then share with their friends. Include links to your social media accounts on your website so that customers can find and access them easily. You can even integrate a social media feed onto your site so customers can see your latest status updates.
Create High-Quality Content
Having high-quality content on your website and blog helps to engage visitors and encourage potential customers to return to your site in the future. Create informative and interesting content that relates to your business but that is also going to have relevance to your target audience. Make sure it reflects your business in terms of the tone and style and that you are always adding new content. Constantly producing useful content for your followers or customers helps to add to the credibility and respectability of your brand.
List Your Business
By registering your small businesses on different online directories and Google Places, you will be more 'searchable' online. Signing up for these different directories is usually free and means that you become part of a database so potential customers looking for certain services can find you more easily. 
Integrate Different Multimedia Into Your Website
Different types of multimedia and mediums used on your website and social media can help to enhance your online presence and grow your business. Videos are one way that you can attract audiences and engage your customers. Online videos are easy and cheap to produce and can give you great results. In this age, people are more likely to watch a quick video then they are to read a long article. When brainstorming content ideas, consider how you could convert a certain content idea into a video. For example, you might make an audience showing how your product can be used to help solve a problem your demographic might be experiencing. Another good video idea is to interview repeat clients or customers and create a video of testimonials that you can have on your website and share across your social media accounts. This gives you credibility and social proof is a factor customers value.
Infographics are another great way of articulating content ideas and they work well on social media where people are scrolling through their feed and don't tend to stop to read a lot. Creating interesting infographics is one way to make your website more interesting and engaging and to get the attention of those who might not necessarily be part of your target audience.
In 2018, one of the best ways to ensure your business grows is to make sure that you are using the online world to its full potential. Ensure your website and social media accounts are engaging your customers and you should see your sales increase in no time!
You may also like: 6 Personal Branding Tips To Help Grow Your Small Business
About the Author
Laura Martins is a content manager for RateCity, where you can make smarter financial decisions and compare thousands of financial options. In her time away from RateCity, Laura loves reading about tech and spending time with her dogs.