Click here to get this post in PDF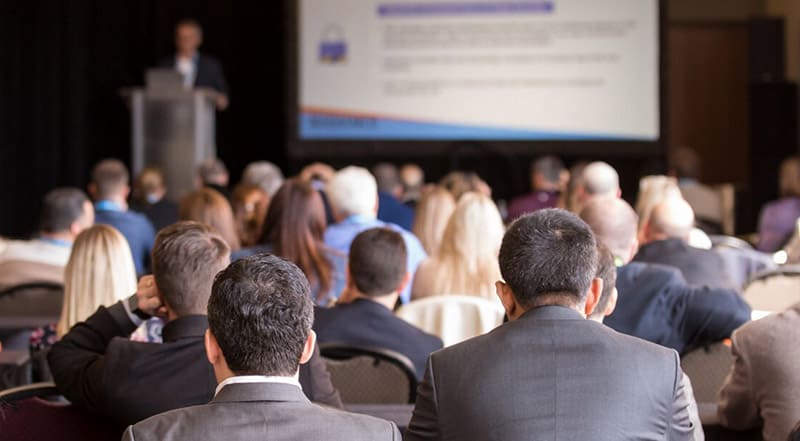 Conference attendees are typically not trying to get a couple of days away from work. Responsibilities accumulate until they get back. Planning a business conference must include reassuring busy people that it will be time well spent. And a successful meeting must deliver on that promise.
1. Set a Convenient Date
Schedule your regional or national conference so that it does not conflict with any major event that would compete for attention. As an example, don't schedule a meeting for livestock equipment manufacturers during Denver's National Western Stock Show & Rodeo.
While you can easily schedule around annual events, you need to protect your date from any one-off events that would compete for your attendees. Schedule early and begin advertising far enough ahead to discourage date conflicts.
Late spring and early fall are best for avoiding conflicts with attendees' personal time.
2. Book the Right Venue
The most convenient place to book a conference is a conference center—either stand-alone or connected to a large hotel.
Conference centers connected to large hotels offer the most flexibility:
You can reserve a meeting room that will accommodate the maximum number of attendees. If the actual number at registration is smaller, the meeting room can typically be made smaller with partitions. And the conference can appear to be packed out, instead of poorly attended.
You can negotiate discounted rates for a block of rooms to accommodate attendees. Attendees don't have to leave the conference center (especially helpful in busy urban areas or in inclement weather).
Snacks and meals can be easily arranged with the hotel so that no outside food vendors are needed.
Most conference centers have all the audio/video equipment you will need, such as projectors, screens, sound systems, etc.
Smaller rooms are available for break-out sessions.
But not all conference themes fit well with a conference center. If you are bringing together athletic equipment manufacturers, for example, you may want to book a stadium instead. A stadium venue can better accommodate any demonstrations of new equipment.
Be creative, as well as practical when selecting the venue. Don't forget to clarify all important terms in advance, to avoid last minute surprises and rearrangements that can disrupt your event. For example, you may assume you can order a catering service from a third party, but this is prohibited by the venue policy, as they provide the same service themselves for an additional fee. You don't want to find out about this after signing the agreement. Here is a helpful list of questions you need to ask before booking the place to ensure everything goes according to your plan.
3. Make Arrangements with Vendors
While budget constraints plague every conference, never choose price over quality and reliability. It doesn't matter how great a deal you got on the catering if the food isn't in place when it's time for a meal or a break. You want attendees talking about how much they benefited from the conference—not how much they were aggravated.
Before booking any vendor, review their contract carefully. How do they handle last-minute changes in registration, for example? If the conference has to be rescheduled or canceled, what is their cancellation policy?
Make sure you understand a venue's policy on outside vendors. If your attendees are professional chefs, for example, food demonstrations may require outside vendors. Will a venue with food service allow it?
Catering
Breaks are essential for information retention. Even with entertaining speakers and subjects, don't scrimp on the breaks. Several 15-20 minute breaks with non-alcoholic beverages and snacks are perfect.
Make sure to reserve an hour for lunch. Attendees also want to catch up on emails and messages during that time.
"Some guests prefer light lunches, others are used to nutritious meals, so you need to make sure there is a variety of choices for everyone. Lastly, don't forget to include a couple of vegan options, they are usually greatly appreciated. Ideally, ask your conference members about their preferences in advance, or at least the most important guests."—recommends the executive chef at BB's Tex-Orleans—a restaurant and catering service provider in Houston, TX.
Special Equipment
Do not assume that the venue's audio/video equipment will suit your purpose. For example, all projector screens and video projectors are not created equal. And it is highly unlikely that any venue has equipment that would be suitable for a room full of cinematographers.
Know the standards that your attendees expect, and make sure that every vendor provides equipment up to that standard. If they don't, you may need to rent it.
Decorators
What ambiance do you want to create? Decorating for a conference for insurance adjusters could probably be safely overlooked. But white tables with pads and pencils will not work for a meeting of flower and gift shop owners.
People are primarily visual learners. And the right professional decorating services company can help get your message across just as can gifted speakers. Decorating services are not as available as food catering, so make sure to book early.
4. Take Care of Members' Transportation and Accommodation
Accommodation
When the venue is a hotel conference center, reserve a block of rooms for those attending.
When the venue is not attached to a hotel, other considerations apply when the conference is:
A corporate event for a specific group of employees or affiliates—such as dealers, sales representatives, human resource managers, and the like. And the corporation is paying for attendee accommodations.
An educational event for a specific segment of the business community—such as bankers, home inspectors, cotton farmers, and the like. And the attendees pay for their own accommodations.
Michael Owens, the head of customer support at Vancouver boutique hotel Carmana Plaza, shares his advice: "When accommodations are paid for, the quality of the hotels chosen should reflect the quality that the business sees in its employees and affiliates. Those attending will feel appreciated, and that appreciation will benefit the company.
For those paying their own way, suggest two or more quality hotels in different price ranges. Each attendee can then book a room that fits their budget. You can also consider corporate housing if you are planning a series of events that involve the same foreign members. If they are staying for more than a week, this will be a cheaper alternative."
Make sure each hotel provides an easy way for members to get to and from the meeting.
Airport Transportation
At a minimum, each member should have easy to understand instructions for getting from the airport to their hotel. Send these instructions to participants ahead of time.
It is better to have private shuttles (with clear signage) available the day before and after the conference to transport members to their hotel. If you often work with overseas speakers, build a relationship with a luxury car rental service.
William Watson, the senior customer service specialist from Advantage Limousine Services in Houston TX, advises: "It often happens that someone rents a vehicle for an important guest, meets them at the airport, and then gets into a legal trouble, as it's normally forbidden to transfer a rental car at the airport property. If you have a relationship with a car rental company, they can meet your guest at the airport at a discount price or as a courtesy, as luxury car rental companies normally have a special license that authorizes them to do it".
Foreign members need special consideration. They should be met at the arrival gate by a conference representative who can help them get to their hotel.
5. Market Your Event
Imagine trying to help Napoleon Hill come up with a name for a 1930s conference about increasing wealth:
"Thirteen Different Ways to Achieve Success" just doesn't have much of a ring to it. What about "Think and Grow Rich"?
Make the name of the conference a priority. Consider hiring an advertising professional to help.
Enterpreneur.com wrote this nice, detailed article on tactics for promoting your event you can use to push your advertising efforts to the limit. Here are a few additional tips to attract more visitors:
Create an attention-grabbing landing page full of information about the event. Include an online registration option.
Promote the event on all social media channels.
Buy radio and television spots if the budget allows.
Put up posters in the places where attendees frequent.
No matter what techniques you choose to implement, don't scrimp on marketing because a conference can only benefit those who attend it.
You may also like: Event and Conferencing Key Trends – An Infographic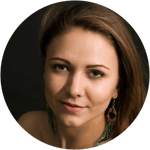 Article by Laura Bierman