Click here to get this post in PDF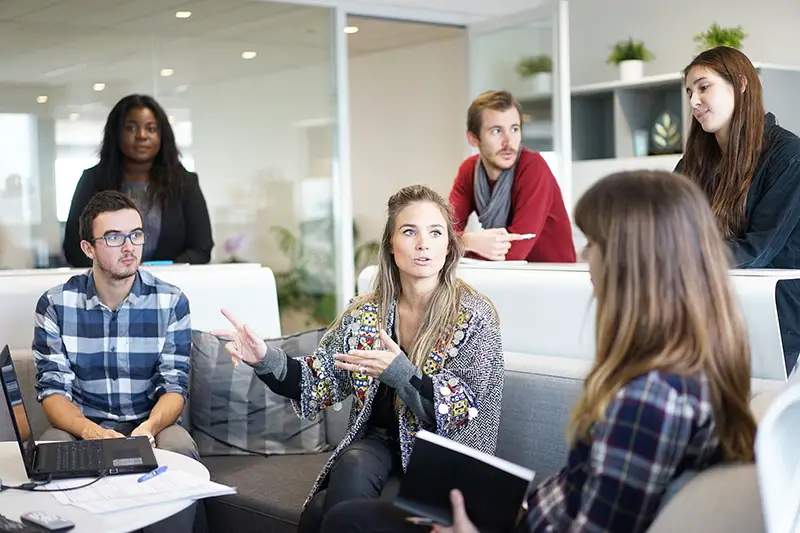 The steady flow of information is the pillar that keeps every business afloat in the market. It is a crucial aspect of every business decision. You can hire the best consultancies and observers to work out valuable data, but that data is useless if it doesn't reach the right people. 
CEOs cannot make informed decisions for their company if the relevant facts do not reach their desk.
Efficient communication is key to sustaining a large business. Long gone are the days when getting information meant waiting for official documents in the mail. The digital age has made this flow instantaneous, and investing in good communication tools means investing in greater productivity of your business.
The business world is flooded with newer ways of making communication seamless, but not all yield results. So today, we'll be analyzing the ones that do. 
Intranet or VPN Communication
In scaling companies, sharing sensitive company information back and forth is tricky, especially with computers prone to all sorts of online threats via the internet. Fortunately, seamless communication like this is also possible through local intranet connections. It is a closed network where only company computers are connected. With no third party involved, confidential company information can be circulated efficiently, quickly, and discretely. 
Companies can also set up a social intranet network to organize information in one place,  readily available for employees.
Another viable solution is setting up VPNs. Virtual Private Networks (VPNs) can encrypt internet traffic, making it impossible to track and intrude into company information. But which VPN service is best for you and your business?
To make an informed decision, type in best VPNs comparison on Google to decide which service works best for your company and meets your demands. 
By installing a VPN, company communication will be seamless and secure without establishing an entirely new network.
Management Softwares
A company's day-to-day function is an amalgamation of different projects/tasks running together in parallel. This causes a lot of miscommunication and difficulty in prioritizing decisions from the management. 
It's difficult for the responsible person to monitor the projects in real-time, which is a basis for the communication gap that usually exists.
In this case, task management software is a must-have as they make progress-tracking easier. If you're a senior executive, you'll be busy all day tackling meetings, as well as keep track of the projects you've assigned.
A Task Management System will help avoid these issues by providing real-time updates and critical analysis to quicker projects. 
As a manager, you can assign tasks and then track the progress. It can also communicate deadlines for the task and alert the concerned person if they're late.
Customer/Client Communication
Without customers, your business can't survive. Again, digital media and IT have helped forego the protocol requiring companies to invest heavily in advertisements and client communication.
Gone are the days when company representatives had to adopt a door-to-door strategy to market their business. Even more so, when customers had to go all the way to the nearest branch to get information or place an order, is in the past as well. 
Nowadays, you don't need to wait for days to receive a reply to your letter; in most cases, it is instantaneous. 
With CRM (Customer Relationship Management) software, you can now track your customer's orders and queries in real-time. Catering to customers is much quicker, which ensures better client attraction and retention. 
One-on-one responses to your client's needs make them feel valued and secure your relationship with them. It's cost-effective to apply, as compared to the older communication methods. 
It saves a lot of effort yet maintaining the 'sacred nature' of your relationship with the customer.
Employee Management
Every company has a human resource department to assist employees. Hard-working employees are the backbone of a company, and it's in everyone's best interest to maintain good morale in the working environment. 
Evolving times call for evolved engagement methods. For this purpose, the intranet network, like mentioned before, is the perfect solution.
Psychology says visually appealing content garners better reception, and posting videos from company seniors on the intranet network can significantly help retain that morale. Furthermore, appreciating and praising employees for exceptional work on this platform will help them feel valued. It is also an excellent forum for getting feedback for improving workplace culture.
Real-time progress monitoring removes the bias that people complain of existing and brings fairness in distributing monthly incentives to exceptional employees. This'll help maintain the morale of such employees; in fact, it encourages productivity.
Time-log Software helps track employees' time at the workplace. It enables the management to monitor monthly salaries and off-days fairly for everybody—eliminating chances of unfair treatment.
Analytics Software
Until now, conducting market surveys and tracking internal company data (sales figures, customer outreach, etc.) was challenging. This type of data makes all the difference in important decisions. 
Without software tracking, real-time analysis is a costly and lengthy process. Manually conducting these surveys/studies means expecting errors in logging and calculations. There are also chances of missing minor details that can make a significant difference in the overall results.
Running analytics software means that even the most minor numbers and data are logged for you to use and process. CRM software, as mentioned before, can make real-time monitoring of many company parameters a seamless process.
Conclusion
Technology has always helped us reach maximum productivity. Effective communication is the backbone of every company's success. A private network means a secure and safe flow of sensitive company details. 
When accompanied by real-time monitoring software, it removes the management's hindrances and creates an even playing field for all the employees. 
Using software in conjunction with a local intranet system helps employees perform better and allows the management to track their progress to the finer details. This crucial information makes it easy for the administration to use whatever means necessary to ensure company success and employee retention. 
You may also like: 8 Best Business Communication Platforms for 2021
Image source: Pixabay.com