Click here to get this post in PDF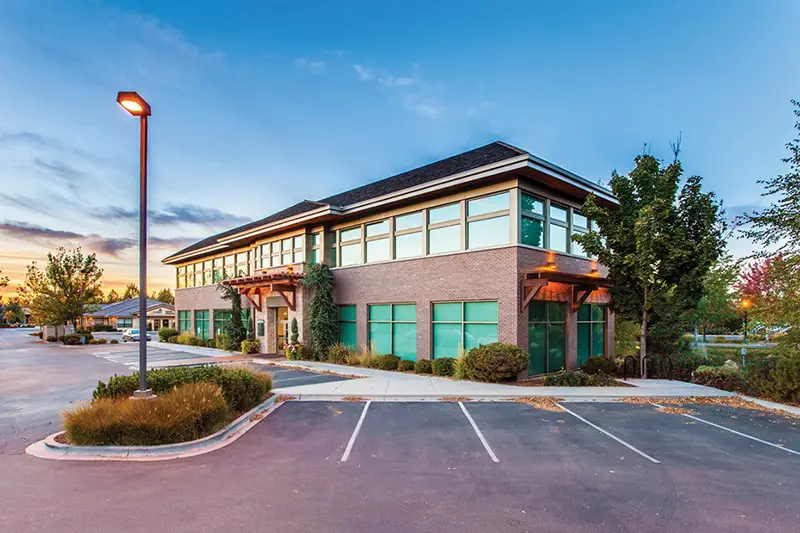 A key driver of success in business is its perception by others. It's human nature to make judgements from our first interaction with a person, brand or experience, and first impressions are notoriously difficult to change.
If you're in the market for a new home, which are you more likely to be wowed by — the well-kept home with a freshly painted front door, clean driveway and tended flower bed, or a house with a broken fence panel, weeds growing from all angles, rotten window frames and overflowing rubbish bins? The same applies to your business — which would you rather be to your customers? A warm presence that invites clients through the door or a dreary one that people won't hesitate to walk directly past?
So how can you make sure your business stands out for the right reasons? We look at four ways to improve the appeal of your brand that'll have new clients, customers and even employees wanting to work with you.
Overhaul Your Office Exterior
When most people think of business appeal, they often think of the interior — the experience you deliver when your clients are through the door. But this isn't how first impressions work; prospects will begin judging your business as soon as they pull up to your premises. To improve the curb appeal of your business, literally, the first step is to ensure you have a quality driveway. Commercial properties often have to endure heavy use and this, plus unpredictable weather, can leave you vulnerable to stains, cracks and potholes. Of course, a stained car park isn't the best way to make a positive impression — it can lead to the perception that you don't care about your property, which could cause visitors to question your attitude to your entire business — but potholes, cracks and other surfacing issues can be dangerous and cause further damage — in some cases, compromising the integrity of the concrete.
If you spot an unsightly crack in your surfacing, it's important to consult an expert. Issues spotted early will often only require resealing, meaning you won't have to deal with the expense — both in terms of actual cost and the potential loss of business — of a new asphalt driveway.
Aside from your driveway, it's important not to neglect other aspects of your exterior. Are your window frames peeling and rotting away? Are your windows themselves grubby and smeared? While you may need to make some bigger fixes, much of making sure your business appeals to visitors is to keep up a maintenance routine — have your windows regularly cleaned, your brickwork repointed and any other exterior areas tidied; even mowing that patch of grass can go a long way.
Redecorate Your Office Interior
Now that your business looks welcoming from the outside, it's important to ensure the rest of your commercial property lives up to expectations.
Space isn't always something you can control — short of uprooting your business to new premises — and it isn't always something that comes in large spades, especially if you share your building with other businesses. What can you do, then, to make sure visitors perceive your company in the right way?
Applying a few simple interior design tricks can help put visitors — whether they're potential clients attending your headquarters for a product demonstration or presentation, or a candidate attending a job interview — at ease.
As we stated, you have little control over how much space your business occupies, but if your building is a little on the small side, you can certainly make it appear bigger.
Bright colours allow light to bounce off the walls and fill the room. If you have client meetings, consider hosting these in well-lit rooms with big windows — you don't want a prospect feeling cramped and claustrophobic. If white is too clinical and safe, don't be afraid to use some colour, but keep it simple and bear in mind colour associations. Red typically signifies danger and puts us on high alert — not the best place to be signing a contract. Blue, on the other hand, signifies professionalism and stability and inspires confidence. If you're working with limited space, darker colours might make a room feel smaller, so opt for lighter shades or accent a white room with coloured artwork or fixtures.
Don't Neglect Your Online Presence
In today's digital age, businesses without a website are at a severe disadvantage. This is where the majority of potential clients will find you — even if you serve a very specific area and rely largely on referrals from previous clients. Before meeting you at your office, prospects will scope your online real estate to get a feel for how you operate.
So if you already have a business website, you might think you're already set. However, it's not always that simple. Just as you want your physical exterior and interior to be welcoming, you want to make sure your website elicits a positive response from users. Adopt a clear and professional layout and ensure your website as a whole is easy to use. Users should be able to find exactly what they're looking for as quickly as possible, not struggling to find basic information about what you do.
When you're happy with your website, it's time to take a further step and look at your wider online presence. If your website is the bright and spacious room you invite visitors to when you pitch them your offer, your online reputation is your driveway and the overall exterior appearance of your business premises. What are customers saying online about you? Research shows that customers trust online reviews as much as the opinions of their friends. Taking the time to cultivate positive reviews by providing excellent service is the easiest way to increase the appeal of your business — and benefit from further sales as a result.
Make Signage Clear
We've all been there — you have an appointment and set out early to make sure you arrive with plenty of time to spare. When you get there, though, the building is seemingly nowhere to be seen. Wasted minutes later when you finally arrive, flustered and frustrated, you discover you've actually been past it several times. If your business doesn't have clear signage, you're setting yourself up for failure before a visitor even walks through your door. At this point, it doesn't matter if you've nailed these other points — your interior might be bright and welcoming, your driveway may be spotless and you may have a stunning and easy-to-use website — if someone struggles to find you, they'll turn up irritated and wanting the whole experience to be over as soon as possible — and that makes your job much harder.
To prevent this, make sure your business name is clearly visible. If your brand uses synonymous colours, showcase them to act as a visual aid. If your building has a specific name that is used across your promotional and marketing materials, ensure this can be seen by passersby — potential clients or prospects attending a job interview won't be able to find you if your building has only a numbered plaque.
Improving the appeal of your business isn't always simple, but it's well worth the effort. By creating that positive first impression from the get-go, all you need to do is maintain it — and that's far easier than trying to reverse negative perceptions caused by neglecting how your business appeals to others.
You may also like: Effective Ways To Find And Retain Your Clients
About the Author
Cliff Best is the head of Bestco Surfacing, a family-owned company founded in 1978. With his vast experience in the field, Cliff has the ability to provide bespoke services for residential and commercial projects. Cliff and his team have completed a number of surfacing projects for high-profile clients such as BT and Network Rail.
Image source: Pexels