Click here to get this post in PDF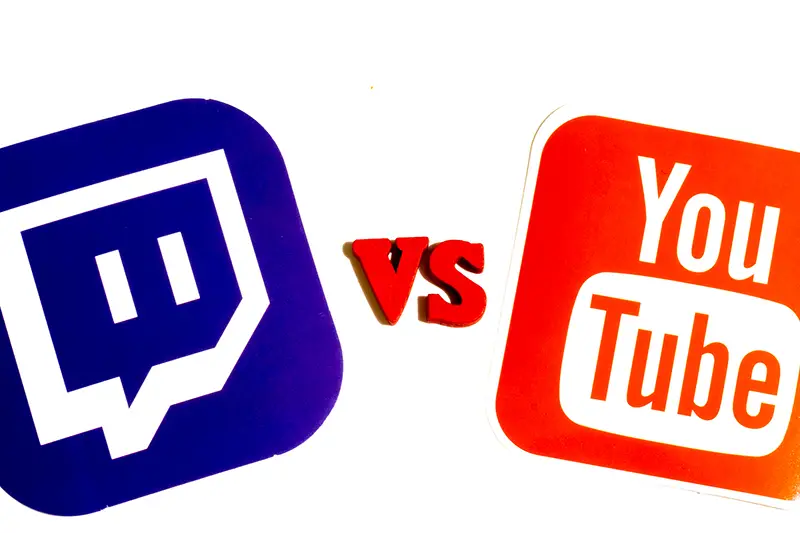 Introduction
YouTube and Twitch are considered some of the best social platforms for video content. YouTube is the best video-sharing platform. Creators buy YouTube views to try and grow on the platform. They use multiple techniques to gain more YouTube subscribers. Twitch is a streaming platform where streamers stream content that is primarily focused on gaming. We have compared both of these platforms to help you choose the best one for marketing.
1. Formats
YouTube offers a variety of formats for its videos. The creator has complete control over the content and the duration of the video. When trying to promote your brand this helps you explore multiple avenues when curating content. You have a lot more to explore. The new YouTube shorts allow you to post shorter videos. Having the ability to post different types of videos on the same platform is an inherent advantage. Having these different formats help you to provide creative content for your audience that helps you to gain more YouTube subscribers.
Twitch is a live-streaming platform. Twitch has become one of the best live-streaming platforms. Many creators spend hours doing streams on the platform. However, only being able to publish content as streams is the most significant limitation. You do have variety in terms of the content you stream, but you have a single format. This is a significant limitation if you are a brand, as you cannot utilize the different posting formats and can only conduct live streams.
2. Advertisements
YouTube advertisements are one of the best tools to promote a brand. They have a well-developed algorithm that helps to post advertisements on suitable videos. Placing advertisements on YouTube helps you reach a large audience. YouTube advertisements offer amazing conversion rates. Many creators buy YouTube views which leads to better campaigns. One of the main reasons behind the success of YouTube advertisements is their ad placement. They focus on showing advertisements to the correct audience at the correct time. With Google being the parent company, they have access to a lot more user behavior. Therefore, presenting advertisements at the correct time increases conversion rates.
If you want to know how to run ads on twitch, it's a very different process because Twitch handles all media placement in-house. This means you work directly with their team rather than a self-serve ad platform. Advertisement on Twitch is not run by all creators. Creators can choose to run advertisements. As the majority of the income of Twitch streamers is from bits and subscribers, big streamers tend not to run advertisements. The streamer and their mods have the entire control of running advertisements. They often tell their audience that there will be a short advertisement break. During this time, many viewers switch off and watch other content till the stream starts. This leads to you losing out on potential customers. Compared to YouTube, the advertisement placement is not optimal.
3. Presentation
YouTube focuses on giving its creators full creative control. The creators can customize all aspects of their videos. There is no limitation to the visuals of their videos. YouTube allows its creators to make thumbnails for their videos. Thumbnails play an important part in the videos. It helps you attract a large mass of viewers. Having an attractive thumbnail helps you gain YouTube views.
This is not the case with Twitch. The streamers cannot choose a picture as the cover of their stream. Twitch decided which frame of the stream they want to use as the cover. This leads to some streams looking unattractive due to an improper cover image. We all know the importance of attracting viewers using visual imagery. Twitch has a disadvantage when it comes to attracting viewers. 
4. Collaborations
Collaborations on both platforms work similarly. You can decide to collaborate with a creator and work out the details with them. YouTube is a video-sharing platform. All of the videos created are stored for a lifetime until the creator deletes them. Having the creator post, the collaboration at a certain time helps you to target the perfect audience for your collaboration. Having these features makes collaboration on YouTube very successful. Creators even buy YouTube views, boosting your campaign. The audience gets to view your collaboration whenever they feel like it and at their convenience. You can be creative in terms of your content and shoot a great video with the creator.
Twitch being a live streaming platform, cannot offer this. You can get a collaboration with a streamer, but it is limited in what you can do. The collaborations are generally in the form of shoutouts during the live stream sessions. The biggest disadvantage is that once the live stream is over, so is your promotion. There is no way for viewers to see it again. Many viewers join midway through the stream, and thus they might miss out on the promotion as well. 
5. User base
YouTube has a huge user base. Data shows that YouTube exceeds Twitch in the number of users as well as the total watch time. YouTube has a diversified user base. People of all age groups and demographics watch YouTube videos. This makes it much easier to target particular audiences for your brand. You have access to a more diverse audience that helps you gain more YouTube subscribers.
Twitch has a younger audience. The average age group of the audience on Twitch is much less. The platform is great if you are looking to target the younger masses. The content on the platform is more steered towards gaming. If you are targeting a young audience interested in gaming, Twitch will be useful for you.
Conclusion
YouTube provides you with a lot of flexibility when it comes to marketing. You have an array of video types to choose from. You get a lot of customizability by choosing to post when your users are active. With a larger age range of users on the platform, it is easier to target an audience that suits your profile. Twitch is a great method for targeting a younger audience; if your marketing is related to younger audiences, gaming Twitch will be your standout option.
You may also like: 5 Essential Content Marketing & Research Tools for 2022
Image source: Shutterstock.com