Click here to get this post in PDF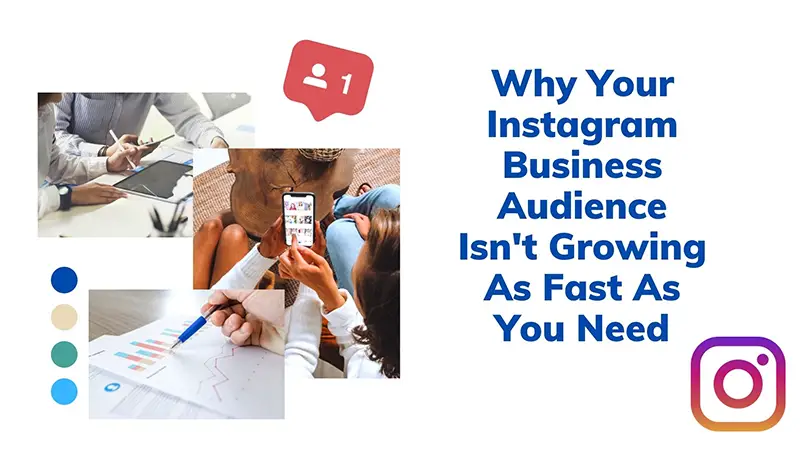 From tutorials and guides, we know that the attention and quality of the audience are vital for anyone who wants to become popular on Instagram especially for businesses. The algorithms of the platform that categorize and display content to users have evolved much and due to high competition, it can be hard to reach your goals and sales. The meaning of a number has changed – just 50 Instagram likes can turn your growth direction to the other side.
In this text, we shall try to understand the reasons that stop your brand audience from increasing and introduce a few tips for solving this problem.
Reason 1: Your Engagement Is Low
The key to having a good tempo of business blog growth is keeping the audience engaged. When you see that your statistic is slowing down the first thing that you should check should be if the level of engagement such as likes is sufficient for your following base. In case when your audience is lacking this metric, the growth will stop, and regression begins.
Luckily, this problem can be solved easily. You simply begin to enhance the communication with your potential customers and eventually the number of your fans and likes will start growing again. Here are the most versatile methods to maintain the engagement rate and sales numbers:
Respond to comments and direct messages asap
Aim for sincere responses
Avoid blank answers, or smilies instead of words
Keep up the same style of communication all the time. If you have chosen a witty and sharp manner of speech, don't go all fluffy and sweet all of a sudden.
Reason 2: Inconsistent Posting
The canvas of brands' popularity on Instagram is a consistency of posting. Irregular uploading irritates users and customers and they will stop following you eventually, especially if gaps without content to consume are too long. Besides, without an established schedule, you will lose visibility on the platform, and this factor brings dire consequences if you will not react to the problem quickly.
Being regularly present on the platform you can secure not just increasing of your viewership and likes, but empowered bonding with the audience that your business already has. Here's what you should do:
Create a content plan which will be comfortable for you to produce
Save some back-ups for unpredicted situations and emergencies
Plan some rest and vacations to renew your resources and get fresh ideas and materials for content
Reason 3: You Don't Use Stories
Stories are cool. This type of content is gaining the biggest attention from users all across the network for each business. And if you are not posting Stories, you lose a huge chunk of potential. Hence, your crowd will not enlarge. Stories are a great attention grabber tool, so it is very unwise to avoid them.
Some useful tips to remember when you are diving into the swift world of Stories:
Lessen the number of "talking head" type of Stories to the minimum
Repost your new posts from a feed
Collaborate with influencers
Play with your viewers – to your luck, there are helpful options to wield: questions or AMA, polls and quizzes, reactions, countdowns
Post daily – Stories help to keep the interest of customers higher
Don't upload too much. Overdoing your Stories leads to a loss of interest in your business content in general.
Reason 4: Not Enough Collaborations
To increase your brand audience, you should interact with influencers or other brands in your niche. This is a sort of cross-promotion that should not be neglected. If you will keep yourself as a loner, your name will not be spread widely – after all, Instagram is a social network, and communication is the main purpose of it. Don't be afraid to approach famous influencers – making bonds with more successful members of the community is a precious experience for your business and will give you more likes and other engagement metrics.
Visit specific events in your region – this is a good way to meet new customers
Tag and set up the topics for collaboration yourself – the initiative will be rewarded
Aim for more connections to spread your influence further and attracting new customers
Reason 5: You Are Not Sincere
At the beginning of the blogging era, it was easy to fool the viewers with fake images of cool pictures from other resources to get lots of likes. But nowadays users are not naive and your dishonesty can cost you a lot. Losing the trust of your brand's audience is what provokes massive unfollowing and bad brand image. And the reputation that you have ruined will be too hard to restore.
Hence the best strategy in this matter is to avoid lies at any cost. It doesn't mean that you must show off each second and aspect of business, but what you decide to reveal has to be true and genuine.
Try to decrease the usage of editing apps and retouching. Filters for a more pleasant image of products are wrong for your brand.
When starting a blog, define the range of topics you want to share and discuss. Set the limits for your audience, so you will avoid uncomfortable questions and unnecessary feedback.
Demonstrate lively and unrehearsed behavior to attract customers. People love following the people behind the curtains.
Reason 6: Your Business Blog Is Not Optimised
Along with stuff that concerns your behavior, there are some technical details that may prevent your audience from fast growth. First of all, you should see if your business profile is optimized well. Without proper settings and features, you can miss a lot of possibilities to strengthen your position on the platform.
Set business account
Create a memorable nickname
Fill in the information about your company
Use relevant hashtags and keywords
Develop a brand image
Use recognizable visuals
Reason 7: Users Cannot Understand The Purpose Of Your Brand
This one is quite obvious but still worth mentioning. People will only subscribe and give likes to your account if they see what is it about! So before you even begin producing your content, make sure that you have defined the niche you will be occupying. Aimless product posting isn't going to bring you anywhere because this kind of content is boring. Select a range of topics for you to cover:
Put effort into discovering topics related to your business
Identify your target audience to increase the chance of success
Reason 8: You Create Boring Content
The most insulting, but one of the most popular reasons that cause lack of business account growth. If you see your stats are dropping down there is a huge possibility that your content just doesn't resonate with your customers. With the current state of competition on the platform, the task of creating the most clicking stuff is hardened multiple times. However it still worth trying.
Introduce fresh topics to discuss.
Experiment with types of content you post – taking some risk won't hurt much.
Check your collaborations with influencers, to promote only valuable and worthy products.
Think out of the box. The secret of creating great content is the ability to see usual things from a new angle.
Conclusion
As it comes from this article, there are multiple reasons that slow down your business growth on IG. But with some effort, you can beat them all. The key to brand success is constant analysis and improvement of your performance, hard work, and, sometimes, taking the leap of faith into the sea of experiments.
You may also like: Why Your Startup Needs Social Media Marketing Strategy