Click here to get this post in PDF
It feels like a lifetime since we could write about business or finances without using the words 'difficult economic times' in some context. Those words pop-up in almost all blog posts about retail. Businesses are constantly having to adapt to changes in shopping habits; the rise of online stores and customers demands everything cheaper, delivered quicker and more reusable. It's an even more difficult target to hit.
This goes beyond just your inventory management or branding, but increasingly, businesses have to look at new ways to maintain, if not increase, revenue in innovative ways. Sales and discounts aren't always the way to go, occasionally it's the method of payment that needs to adapt. We've truly entered the age of gift cards and if you're not part of it, it's time to jump on board.
Should I Invest in a Gift Card Scheme?
If it's a term that's new to you, a gift card, sometimes known as a gift certificate, is effectively a prepaid debit card that customers can use instead of cash in either specific stores or a multitude of different shops.
A consumer will pay for a gift card and a set amount of money is 'loaded' onto the card. This can then be used as full or part payment for products by the recipient. It's a great option to give as a gift for those people who might be tricky to buy for, or as a last-minute gift when that special occasion slipped your mind.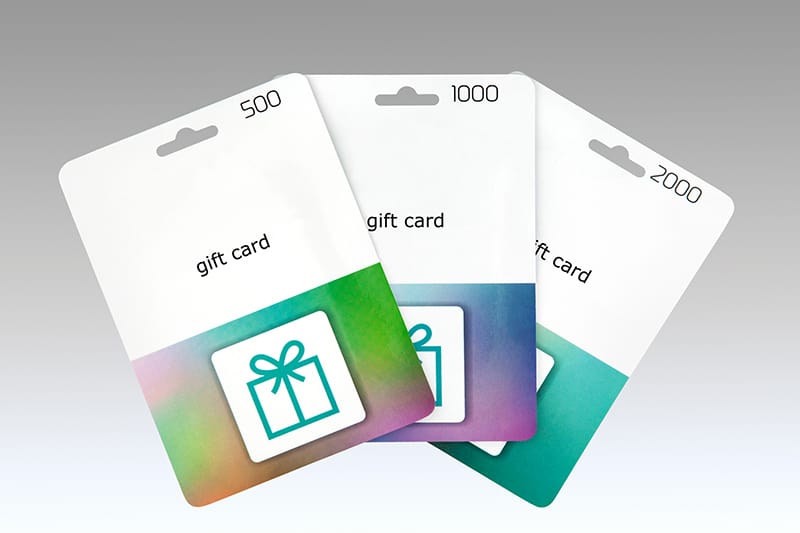 If your business hasn't yet joined the gift card revolution, then you may well be missing out on some fantastic benefits, not to mention a valuable source of revenue and some simple ways to advertise your brand further.
You might not think that some small plastic cards can help you build your brand, but you'd be mistaken. Gift cards offer a very cost-effective way to keep your business at the forefront of people's mind. Once people buy the card, if your logo is on the card, then it will be appearing every time they open their wallet or purse. Given that you'd be producing hundreds, if not thousands of these cards, the ability to promote your brand costs a lot less than newspaper, billboard or even online advertising. This all happens after the sale, don't forget that they'll be sat as a point-of-sale item too, so every buying customer will see them, whether they purchase one or not.
As we continue to live in this difficult econo…. tough financial climate, improving the cash flow within a business is a key factor in keeping the ship afloat. Becoming a gift card retailer does just that. Whether you want to sell 'standard' gift cards or go one step further and offer personalised or custom gift cards, your return-on-investment (ROI) occurs much quicker than the more traditional marketing strategies.
When a customer buys a gift card, you begin to generate revenue immediately, however, the actual sale of the item might not occur until much later, or sometimes not at all! This is even more attractive around busy periods, like Christmas, Easter and many other special occasions throughout the year.
Any new sales strategy is going to be a gamble to some degree, buy gift cards are a fantastic investment opportunity for any business. All joking aside, even in the most arduous trading landscapes, gift card sales remain robust across all industries and sectors. They have managed to increase sales overall year-on-year and continue to play an important role in both winning and maintaining customer loyalty alongside loyalty cards. Isn't it time you gave gift cards their place in your store?
You may also like: Here's How Gift Cards Can Help Startups