Click here to get this post in PDF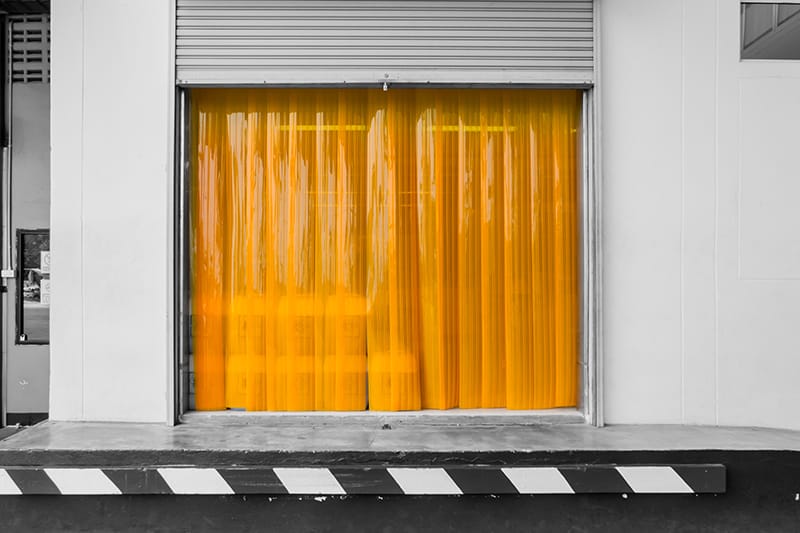 PVC curtains have been around for a while and if you're managing any sort of manufacturing facility, you might be well aware of them. If you're just moving into space, you might be wondering why they're so important and why you should consider using them. PVC strip curtains have tons of benefits that make them a great choice for a variety of industries, and it would be wise to know if they could help in your operation. Let's take a look at some of the benefits of using PVC curtains in your facility.
They Allow Both Access and Visibility
Few materials will allow your workers to be enclosed while still being able to see from either side. This is very important whether you want to keep an eye on your employees or if you need them to be aware of their surroundings. It could also help vehicles avoid collisions by knowing exactly what's on the other side of the curtain at all times. Some of these curtains come with optional red edge strips which are an additional safety feature designed to highlight the edges of the doorway to forklift drivers.
They're Durable
Another great thing about PVC is how durable it is. It might seem like a simple plastic curtain at first glance, but it's much more than that. PVC strip is tough and durable and can withstand all the rigours of even the busiest of work environments. Also, PVC is very different from other thermoplastics in that it forms a carbonaceous crust when burned that inhibits the spread of fire instead of fuelling it, which is why PVC is such a great option for welding areas.
They're Affordable
Another great thing about PVC strip curtains is how affordable they are. The best part is how versatile and easy they are to install. 
Companies like Discount PVC Curtains have a huge range of products available to buy directly from their website.  Whether you are looking for bulk PVC rolls and hanging hardware, or for complete made-to-measure curtain kits, you will be well catered for. They have virtually every type of strip curtains you can find.  You can have either fixed or sliding door curtains, and they sell all the components you need to set up your PVC door curtains. If you want to learn more about them and their selection, you can visit https://www.discount-pvc-curtains.co.uk/.
Great at Maintaining Temperature
A lot of people don't realise how much energy is being wasted when loading dock doors remain open and your heating system constantly has to work to maintain a steady temperature. PVC is the perfect solution whether you're trying to prevent heat from escaping your facility or maintain the temperature in your freezers or refrigerators. It's also a great idea for areas that need tight temperature control but easy access like grow rooms. 
The benefit here is not only that you'll be able to reduce the amount of energy your appliances expand and the chances that they're overworked, but you'll also be able to limit your carbon emissions. 
Reduces Pests and Contaminants
PVC makes for a much stronger barrier than many people imagine and can play a huge role in reducing the number of contaminants released in the air. When combined with proper ventilation, they could allow employees who work with dangerous fumes to stand next to other employees while minimising exposure. Not only do they do a great job at blocking heat, but they are also great at reducing noise pollution in your facility as well. 
Another great way that PVC curtains protect your facility is by providing a barrier against various pests. These are often used in the food manufacturing industry for this reason. These are great at blocking things like birds, mosquitoes, and flies, and should definitely be considered if you're in that line of business.
More Convenient
However, above all, convenience is probably the number one benefit of PVC curtains. They allow employees to step in and out of rooms with ease, which can make a huge difference in your areas with high traffic. They can also reduce the number of accidents in doorways for walk-in refrigerators and freezers.
They demand little to no maintenance and there's no need to constantly check if you closed the door behind you. PVC curtains will allow your team to move with more confidence and comfort, which will eventually reflect in their efficiency levels.
If you still weren't sure about the importance of using PVC curtains in your facility, we hope we were able to clear things up for you. If you decide to go for them, make sure that you carefully assess your needs and go with a supplier with a track record for great service and quality.
You may also like: How to Choose the Right PVC Valve for Your Needs
Image Source: Shutterstock.com