Click here to get this post in PDF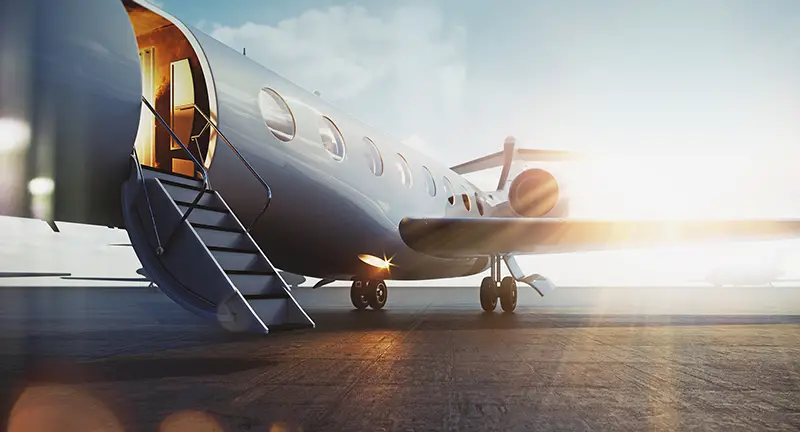 Private air travel has experienced something of an unexpected renaissance in months post-pandemic, with industry professionals indicating that the business travel industry has inflated by up to 10% in comparison to 2019 figures. 
The boom in business travel is unsurprising as travel lanes open back up in the wake of the waning pandemic, but the story of private travel's sudden increase in popularity is more complicated than that. Here we aim to explore the reasons for the increased popularity of private air travel in America by examining three key factors.
The Return of Business Travel
The coronavirus pandemic had a more or less unilateral effect on industries globally. Still, travel was one industry which was hit particularly hard as a function of restrictions in other areas. Stay-at-home orders, restrictions on gathering, closed borders, remote working agreements: all these factors saw the halting of business travel domestically and internationally.
But with the worst of the pandemic seemingly behind us, business travel has started back up again in earnest. This time, though, something is different. Travellers are warier of hygiene, health, and overall safety – leading to a greater hesitation to fly commercially among those who can afford better. 
Concurrently, airlines are experiencing increased disruption as they falter in returning to pre-pandemic operation levels – leading to significant delays and unrest in terminals. As such, private travel has seen a boom in business customers to avoid unexpected and unnecessary delays and guarantee their personal safety throughout their trip. 
Travelling On-Demand
Business flyers taking the private option where possible was the foreshadowing of a much wider trend, which describes the popularity of private travel beyond simple business needs. Private jets for hire are a more convenient travel solution overall, being untrammelled by the airport restrictions and fixed flight schedules. An executive customer can avoid the hassle of security checks and long waits at the gate by essentially flying on-demand. 
Private jet travel also allows for last-minute changes, flight routes extensions, and customizable trip durations. Altogether, private aviation is a mode of travel that offers unparalleled flexibility and convenience compared to the difficulties presented by flights with conventional commercial airlines.
The Experience
The preference for private travel also speaks to a wider phenomenon, relating to the kind of experience to which certain travellers feel entitled. After the rigours of the last few years, those that have come into the finances necessary to afford private air travel are much more likely to spend money in pursuit of comfort. 
Indeed, with the US' average annual savings doubling during the pandemic, spending is set to increase rapidly – and alongside the material benefits of private travel over commercial airlines, the 'executive experience' is a strong draw to a new way of spending.
You may also like: Why Fly Private? Top 6 Advantages for Business Travelers
Image source: Shutterstock.com