Click here to get this post in PDF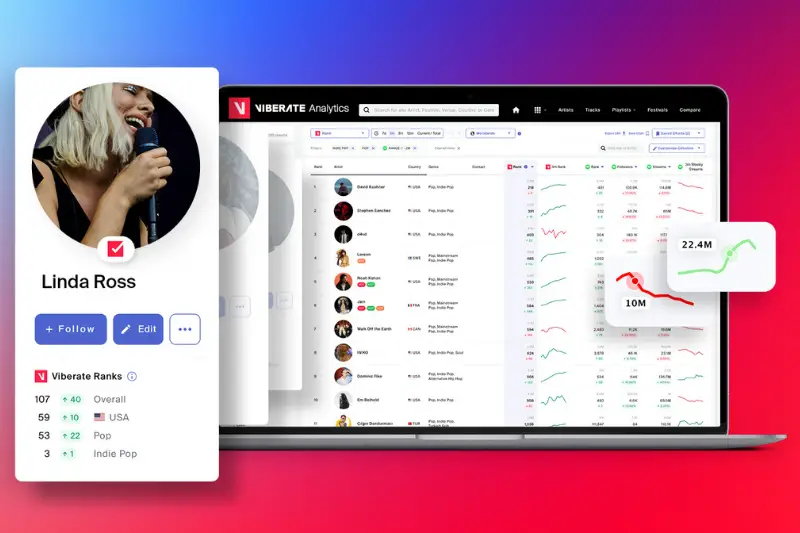 Viberate is not just another music data company; it stands out by making music analytics accessible and affordable for all. With a range of services that include an advanced playlist analyzer, the firm is set on democratizing the field of music data.
Viberate's mission shines through their commitment: "Creating a more inclusive music business by ensuring that high-quality data isn't reserved for the elite, but available for every industry professional." Recognizing that prohibitive costs had previously sidelined indie artists and labels, Viberate stepped up. They've brought down the price of their professional suite from a staggering $129 to a mere $9.90 per month, ensuring quality music analytics doesn't break the bank.
The depth of Viberate's music analytics is unmatched. It keeps tabs on over 1 million artists, converting their performance across platforms like streaming and social media into actionable insights for strategic decisions. The platform stands out by offering analytics tailored for specific channels, such as Spotify and TikTok, infused with data-rich charts, and tools geared for talent discovery.
Viberate explains their approach succinctly: "We map and analyze the entire music industry ecosystem – from artists and tracks to festivals, playlists, and labels. By converting streaming and social data into actionable insights, we aim to streamline talent discovery, promotional planning, and business reporting."
Diving into their Spotify analytics feature, Viberate ensures that every artist on Spotify is under their radar. Their analytics extend to monitoring monthly listeners, which includes a specialized Spotify monthly listeners tracker, alongside tracking followers, streams, and playlist activity. Users benefit from a consolidated view of an artist's songs, where they can sort by streams, release dates, and even listen directly. Additionally, it provides a geographical breakdown, showcasing where an artist's monthly listeners are primarily located.
The playlist analyzer is another feather in Viberate's cap. Focused on Spotify playlists, it dives deep into an artist's performance. It not only tracks playlist placements but also highlights the most successful playlists and songs. One can monitor the reach of a playlist, the number of active playlists over specific periods, and understand the impact of certain song or album releases.
Moreover, with access to a vast database of 12M+ playlists, finding the right fit for an artist's genre or stage in their career becomes a breeze. The range of filtering options is nothing short of impressive – from genre and curator type to song popularity and release date. For instance, if one was looking for Pop playlists curated by indies with a substantial following and a penchant for fresh tracks, Viberate can pinpoint that exact niche.
The platform's ranking feature provides insights into artist performance on Spotify, allowing for customized filtering by country, genre, and more. Viberate's emphasis on the Chart feature is evident, highlighting its potency in talent discovery. With saved filtering options, revisiting tailored charts is hassle-free, ensuring desired data is always within reach.
For those keen on delving into music analytics and leveraging a comprehensive playlist analyzer, Viberate is an essential resource to explore.
You may also like: How Your Company Can Use Data Analytics