Click here to get this post in PDF
Companies worldwide have suffered from the latest economic and social events. Industries like retail, logistics, and tourism are reeling from the effects of the colossal disruptions to markets and supply chains. 
Regardless of the industry you operate in, closely monitoring your company's cash flow and inventory is paramount. There are two ways to manage and track your corporate finance and keep close tabs on your goods and merchandise. Firstly, by integrating a cloud accounting system and secondly by maximising efficiency to free up your time and save money to focus on other more important business tasks. 
A well-developed digitised system can help you achieve your corporate goals. Online accounting software provides you with multiple tools to generate invoices, create financial reports, manage cash flow, evaluate business performance, and share data with your staff on a single platform accessible to everyone. 
When you can overview your corporate performance in real-time, you can plan ahead, strategise your decisions and stay agile to prevent and handle financial challenges. 
This may be the ideal moment to migrate your accounting processes to a cloud-based system. Here are the advantages you can get.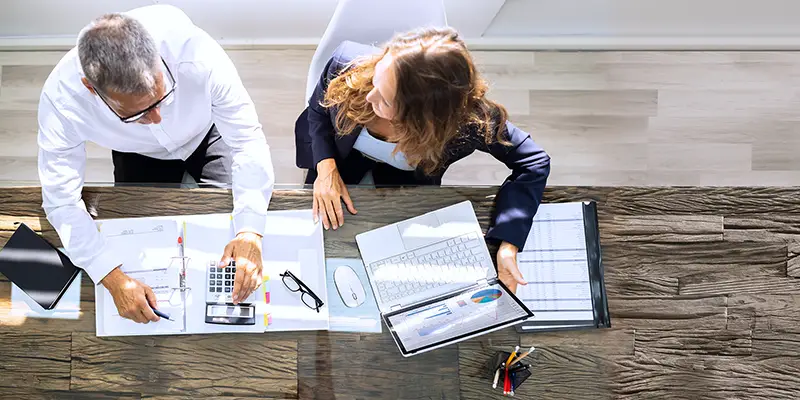 You use a streamlined system
One of the most significant drawbacks of manual accounting is that it's challenging to store all data in a single place. When you rely on a manual accounting system, you store information in several places. Managing financial books and recording data may not be as tricky as gathering information when you need it to create reports. 
Even if your accountant knits your financial data very well and manages the accounting system without flaws, ensuring everything falls perfectly in place and handling information can be difficult. Accessing information may seem like an easy task on paper, but the effort behind it is inexplicable. When you choose to manage your financial data manually, you lose valuable time and money. Software for accounting would make everything easier for you because it enables you to store all data in a single digital system, offering real-time access to information. Switching to a digital programme allows you to access all financial information with a few clicks. 
You can easily access financial information
When running a business, interdependence is vital. Various departments are interlinked together because they must collaborate to complete tasks effectively. This is why well-managed small companies outperform large businesses where departments find it challenging to develop a sound framework that supports cooperation. You can achieve a high level of interdependence by ensuring all your departments easily access critical information. When one of the sectors needs financial updates for a project, it's essential for the data to be readily available. If you manually handle your company's financial information, your staff may find it difficult to access the needed information fast and effectively. 
Your supply chain department needs information about the turnaround of products, and data equips your staff with the necessary information about purchase orders. If you run an eCommerce company, this is of utter importance. 
Besides using automated accounting software you can take advantage of Making Tax Digital that was introduced by HMRC to enable you to get your tax right. 
You can boost your company's productivity
This benefit stems from the above one, which claims that staff gets unparalleled access to financial information when data is easily available. The ease of use is one of the main leverages digital accounting software offers. Providing your team with comfort and convenience is essential because it effectively completes tasks. The main reason for recording accounting data digitally is to keep an accurate record of transactions and analyse data to power business decisions. 
One of your employees may need more than an hour to gather information and create a cash flow. The costs associated with the operation could take ample resources from your business. A digital tool offers your company the comfort of running financial tests on easily accessible data. Your employees can create an accurate cash flow in a couple of minutes if they use automated technology. 
In addition to making your employees' jobs more manageable, you benefit from increased productivity and efficiency if you switch to digital accounting. Furthermore, using accounting software makes your staff more available to focus on other important operations.        
You benefit from increased data security
At the moment, you may use a filing system, but unfortunately, if it fails or cybercriminals hack your database, you can lose critical data. Imagine years of financial information and hard work gone in a couple of seconds. This very fact can impact your company's performance. 
But if you use a cloud-based accounting programme, you can backup your data and secure it in a safe server. Moreover, recovering information from your accounting system enables you to retrieve data essential for your operations.     
You can save resources
One of the main reasons why more and more companies integrate automated systems in their operations is that they enable them to save money and minimise the costs associated with various services. Using a digital accounting programme is more cost-effective than manually handling processes and recording data. Digital software works faster and saves you time so you can focus on the other parts of your business that require your attention. 
You can hire a professional accountant to manage your accounts, but it's more expensive than using an online tool. However, if you already have an accountant to handle your finances, providing them access to a digital tool eases their work. They no longer have to deal with repetitive tasks prone to error due to their monotonous character. 
If you'd ask your accountant the one thing they hate about their job, they'll most likely name the dull and repetitive procedures they must follow to complete their daily tasks. Manual accountants carry the same routine over and over again, getting them into an accentuated state of boredom. The lack of interest and tedious tasks they have to handle can result in mistakes. 
Digital accounting provides companies with countless benefits, and the above ones are only the most popular ones. 
You may also like: 5 Benefits of Accounting Software For Small Businesses
Image source: Shutterstock.com