Click here to get this post in PDF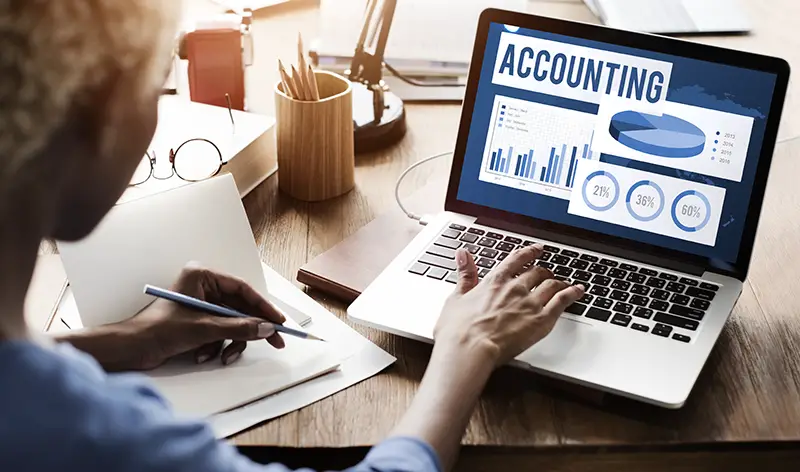 Small businesses across the UK, and indeed all over the world, have a somewhat common DNA: small teams, tight resources, clients who blur boundaries because they know you need them, investors who want financial data as they snap their fingers… sound familiar? 
Given that these characteristics (which are also problems) are part of the DNA of a small business, there's little or nothing that you can do to eliminate them. However, you could certainly navigate them better. 
With accounting software, you can save time, negotiate better with your clients, keep your people happy, manage your capital and tax outgo more efficiently, and give investors financial health updates. 
Here are 5 top benefits that a small business stands to gain from using accounting software. 
Resource management – time 
There is a whole buffet of time management benefits that you stand to gain from adopting small business accounting software. 
Time saved on data entry – accounting software is equipped with Optical Character Recognition technology that allows it to extract data from a scan or a photo of a receipt, bill, or invoice, a bank statement, or an online source. 
Time spent on sorting and categorization – accounting software is able to follow rules on categorization set up by users to develop its own rules based on prior entries made by the user.
Time spent on invoicing-related back and forth with clients – completely eliminate follow-up emails and calls. Small business accounting software tells you when a client opens an invoice and when they pay it. It also helps you send out invoices that look standardised and therefore more professional. These little things count for a budding business. 
Resource management – people 
Your people are a fairly high-cost resource that your company uses daily. However, if clients are hogging their time or expanding the scope of their work beyond what is stipulated in your contract, you should be able to track the time your employees spend on various client tasks. You can achieve this using account management software. 
Once you can track how much time is spent on projects and track the timelines and deliveries of tasks daily, you can always negotiate with your clients more professionally – using hard numbers related to the hours being put in and the jobs being submitted. 
Resource management – capital 
Accounting software is capable of helping you use your capital better and protect your earnings from tax bleed and wasteful spending.
For example, accounting software can draw your attention to areas in which supply chain spending is very high or on the increase.
You can also know the profit and loss implications of upcoming tax laws ahead of time, and you can either correct the course or alter pricing in preparation. 
You can view and approve the expenses put up by your employees at a click or – if the business is growing and you haven't the time for it – you can appoint additional expense approvers: you could perhaps rope in your accountant and/or team leads to pitch in with this. Protect your capital from wasteful expenditure by streamlining your expense approval process – don't be embarrassed; the biggest companies in the world do this. 
Accounting software also allows users to ask other users for clarity on a specific line of data or a specific entry using the in-app chat. Thus, two people, or more, can collaborate on the same sheet remotely.
Know your financial status 
Data flows directly from your business bank account to your books of accounts and as such your books are always updated. Moreover, at any time, anywhere access via synced apps on your smartphone, you can enjoy live and up-to-date financial data access. Never have to request an investor for so much ad an hour to turn around accurate and up-to-date figures ever again? Respond instantly and make the right impression. 
Some accounting software like Dext even helps your bookkeeper conduct a frequent evaluation of your financial health and the state of your books. 
If you are a small business that sells through online retail giants like Amazon, small business accounting software pulls data from 16 platforms, including Amazon and Shopify.
Secure your data 
Small business or large, you do need to adhere to bookkeeping laws and norms in the UK. However, as a small business, you might not have the resources to back up and secure your books for seven years. There's the additional hassle of ensuring day to day security of sensitive data.
Small business accounting software saves your data automatically for seven years, in keeping with laws in the UK.
Your data is also secured by firewall protection or even double firewall protection in some cases. Internal security is also possible because users get unique login IDs and passwords. 
Keen to unlock all of these benefits but not sure if you want to commit right away? Some of the popular accounting software for small businesses will let you have a trial and allow you to make an informed decision. 
You may also like: Best Accounting Software for Your Small Business Startup
Image source: Dreamstime.com