Click here to get this post in PDF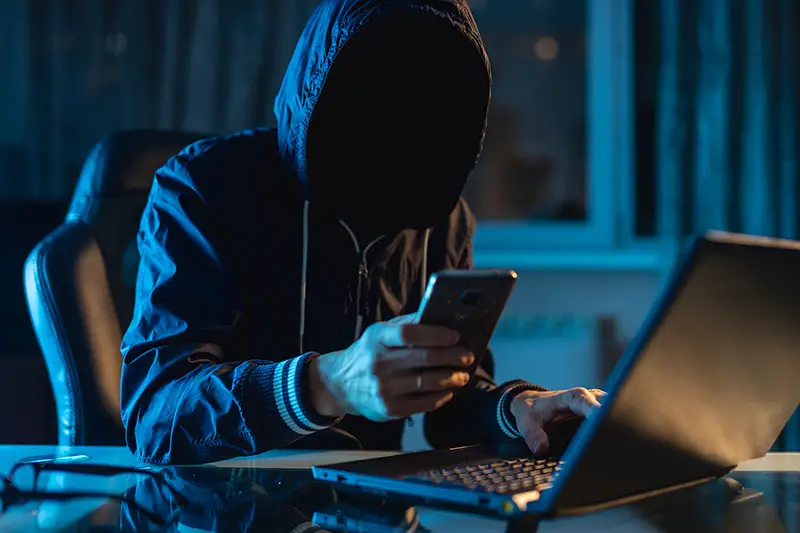 We have all heard news of highly publicized data breaches or huge corporations that were hacked or jeopardized because of cyber security insufficiencies. Some of us have experienced identity theft or heard stories from friends of stolen credit card information or hijacked social media accounts. 
But even though these stories are relatively common, most of us are still more vulnerable to cyber-attacks than we should or could be. The following is a brief overview of how to recognize, and protect yourself and your business from, cyber crimes.
Who is Susceptible?
Cyber crimes affect both individuals and businesses alike. Though some types are more commonly leveraged against one or the other, many types of cyber criminal activity can affect both individuals and organizations alike. As a businessperson or business owner, you are a potential target for cyber criminals on two fronts (as an individual and as a business). Thus, it is imperative that you are aware of the forms cyber crimes can take and how to protect yourself.
What are Cyber Crimes?
The definition of cyber crime is quite broad – Norwich University defines it as "any crime that involves a computer and network." Obviously, this could span a huge variety of criminal activities. For just about any crime you can think of in the physical world, there is likely a cyber crime counterpart.
Most Common Forms of Cyber Crimes
This is certainly not an exhaustive list, but below are some of the more common forms cyber criminal activity can take. Though any of these methods could be used against both individuals and businesses, these are grouped by methods more commonly used either against an individual or a business:
Against Individuals:
Phishing. This refers to emails asking you to send or release personal identifying information that can later be used to commit identity theft or fraud (or in other cases to convince you to download malware, mentioned below). They usually involve some kind of story. They can be generic, like emails from an overseas source asking for financial help, or quite sophisticated, like emails claiming to be from a service you already use like a bank or website.
Online predation. Cyber predators often target individuals by finding them on social media platforms. These predators develop relationships with their targets that lead to not only virtual manipulation but physical crimes, like kidnapping or attacks.
Malware. Malware refers to software that, when installed on a user's computer, can trigger or allow malicious activity to which the user did not consent. This can lead to harmful outcomes such as data theft or destruction, demanding ransoms to release or preserve personal data, or planting reconnaissance tools or ads.
Against Businesses:
Data breaches. If cyber criminals can access a business's internal databases and systems, they can steal or corrupt sometimes enormous amounts of data that endangers both the business and that business's customers or users.
Extortion. By gaining access to, or control of, an organization's data or networks, cyber criminals may then demand a pay-off to release that control. This process can take many forms.
Eavesdropping attacks or network infiltration. These attacks can take a number of forms. In some cases, cyber criminals gain access to networks or sensitive information and the business or organization remains unaware of the infiltration for months or even years.
How to Protect Yourself
Now that you are aware of some of the more common forms of cyber crimes, here are a few practices you can put in place today to better protect both your personal assets and your business or organization from cyber attacks:
1. Keep up to date on best practice. Plenty of resources are available to help you make sure you are keeping both yourself and your business well protected.
2. Know your privacy settings. Our personal information is often more available on the web than we realize. Our social media profiles, blogs, business websites, and more can paint a detailed and sometimes compromising picture of our lives and assets if we're not careful. Make sure you keep your privacy settings secure. Additionally, make sure your family members or employees are aware of cyber dangers and help them stay protected as well.
3. Keep your software current. Many of us forget or don't bother to update our software regularly. But those updates often contain critical security changes that keep our information as safe as possible.
Cyber crimes aren't just a plot device in science fiction movies or threats that only matter to large corporations. They happen every day against normal individuals and small businesses. It is well worth your time to make sure your systems, data, and information are safe from criminals.
You may also like: What Every Business Should Know About Cyber Attacks in 2021
Image source: Shutterstock.com