Click here to get this post in PDF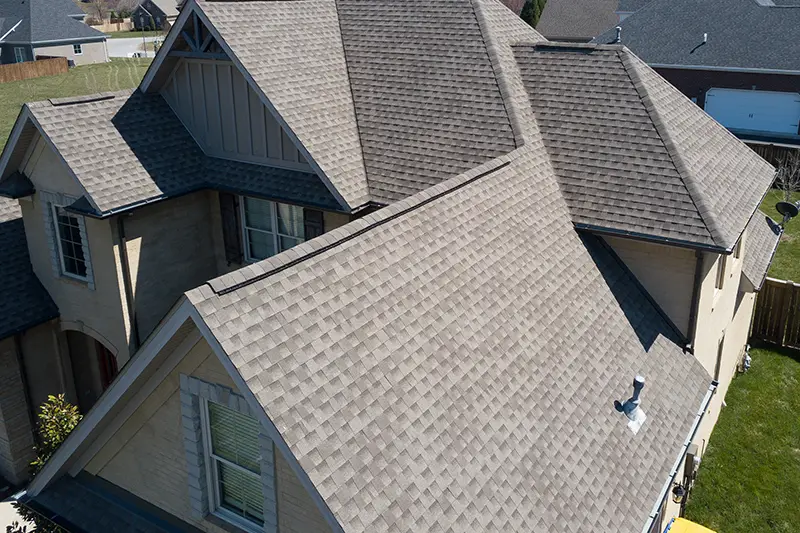 "When do I need to replace my roof?" and "what is the average lifespan of roof?" seem like clear-cut questions, but the answer may depend on a variety of outstanding factors. As a whole, the lifespan of a roof can range anywhere between 15 to 75 years – but it depends on a variety of things. Generally, the more expensive the roof, the more its longevity increases. 
It can be difficult to know when your roof is reaching the end of its lifespan or if it simply needs repairs instead. Here are some tips for determining the overall lifespan of your roof and cues for when it may need a replacement.
What factors impact the lifespan of my roof?
Roofing company Vertec tell us that there are numerous factors that contribute to the overall lifespan of your roof. What is estimated based on materials and installation may vary if your home or commercial building experiences severe weather, infestation, heavy snowfall, or other random events. You may even be able to make repairs that can help to extend your roof's lifespan significantly. But what are the factors that impact the lifespan of your roof?
Geographical location is a big one. Ex: in Calgary, roofing may last (on average – and with common asphalt shingles) roughly 20-30 years. Simply put, different locations see different weather variations, have different climates and have different bylaw regulations for housing and roofing. 
Material is another. Different materials are expected to have different lifespans. For example, the average roof may be constructed from asphalt shingles. A popular choice thanks to its affordability, accessibility, and durability is expected to last between 15 to 30 years or longer if they are "architectural." 
Installation is an important but often overlooked factor in the lifespan of your roof. Hiring a qualified and licensed roofing contractor is essential to ensuring you won't need to replace your roof shortly after having installed it. While you might pay a little more, it can save you money in the long run as you won't have to do any repairs/replacements to fix up the work that was missed. 
Other, less obvious factors may include: 
Exposure to intense sun
Nearby trees (debris can damage roofing)
If your roof is two-layered or single-layered 
The colour of your roof (lighter colours are known to last longer)
Attic ventilation
What roofing materials last the longest? 
The most crucial factor in determining a roof's overall lifespan is the material it is made from. Different materials are known to stand up better to certain temperatures and climates and some may even be more "storm-resistant" than others. It is better to consult a Roofing Near me contractor to get a better idea of which roofing material is best for your home.
Asphalt shingles, the most common roofing material, can last anywhere between 15 to 30 years, depending on their installation and type.
On the other hand, rubber shingles are cheap and can be installed to resemble other materials but may only last between 10-16 years.
Metal shingles are considered to be the most durable materials – or among the top. They can last between 30 to 45 years with good maintenance and repairs when necessary.
Concrete tiles are much heavier than metal and require special roofing structures to be installed properly. They may last between 35 and 50 years.
Finally, cedar shingles – or other wood shingles – may last anywhere from 30 to 50 years. This depends on the quality and the thickness of the shingles.
If you are looking for a roof that can withstand the wear of the years and is durable enough to match the climate that your geographical location tends to see, discuss it with your local roofing contractors. It is advised you shop around and ask multiple companies for quotes to get the best price from a licensed, qualified professional. This way, you can prolong the life of your roof and its effectiveness at insulating and protecting your home from the elements.
You may also like: 5 Steps To Prepare For A Commercial Roof Repair
Image source: Shutterstock.com