Click here to get this post in PDF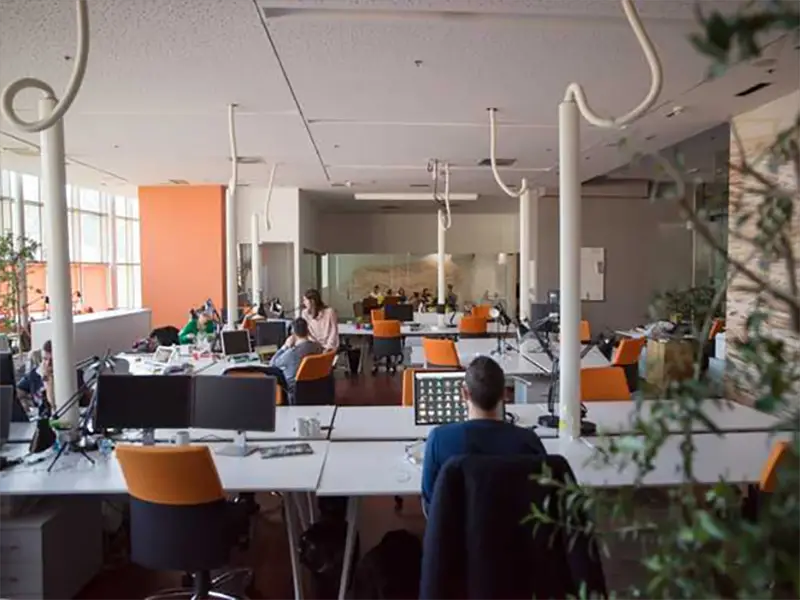 The use of coworking space has grown exponentially since COVID-19 restrictions began to lift. More businesses are conducting hybrid meetings and allowing their employees to work both from home and at the office. These workers have found that flexible office space is best equipped to handle their changing needs.
Using a flexible office space can help you and your teammates collaborate and work more productively. We'll walk you through the key ideas that comprise a flexible office space. By the end of this article, you'll know if coworking space is right for you.
What Is Flexible Office Space?
Flexible office space is the opposite of commercial office space. The flexibility comes from the fact that there is no contract.
You can commit on a rolling monthly basis or for a fixed term. There's also the option to scale up or down as the needs of your business change.
Flexible office space consists of all the tools you'd find in a traditional office. This includes desks, chairs, computers, phones, meeting tables, and so on. These amenities are included, so small businesses don't have to worry about high overhead costs like buying computers and IT setup.
Flexible Office Space vs Coworking Space
The terms flexible office space and coworking space are often used interchangeably.
Coworking spaces are buildings where several businesses rent desks, offices, and meeting rooms all under the same roof. They are designed to be versatile and change to meet the needs of cohabitating businesses and workers.
Types of Flexible Office Space
There are many different kinds of flexible office space arrangements. This variety aims to provide solutions to as many different kinds of workers and businesses as possible.
One popular flexispace option is hot desking. Hot desking is when different clients use the same desk at different times on an ad-hoc basis. Hot desks come equipped with everything you need to start working immediately such as computers, phones, power outlets, and WiFi access.
There is no assigned seating, so workers simply find an open desk in the space and get to work. This leads to cross-business collaboration and innovation since you're sitting next to a new person every day. Hot desking is great for freelancers and remote workers who are looking to make new connections.
If you're the kind of person who functions better with assigned seating, dedicated desks might be a better option for you. These come with all the perks and flexibility of hot-desking, but you'll be working in the same space every day.
Freelancers, entrepreneurs, and self-employed workers are the most common hot desking clients. It helps them combat the loneliness of working at home.
Many coworking & creative studios also offer shared or private offices. These options are awesome if you're working with a small team of employees. You'll get all the perks of operating in a coworking environment while also enjoying a space that is dedicated to your team and its needs.
Good coworking spaces are set up to give the businesses that use them as much flexibility as they need. Being knowledgeable about the different types of flexible office spaces that are out there helps you make an educated decision about which one is right for your needs.
Would Flexible Office Space Work for You?
The answer is probably yes. Employees enjoy an open concept, collaborative environment.
More and more workers are using shared workspace and enjoying its benefits. If you think that flexible office space could work for you, start doing research on the coworking facilities near you. One of them might just become your new work home.
You may also like: 4 Reasons Your Startup Should Consider Coworking Spaces