Click here to get this post in PDF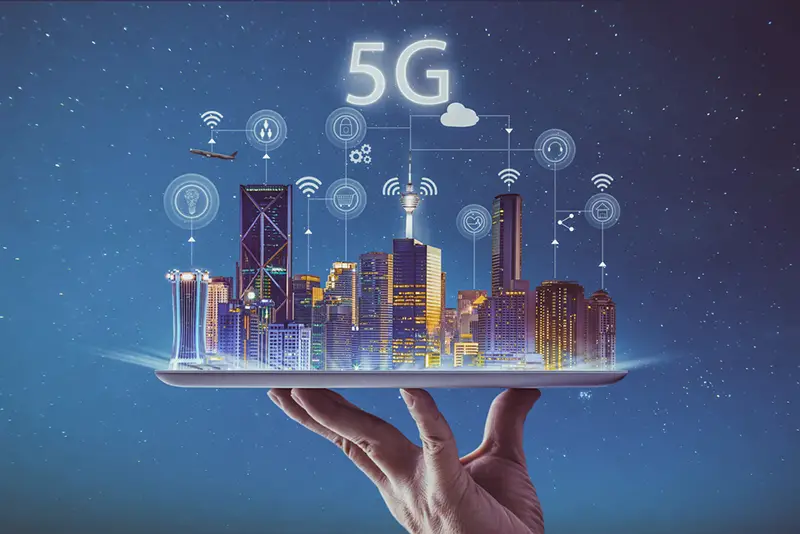 You hear about it and see it everywhere—5G towers are going up. 5G will change the way the world uses the internet. But what impact will 5G really have on businesses? 
Faster Download Speeds
5G means faster download and data transfer speeds than ever before. Some say that as the world makes the move from 4G to 5G, devices could see speeds 10-20 times higher with 5G than what the world is used to with 4G. This may seem unfathomable, considering how quick data transfer is compared to just 10 or 20 years ago.
It also may seem unimportant. Speeds are already so high, will this change make a significant impact? The short answer is, yes. Businesses are becoming more and more reliant on the digital environment. Any change in speed means a change in productivity and efficiency. Especially as people continue to work from home and telecommute, it makes sense to have the fastest and most efficient network possible. 
Better Network Reliability 
5G also means better network reliability. This is in part because 5G allows more devices to be connected to a network at once without sacrificing speed. This increases the ability for an organization to transfer data without losing quality. Just think if you never had to worry about your devices falling off the network or troubleshooting network problems created by overload. 
Lower Latency
5G also means lower latency. The higher the latency, the more lag you'll notice as information is sent and received. Ever have a friend stand next to you and text you and notice how long it takes before you receive that text? That's latency. The lower the latency, the more productive a day becomes. 
Investing in 5G Infrastructure 
There's no denying it, 5G networks will create big change, and not just in latency and speed. Businesses will have to work to manage networks and invest in their infrastructure. A good policy control function can be of extreme benefit when implementing and rolling out 5G. A good PCF is built on cloud native principles to handle the demands of 5G. It will help communication service providers manage policies in the network and will help prepare the network to support the massive number of devices it can now hold. It can also help customize the network while keeping it reliable. 
It makes perfect sense that such a massive network change will run more smoothly with a PCF. Afterall, it's always important to manage the network and general data flow. Governing the framework for your network can have a huge impact on the amount of time you spend managing it and troubleshooting any problems that do come up. 
Preparing and Training on 5G
Preparing for 5G will take more than investing and learning about managing the network. It's more than switching to a new service provider or network contract. Businesses will need 5G-ready equipment on hand, as well as space for implementation in the budget. This should include everything from preparing and training your team on 5G to expecting more automation and even AI in the future. 
Creating a Plan for 5G Use
The thought of real use of AI may come as a surprise, but it's important to think about the future and where 5G may take your business. Technology is always changing and improving, so strategize about its use and future potential. There's potential to really advance and create revolutionary change to the customer's experience. Try to hypothesize about what some of these changes mean to your business and how you can prepare your team for them early on. Change can be scary after all, so the earlier you can embrace it, the more prepared your team will feel as it happens. 
5G means huge changes in business and the way they function. From higher speeds to lower latency, 5G will help improve productivity and streamline the way businesses operate. This means investing in the technology to support 5G is just as important as investing in the network itself. 
You may also like: What are the 5G trends to expect in 2021?
Image source: Shutterstock.com