Click here to get this post in PDF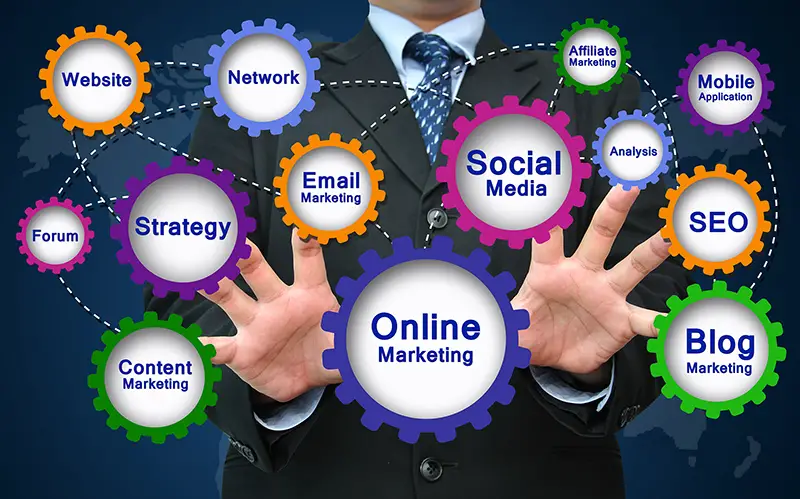 Following the digitalization of so many sectors and industries, marketing has become computerized. Digital marketing involves the use of the internet, internet technologies, and other digital avenues of communication to promote brands, businesses, and services. Internet technologies used in digital marketing include computers, smartphones, social media platforms, and Artificial intelligence, amongst others.
The digital marketing trends include all digital marketing tools and strategies utilized by businesses. Trending digital marketing tools include Mailchimp, SEO-optimization, Hubspot, click meter, WordPress, and more.
9 Digital Marketing Trends Working For Businesses In 2021
In 2021, we have plenty of digital marketing strategies working for a lot of businesses. These business strategies include:
1. Content marketing
Content marketing entails sharing valuable materials related to your business or services to your prospective clients to stimulate their interest and convert them into customers.  Materials used in content marketing include graphics, e-books, articles, blog posts, and podcasts.
2. Search Engine Optimization (SEO)
Social media optimization is the process of enhancing and increasing the quality and quantity of traffic channels to a website. SEO enables your content to be seen by a large number of your target audience; It makes use of keywords used often by people. Proper use of SEO projects your content to become part of the top results seen by people when they make use of any search engine.
3. Voice Search Engine Optimization
Voice search engine optimization enables your content to be seen in voice search results. All you need to do is to optimize your content using keywords often used by people in voice search.
4. Email Marketing
5. Social Media Marketing
Social media marketing (SMM) is the use of social media platforms to market your brand or business. It involves the distribution of valuable commercial content on different social media platforms. over fifty-eight percent of the world population are active users of social media. Hence, you can capitalize on social media to reach a wide range of your target audience. SMM helps to promote your business by promoting direct interaction of customers and business representatives, it also gives room for direct feedback from the customers.
6. Video Marketing
Video marketing uses videos to promote products, brands, and businesses by creating engagements that in turn drive sales. The different forms of video marketing include product demonstration, customer testimonial video, company culture video, and web series among others.
7. Pay-per-click Marketing
Pay-per-click marketing (PPC) is a model used to advertise products online. Here you pay PPC network companies to promote your product or the service(s) you offer. PPC network providers include Google, Adroll, Twitter, Facebook ads, LinkedIn ads, Microsoft Ads, Disruptive advertising, webFX, Adventure media group, amongst others. When you pay any of these companies, depending on the package you subscribe for allows your business, product, or services to be seen by a large number of people and this increases your chance of making more sales.
8. E-commerce
E-commerce is the online buying and selling of products. It models an electronic marketplace where trade transactions are carried out. This integrates e-payment to enable online payment of products, services, and information. According to Sean of Brawl Bros "there are more ways to succeed with eCommerce in 2021 than any other time." E-commerce could be carried out in form of business-to-business B2B, business-to-customers B2C, customers to customers, and customers to business. Introducing e-commerce into your business system attracts a wider range of customers as your sales will not be limited to just your locality but the globe. It's important you choose the proper platform with which to create your online store. If you're looking to create a WordPress ecommerce store, you'll need to know how to code. Alternatively, you can opt for a tool like Elementor. Boasting an intuitive WooCommerce website builder, Elementor enables you to create a WordPress-based online store without having to write a single line of code.
9. Online Financing
Online financing allows you to carry out financial activities such as paying bills, paying for subscriptions, saving, and more online. People now look for easy ways to carry out transactions and make payments without going to physical locations, staying in long queues, or taking the risk of carrying a large amount of money. This changes not just how personal finance is done, but how financial advisors do business as well. Hence, online financing has come to stay and better the lives of people. Businesses that integrate online financing into their system stand a better chance of attracting more customers.
Conclusion
There are people and businesses who sell the same products or services as you. The difference between you and your competitors is your packaging. The way you present yourself to your target audience gives you a higher advantage compared to your competitors. Imbibing any or all of these trending marketing strategies using your unique creative style will give a ninety-five percent growth and progress rate. Taking advantage of these strategies will create more engagement for you, stimulate your target audience and generate sales and profit for you by turning your prospects into customers.
You may also like: Some Digital Marketing Trends You Might Have Missed
Image source: Shutterstock.com