Click here to get this post in PDF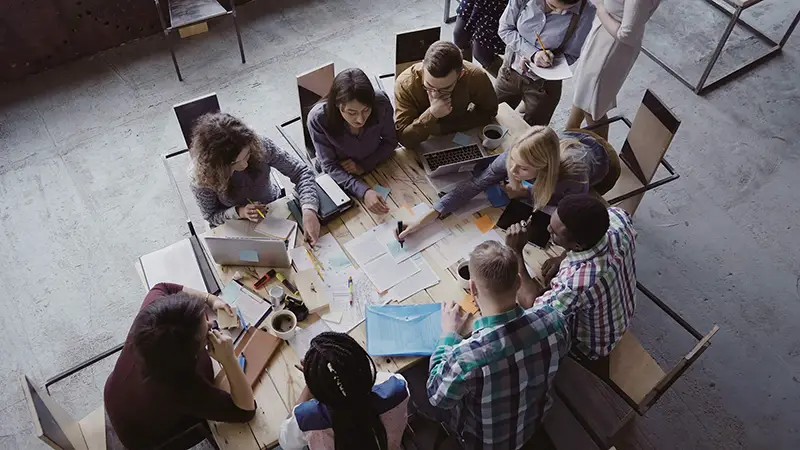 As a business leader, your team is your greatest asset. Your entire workforce as a unit contains all the skills and knowledge needed to form a successful company, and the result is far greater than the sum of its parts.
The only way to draw maximum success from your team is to ensure they work together well. Each member could be at the top of their game, but if they struggle to communicate and collaborate effectively, then they will not produce the best results. In the same way, you could have all of the separate components of an expensive sports car in your possession, but if they're not actually connected to each other in a functioning system, you're not going to get anywhere.
So how can you make the most of your team? The biggest problem is a lack of knowledge sharing. You might think the sales people need nothing to do with your graphic design team, but this line of thinking is flawed. Each member of staff should have an awareness and understanding of the skills and expertise of the entire team to create a collaborative environment and bring the best out of each other.
To help with this task, here are five ways to improve knowledge sharing in your team. 
Remove communications barriers
In many companies, different teams are often kept physically separate from each other. Although this helps to facilitate communication between members of the same team, and can create a culture of exclusion. Although there might not be an obvious reason to mingle the IT department with the folks in marketing, enabling this open environment could lead to ideas being shared and sparks of innovation and creativity flying. 
Facilitate regular meetings
Having regular company meetings where everyone gets a chance to share their updates is an excellent way to ensure all members of the team can see the big picture. It helps them understand the importance of their work and develop a  new appreciation for their colleagues. It may be that the graphic designers have little interest in hearing about the crypto FX trades, and the HR manager switches off when someone starts talking about social media engagement, but at least everyone has a chance to hear and be heard.
Employ collaboration technology
There are so many great tools for enabling the sharing of information across a company. Collaboration platforms like Microsoft Teams enable coworkers to work together on projects, share files, and communicate by video call no matter where they are in the world.
Discourage competition
Although competition can be a great motivator, it is easy to overdo it and hinder collaboration, instead of pitting colleagues against each other to hit ambitious targets, reward collaboration and foster the sharing of ideas.
Create a mentoring system
When a new employee joins the company, it can take some time to adapt to their new environment and learn the ropes. But by initiating a mentoring system, whereby older, more experienced members of the team can share their knowledge, they will be able to develop their skills a lot faster.
You may also like: Six tips for building a team: from solopreneur to entrepreneur
Image source: Shutterstock.com