Click here to get this post in PDF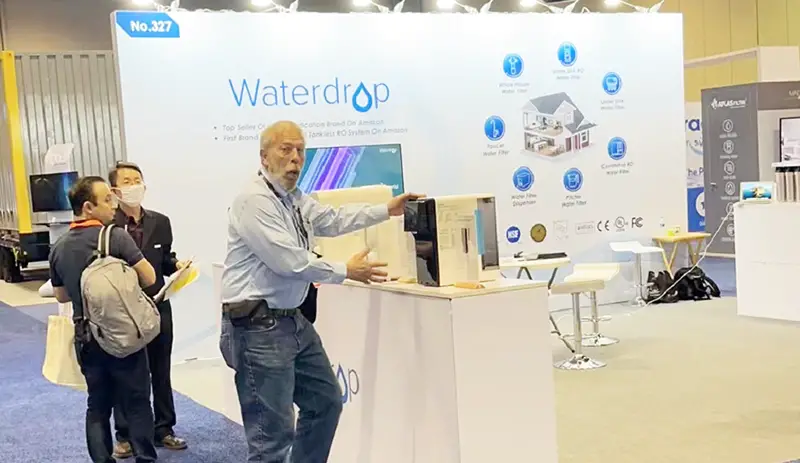 In 2022, Waterdrop was invited to the Water Quality Association Convention and Exposition at the Orange County Convention Center in Orlando, FL. The convention was held in April from the 6th to the 8th in an exhibition area that was expected to reach 25,000 square meters. This is the highest-rated corporate gathering in the water purification field. The WQA Convention and Exposition welcomed over 13,000 exhibitors and 400 brands.
Waterdrop
Waterdrop has built an impeccable reputation as a leader in the purification industry. They have created a sterling collection of new and established products. Products include the multi-stage commercial system, water filter pitcher, water filter straw, the King Tank, countertop water dispenser, and under sink reverse osmosis system.
Visitors and attendees alike were treated to the best new products and sophisticated technology from Waterdrop. In addition, the conference offered Waterdrop the opportunity to show its command of excellent practices and advanced solutions in the water industry. Information and recommendations collected at the exposition will be essential to Waterdrop's future production and improvements.
Regarding Waterdrop
In 2015, Waterdrop was founded to solve water issues for everyone. It has followed the goal of pioneering efficient and dependable purification answers. Currently, Waterdrop has been ranked over other world-class manufacturers in water purification systems.
Waterdrop's Achievements
Waterdrop has well over 200 superior products, including faucet water filters, reverse osmosis water filters, water filter pitchers, whole-house water filtration systems, under sink filtration systems, whole-house water filtration systems, and refrigerator water filters.
To date, the company has over 100 patents throughout various countries and international certifications from the leading authoritative certification organizations in the industry, including UL, WRAS, WQA, CSA, and NSF. Waterdrop's water filters have sustained and passed the FCC and EC 1935/2004 food-grade test for safe materials. All of which reveal the high product quality they represent.
The Growth Of Waterdrop
They first entered the market on Amazon US with the introduction of Waterdrop G3. This product was the first tankless water filter, winning the Red Dot Design Award. This product showed impressive numbers in sales and proved to be only the beginning.
Waterdrop moved forward by enhancing global household drinking water safety. By doing so, it focused on the R&D design, production of water filtration equipment, and at the heart of technologies.
As of April, we saw another great launch from Waterdrop with its hot water dispenser. Unlike other hot water dispensers, this unit had a built-in reverse osmosis system.
Water Filtration
Waterdrop's filtration products include reverse osmosis systems, water conditioning or softening systems, water purification systems, water testing, and analysis systems. Other products include pumps, valves, water meters, sensors, monitors, instrumentation, water coolers, bottled water, and accessories.
The Treatment Of Wastewater
The list of wastewater treatments is almost endless:
reclaimed water reuse technology and equipment
membrane technology and equipment
industrial wastewater treatment technology and equipment
sewage treatment technology and equipment
drinking water treatment equipment
direct drinking water technology and equipment
water circulation equipment
chemical water treatment technology and equipment
ultrapure water production technology and equipment
Also included:
water treatment chemicals
water tanks 
activated carbon UV systems
And the list goes on.
Conclusion
Throughout all, Waterdrop has remained committed to providing full-service whole-house intelligent water purification systems. It offers the best-selling product in South American, North America, Europe, Asia, the Middle East, and many other regions and countries. The brand has helped millions of people across the world improve their drinking water. Waterdrop will continue to protect water health for people in every corner of the world.
If you are concerned about the quality of your drinking water, you should definitely look into Waterdrop; they have built an exemplary reputation in the quality and purity of drinking water. 
You may also like: The Benefits of Drinking The Proper Amount of Water on a Daily Basis