Click here to get this post in PDF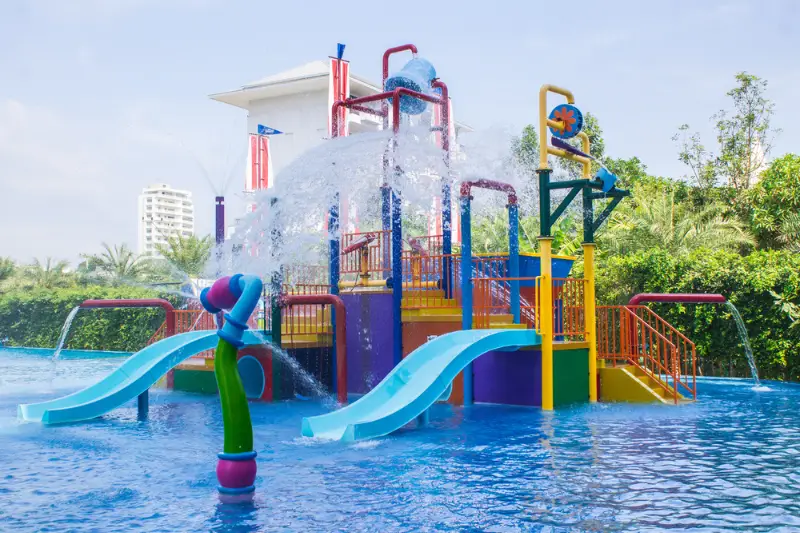 The magical laughter of children playing in water is one of the most heartwarming sounds you can hear at a playground. But in an age where water conservation is becoming increasingly vital, we're faced with a pressing question: How can we give kids the joy of aquatic play without draining our planet's resources? The answer lies with innovative companies like Vortex International, or as it's often called, Vortex USA. If you're in the water park industry or even just a concerned parent, listen up: this is how Vortex USA is changing the game, ensuring that our kids have both a fun-filled and sustainable future.
No Drop Wasted
When you think of a water park, you may picture cascades of water continuously flowing down slides, fountains sprouting up like geysers, and pools filled to the brim. While it's a beautiful image, it's also a water-consuming one. Vortex USA tackles this issue head-on by pioneering water-efficient technologies that focus on smart water usage. We're talking about splash pads designed to recycle water and filtration systems that purify and reintroduce water back into the play features. In essence, every drop is accounted for, and every drop matters.
Material Choices: A Foundation for Conservation
Many overlook the role of materials when considering water conservation, but not Vortex USA. The company chooses eco-friendly, durable materials that withstand the elements, ensuring a longer life span for each water feature. Less frequent replacement and repairs mean fewer resources are needed over time, which contributes to a holistic approach to conservation. They've got it covered right down to the nuts and bolts—literally!
Community and Education
While cutting-edge technology is essential for water conservation, raising awareness about the issue is equally important. Vortex International takes this part of their mission seriously. They are committed to educating the community—both young and old—about the importance of water conservation. Through informational signage near their installations and community outreach programs, they help cultivate a culture of conservation that extends beyond the playground.
Safety and Conservation: Two Sides of the Same Coin
Balancing water conservation with safety could be a complicated act, but not for Vortex USA. Their water features comply with all safety regulations while adhering to water-saving principles. For example, their smart filtration systems not only purify water for reuse but also ensure that the water meets all safety standards. In a Vortex playground, parents can be assured that their kids are playing in an environment that's as safe as it is sustainable.
Economic Benefits
Perhaps you're a business owner concerned about the bottom line. While implementing cutting-edge, water-efficient technologies might seem costly upfront, it's an investment that pays off. Lower water usage means reduced utility bills, and the durability of their products translates to fewer maintenance costs. Moreover, aligning your business with a brand known for its commitment to sustainability can attract a growing segment of eco-conscious consumers.
The Future is Here, and It's Sustainable
If you care about water conservation but also want to give children a joyful, water-filled experience, choosing Vortex International is a no-brainer. Their unique approach to balancing play and conservation ensures that your playground or water park will be a hit with families and Mother Earth alike.
So, if you want to be part of the solution, not the problem, make the switch to Vortex USA. It's not just about providing fun experiences; it's about ensuring those experiences can be enjoyed by generations to come. We owe it to our children, and we owe it to our planet. Let's make the responsible choice today.
You may also like: Why Sustainability Is More Than Just A Buzzword In Business
Image source: Depositphotos.com