Click here to get this post in PDF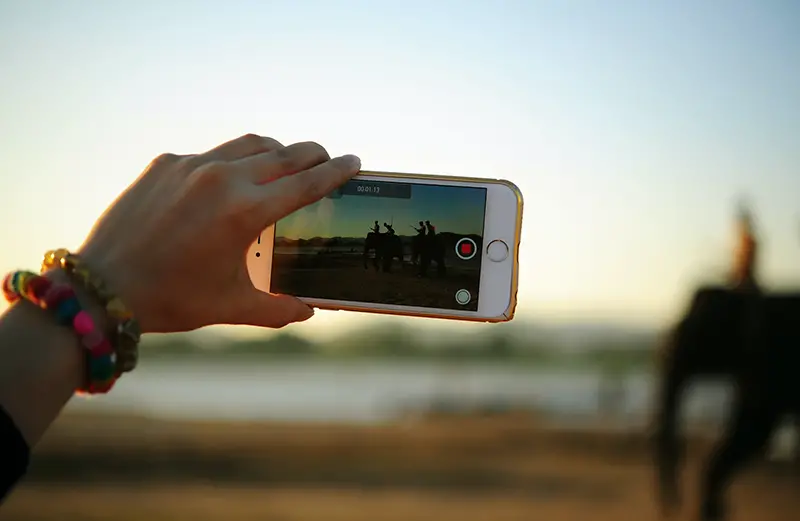 Video marketing has taken over.
Animoto notes that in 2020, video ads were the number one way consumers discovered a brand they later purchased from.
If you're not leveraging videos to make an impact on your brand, you're missing out on potential sales. Written content, striking visuals and corporate video production are important to any digital marketing strategy.
Adding video to your marketing strategy is a great way to make a personal connection with your audience. It's a chance to show you who you are as a company, share your values, and showcase the benefits your product or service adds to your buyer persona's life.
61% of marketers plan to increase their video spending in 2021. You could be falling behind more than half of your competitors by not offering branded videos to your customers.
Before diving into a full video marketing plan, be sure to understand your buyer personas. You won't reap any of the benefits of video marketing if you're not speaking to the right audience. Keep that in mind when constructing your video marketing strategy from beginning to end.
Here are four ways videos can help your marketing strategy and make a name for your brand.
Separate Yourself From the Competition
It shouldn't be a surprise that in most cases, many other companies offer the same products or services you do. There may be minor differences between your business and your competitors, but at the end of the day, the consumer often has a plethora of companies to work with or buy from.
Your branding is what will help you stand out.
Stated by a brand video production company, creating a brand video will set you apart from the competition by telling a story that's specific to your company.
The internet and social media is a noisy and overpopulated ecosystem. Consumers get ads, videos, and an overwhelming amount of content pushed at them every day—this is why it's so important to stand out and make a great first impression.
Increase Familiarity With Your Product
Videos play a massive part in selling to potential customers.
Customers prefer video content over written content—like blog posts and infographics—when learning about products before they purchase. 
93% of brands got a new customer because of a video on social media—that is a staggering stat.
Especially for companies that have more intricate products or a process that is new to the market, showing and explaining that on video will help your audience better understand what you do.
To increase familiarity with your offer, leverage videos that show tutorials, customer reviews, and showcase your product in action.
Connect With Your Audience
Consumers know when they're getting sold to, and they can tell when a company is being inauthentic.
It's important to tell your customers who you are and connect with them on an emotional level. Be sure to talk about your "why."
"Why do you do what you do?" is what you should ask yourself to figure this out. This statement shouldn't be a dictionary-sounding definition. Your "why" should be a combination of your company's mission, tone, and voice, and showcase how you are a real company, run by real people who believe in a real purpose.
Videos can evoke more emotion and connection than text can, which is why they're so effective.
Figure out the pain points your target audience faces and mold your videos and message to those. Making an emotional connection builds trust with potential customers. When people trust you, they're more likely to buy from you. 
As an example, let's say you sell a program that is most beneficial for moms who work at home and need to find extra time in their day to spend with their kids. Creating a video showing a chaotic scene of a mom trying to work on her computer while being tugged in all directions by her kids, then jumping to a calm and serene setting of her using your program and spending time with her kids would speak to your audience. It shows that your brand knows your audience's struggles and that you're here to resolve them.
With video marketing, you get to choose how your audience receives your message rather than leaving it up to their interpretation with written content and images.
Video Content Helps With Customer Retention
Keeping your customers coming back is easier and more cost-effective than acquiring new ones. Creating videos that support anything your customers may need is a great way to build retention.
Constructing videos showcasing your company culture will help your audience get a better idea of who you are. Utilizing employees for videos will help create another level of authenticity.
Building an FAQ video series and showing new or different ways to use your product will help keep your audience engaged. For example, if you offer a cleaning spray known and branded for cleaning sinks, but is also safe for jewelry and metal surfaces, demonstrating and explaining its alternative uses will help your brand stand out as even more beneficial to your audience.
Other types of videos that customers like to see are explainer videos, product demo videos, vlogs, and tutorials (Customer Think).
Use Video To Build Your Business's Brand
If you want to grow your company, brand videos need to be a significant part of your marketing strategy.
Unique and compelling brand videos will separate you from the competition, increase familiarity with your product, connect your audience to your brand, and increase your customer retention.
You may also like: 6 Ways to Boost Your Video Marketing Strategy in 2021
Image Source: Pexels.com