Click here to get this post in PDF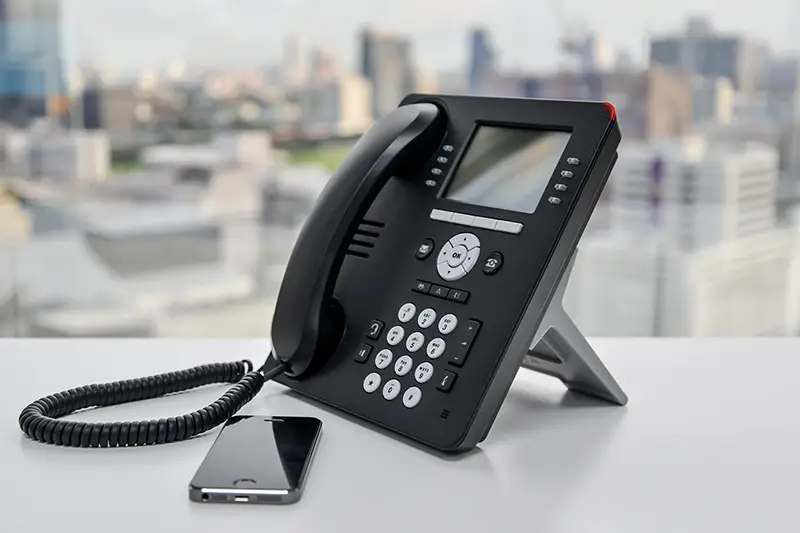 Voice over Internet Protocol (VoIP) allows businesses to make and receive calls over the internet. It converts sound into digital packets that can be sent via broadband internet. In other words, VoIP enables you to communicate anywhere in the world as long as you have internet access. 
It has become a popular technology in recent years, particularly for small and medium-sized businesses. As an entrepreneur, you can reap many benefits from VoIP, such as increasing workforce productivity, reducing overall business costs, offering personalized solutions to customers, and so on. However, it bears worth mentioning that all VoIP providers do not offer similar services and features. Therefore, to be on the safe side, you must consider the following factors before finally signing a contract with the VoIP service provider:   
1. Mobile Apps
Mobile workers often require different apps for their mobile devices. Not all VoIP platforms offer mobile apps with the same quality and services as desktop apps. Though the majority of VoIP service providers offer both IOS and android apps, the quality and features vary for desktop clients and mobile clients. 
For example, if the call is not answered, sometimes the mobile app may not be able to create a log or generate voicemail transcripts. Although there is a push within the industry to make mobile VoIP apps as robust and feature-rich as their desktop counterparts, it is worth testing them for your mobile devices before deployment. 
2. Quality 
At times, VoIP calls can be slow or not clear enough for some users. So much so, sometimes calls might get dropped abruptly. So call quality is one of the first things you need to look for in any business-grade VoIP provider. The best VoIP service providers like Synergy-UK deliver HD audio quality that is comparable to traditional landline calls. Their quality is so good that many people are unable to distinguish between analog and VoIP calls.
3. Total Cost
As a rule of thumb, the total cost of a VoIP service is higher than its advertised price. It is because the advertised price usually does not include any add-ons, one-time charges, or other miscellaneous fees. The vendor should provide a written breakdown of all costs and the total amount. You should expect your monthly bills to be consistent and there should not be any surprises.
4. Customer Support
Until something goes wrong, no one really pays attention to customer service. This is when you wish you had a better vendor. Hence, you are better off getting an ample idea about customer support right from the get-go. Ideally, the service provider should be available via multiple channels, including email, phone, and chat massaging. The support staff should be able to assist you if you have any problems with the service. Apart from that, they must give you an estimate as to when the service will resume working if it is down.
5. Onboarding And Training Programs
Getting your head around a new solution can be a challenge. A quality VoIP provider will offer complimentary training, including training manuals, documentation, and videos that help familiarize your team with the system and allow everyone to get used to the technical aspects.
Determine if training will be conducted remotely or on-site. You might choose one, depending on the structure of your company. While remote training can be convenient, some businesses may prefer to have in-person training.
6. Security
Every cloud-based service you connect to your business must be secure. The reason being, losing your data can wreak havoc on your financial standing, not to mention the reputational damage. You should do your research on potential vendors and find out the one who is responsible for data stored on a cloud-based service. If possible, negotiate terms upfront. Services that provide end-to-end encryption are comparatively reliable. VoIP solutions can be tailored to fit the needs of enterprises. However, more often than not, VoIP service providers place a premium on security. 
7. Mobility
It is crucial to be able to access your phone system from anywhere in today's business world. This makes it easier for your team to take the customer experience to the next level. Thus, find out whether or not the VoIP provider you are considering has a mobile application and what features it offers. Finally, make sure if the mobile app is compatible with your phone's operating system. If you have Apple phones, the app must support iOS devices.
8. Uptime
Providers cannot guarantee 100 percent uptime. Unexpected issues are inevitable because VoIP is over the internet. With that said, most providers will guarantee an uptime of 99.9 percent. It is important to determine what uptime your provider can provide, down to the last decimal. If the uptime percentage does not include maintenance and upgrade time, you may also be paying more for downtime.
Ask your VoIP provider when the service is usually down —whether on weekends or off-hours. This could make a big difference for your customers.
9. Multiple Services 
It can be frustrating to work with several providers for different services. They will often blame another provider for problems. On top of that, you will receive multiple bills every month, making it difficult for you to manage them. That is why you should always prefer a VoIP service provider who is equally good at delivering multiple services. 
10. Call Management
If you have a lot of calls to a particular number (like a service desk), or if the system is busy at certain times of the year, call queuing might be necessary. This allows the VoIP system to intelligently divide calls among different extensions based on geography, availability, and other criteria. The system assigns extensions to users and manages a name directory that connects to your IT department's directory.
11. Online Reviews
Online reviews are a great way to find out which VoIP provider is right for you. You can find reviews written by real customers about each VoIP provider. It is smart to read reviews from multiple third-party customer review sites to get an accurate picture of each VoIP provider's offerings.
Conclusion 
Lately, the demand for VoIP has registered an exponential hike. As a result, the number of VoIP providers has also skyrocketed. While all of them promise the finest services, some often fall short of what they propagate in their marketing campaigns. Therefore, it is highly advisable to walk the tight line of the elements mentioned above in order to get hooked up with the best VoIP service provider. 
You may also like: 4 Advantages Of VoIP For Business
Image source: Shutterstock.com