Click here to get this post in PDF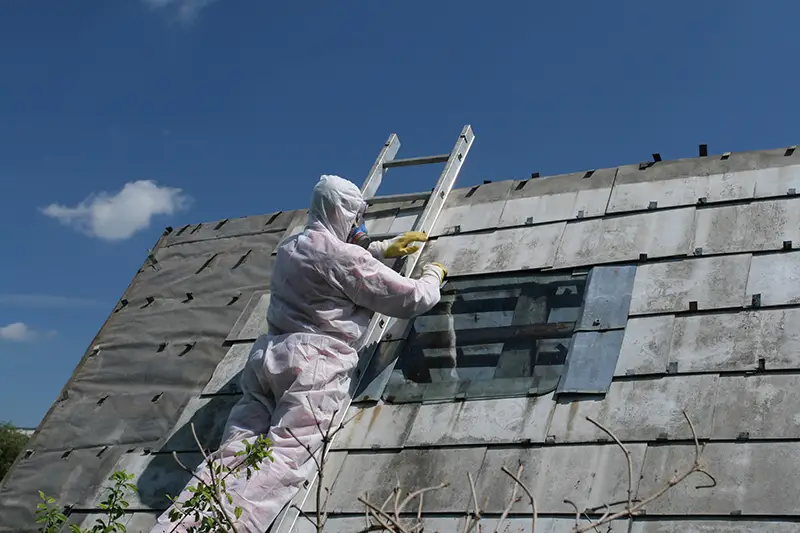 Asbestos, a naturally occurring mineral, has been widely used in the construction industry for decades due to its excellent insulation, fire-resistant, and noise-reduction properties. Despite these benefits, asbestos exposure can pose serious health risks, including respiratory illnesses and cancers such as mesothelioma, if not treated carefully. With the dangers associated with asbestos now well-known, proper management of asbestos-containing materials (ACMs) is crucial to ensure the safety of building occupants, workers, and visitors. When dealing with asbestos in the UK capital, an 'asbestos survey London' or any other UK-based location search can be the initial step in finding a qualified professional to help develop an effective management plan. In this blog post, we'll explore an asbestos management plan, its key components, and the importance of having one in place for any facility with ACMs.
What is an Asbestos Management Plan?
One of the main differentiators that make secure storage from regular storage facilities is the presence of advanced security systems. Certain storage providers invest in state-of-the-art security measures to protect your belongings. These may include 24/7 CCTV surveillance, alarm system and access control. This assures unauthorised individuals cannot access your storage unit, giving you confidence that your items are well-protected.
Key Components of an Asbestos Management Plan
Before developing an asbestos management plan, conducting an asbestos survey is essential. A thorough inspection of the building or facility by a qualified asbestos inspector will help identify the presence, location, and condition of ACMs. The survey results should be documented in an asbestos inventory, a reference for managing and updating the plan.
Once the asbestos inventory has been completed, a risk assessment must be conducted to determine the potential hazards posed by the identified ACMs. This process involves evaluating factors such as the condition of the materials, their friability, and the likelihood of disturbance. The risk assessment will help prioritise the necessary actions to manage the ACMs effectively.
The asbestos management plan should outline the control measures for managing ACMs. These may include; sealing the ACMs to prevent fibre release, establishing restricted access zones to limit exposure, implementing proper maintenance and cleaning procedures, and planning for the safe removal and disposal of ACMs. Also, ensuring employees, contractors, and relevant individuals know the asbestos management plan is key to success. This may involve providing asbestos awareness training, clear signage in areas where ACMs are present, and making the project accessible to those who need to know about it.
An asbestos management plan should be reviewed continuously and updated to reflect any changes in the building or facility, such as renovations or the discovery of new ACMs. This helps to ensure that the plan remains relevant and effective in minimising asbestos-related risks. Moreover, regular inspections should assess the condition of ACMs and the effectiveness of control measures, ensuring that your management plan adapts to evolving circumstances and maintains the highest level of safety for everyone involved.
Many jurisdictions have regulations and guidelines for managing asbestos in buildings. An asbestos management plan helps building owners and facility managers comply with these requirements. An effective asbestos management plan minimises the risk of exposure to asbestos fibres, protecting the health and safety of occupants, workers, and visitors. By adhering to established guidelines and maintaining a comprehensive management plan, you demonstrate a commitment to the well-being of everyone in the building and ensure regulatory compliance is in place.
Conclusion
In conclusion, asbestos management plans are vital in minimising the risks associated with asbestos-containing materials in any building or facility. Conducting an asbestos survey, such as an 'asbestos survey London' search to find a qualified expert, is the first step in understanding the extent of asbestos presence within a structure. Building owners and facility managers can effectively minimise the risk of asbestos exposure by developing a comprehensive plan that includes regular assessments, risk management, and ongoing communication. Also, you would ensure that you are maintaining compliance with relevant regulations and protecting the health and safety of all individuals involved. It is essential to regularly review and update your asbestos management plan to ensure its continued effectiveness and adapt to any changes within the building or facility, protecting visitors' well-being for years to come while staying ahead of any updates you might miss.
You may also like: How To Spot Asbestos In Commercial Buildings
Image source: Depositphotos.com