Click here to get this post in PDF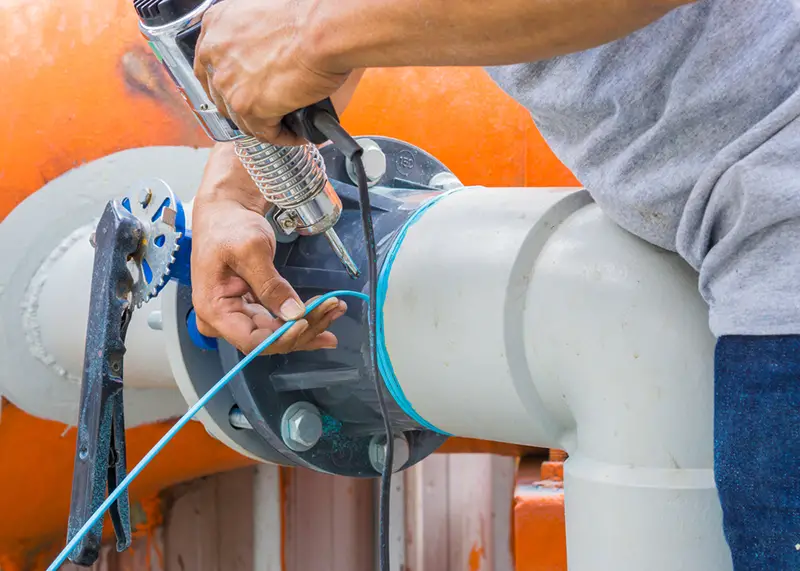 Many technicians in ultrasonic plastic welding shops struggle to disassemble, maintain, and reassemble their stacks. Before you start fiddling with wrenches and damage an expensive machine, take the time to learn how to do proper maintenance. 
Replace the Tip
Replaceable tips are found on smaller horns and designed to be changed whenever worn, or a different detail is necessary. The first step for people with this type is to replace the tip. However, many shops use steel horns that have one built-in. If you have one built-in, you should skip this step.
Disassemble the Stack
Obviously, you are going to need to disassemble the stack to perform maintenance. No matter how carefully a machine was assembled, it will still take significant force to loosen the joints and disassemble the stack. The issue that most technicians face is getting the components apart without damaging them. Vises are available for ultrasonic tooling, and they are your best option. If you don't have access to these, you can use the tools and follow the instructions provided by the manufacturer of your machine. You should avoid pounding on wrenches with hammers. 
Check the Studs
You should perform the first maintenance task by checking the studs and stud holes for broken or missing threads. Good results only come when your welder is in perfect condition. This means you will need to maintain these and replace any that appear damaged. 
Examine the Surfaces
The most important thing you can do to keep your tooling working for as long as possible is to keep the joint surfaces flat. If they become curved, you will face heating and other problems. The key is knowing what specifications they must meet. Your manufacturer should provide you with the specifications for your machine, and it is your job to ensure the surfaces heed these. 
Apply a Treatment
Before reassembling the machine, you should treat the join surfaces. This treatment should only be applied to the flat surface, not the studs. There are various surface treatments available. The most common include skin grease, machine oil, petroleum jelly, washers, and silicone grease. 
Reassemble the Machine
Finally, reassemble your machine using tooling vises. While doing so, minimize the potential for damage to your parts. Ensure that you don't over-torque the joints. 
Performing proper maintenance on your ultrasonic welding machine is crucial. It can help you lengthen your tooling's life and decrease inconsistencies. Therefore, technicians need to know what care must be done. 
Also read: Useful Tips For Industrial Machine Maintenance
Image Source: Shutterstock.com