Click here to get this post in PDF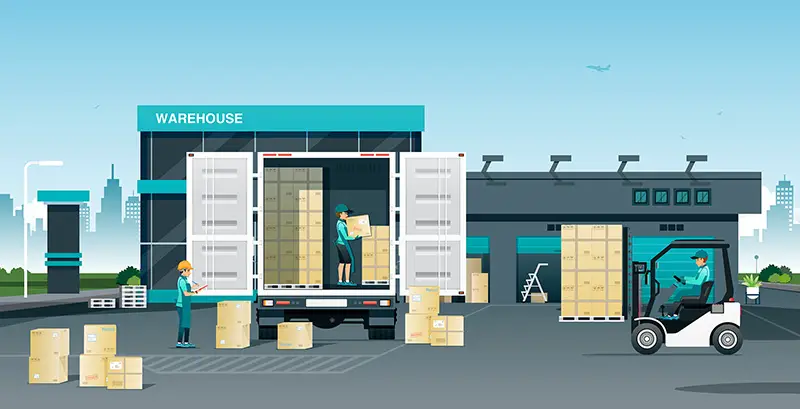 People have grown accustomed to the convenience of e-commerce. The Internet of Things (IoT) allows anybody to create an online business and promote their products online. Nowadays, all one has to do is go online, place an order, and the product will be delivered to their doorstep.   
Now, because e-commerce has grown significantly, it's easy to see how logistics has become vital in global supply chains. It is because logistics facilitates order fulfilment. Therefore, finding a credible logistics partner is critical for an e-commerce business.  
The ideal logistics partner will have the resources and expertise to help you optimize your operations and to capitalize on their economies of scale. By providing efficient transport, warehousing, distribution, and shipping solutions, a qualified logistics partner could help to reduce risk and expenditure.  
However, selecting a logistics partner may be challenging, given the abundance of options. You'll have to consider many factors. As a result, before choosing a partner, you'll need to conduct some research. Also, when searching for a logistics company, it's crucial to keep your company's needs in mind. Below are some more factors to consider in your selection.    
1. Expertise 
Transportation, warehousing, and distribution are all examples of services you can expect to receive from a logistics partner. Almost every logistics company specializes in one or more of these areas. But logistics service providers usually don't provide the same range of services. As a result, you must select a logistics partner based on your needs as an individual or business. The goal is to match the service provider's expertise with your or your company's needs. These needs can be immediate, long-term, or both.
For example, if you require efficient warehousing for storing and order processing, look for a logistics service provider specializing in that. If you need a trucking logistics service provider that offers full truckload (FTL) shipping, look for logistics companies specializing in those types of loads.     
Furthermore, once you've chosen the area of expertise you need, conduct additional research on the companies you've shortlisted to determine the best one for you. It would be best to inquire about their service offerings directly to determine if they can meet your short- and long-term needs. After doing so, you can move on to assess the other factors listed below.
2. Credibility 
If you intend to establish a long-term and mutually beneficial partnership with a company, consider its credibility before choosing them. You want to deal with a company you can count on to deliver excellent service consistently. It must be a credible organization that follows through on its promises. Therefore, before committing to anything, you should consider the company's reputation.   
Now, building credibility takes time. So, it may be easier to gauge the reputation of an established company as opposed to a fresh one. Nevertheless, it's always best to stick with companies with good reputations. You can start your market research by checking online testimonials. While online testimonials tend to be a relatively reliable source of information, conducting a deeper analysis may be necessary to find the right one for you.   
Reviews may not always convey the whole picture. Therefore, you may have to call the company to clarify aspects you may not understand. For example, if you observe that their prices are unusually low, inquire why it is so. Then compare their response to some of the reviews they've received. While lower prices may reflect lower quality, making assumptions before gathering all the facts would be a mistake. As a result, you may miss a genuine cost-efficient company. Nevertheless, conducting additional research may help you accurately determine a company's credibility.   
3. Technology 
The logistics sector has seen a massive transformation because of technological advancements. Technological innovations will continue to emerge because industries are in pursuit of efficiency, and companies invest in them because they provide a competitive advantage. Companies that invest in advanced systems are more likely to stay ahead of their competitors in this fast-paced, digitally-driven society.   
Warehouse automation, cloud computing, machine learning, and tracking systems are among the technologies used by logistics companies. These technologies enable logistics companies to be more efficient while making fewer errors. Moreover, these technologies allow them to handle multiple requests simultaneously.  
Therefore, you need to look for a logistics partner with advanced technology. You can make orders anytime, and because of enterprise resource planning or ERP, they'll be able to address order discrepancies timeously. Also, you can track your orders to see when the order is processed, packed, and delivered to your customers in real time.   
4. Customer Service 
If you're going to engage with a company, they should be proactive, communicative, and able to address your concerns promptly. A logistics service provider should understand that they operate in a competitive environment. If a customer doesn't like their product or service, another company will snatch that customer away from them. So, they should prioritize customer service.  
However, determining customer service quality may be difficult. Invariably, nearly every company you contact will likely claim to be the solution to your every problem. Therefore, you may only be able to confirm this over time.   
Even so, you can look for feedback from previous or current clients in the industry that work with your prospective logistics service provider. Or, you could even check online reviews and assess whether the company is receiving positive reviews. It's generally wise to stay away from businesses with poor reviews.   
5. Network of Locations 

Businesses have varying distribution needs. But your logistics partner must be able to meet your specific distribution needs. So, for example, if you want to deliver your products locally, you need to look for a logistics company with extensive local coverage. Similarly, if you ship products internationally, your logistics partner should have access to the necessary transportation and shipping networks. 
6. Safety Considerations
It would be best to look for logistics companies that take safety seriously. Safety is paramount whether you're employing the company for warehousing, transportation, or something else. They must take safety precautions to ensure packages reach the customer's doorstep intact. As a result, you should assess every prospective logistics service provider's safety awareness.  
If possible, check whether the logistics company has trained their personnel about the necessity of safety. This is especially crucial in warehouses or storage facilities where fragile or flammable products are kept. They should also adhere to industry safety guidelines. To verify this, you may ask for their certifications or approvals.
7. Price and Cost Structure
Before partnering with any logistics company, you need to evaluate their cost structures because these costs may affect your bottom line. You need to estimate the cost per delivery and assess whether the rates are feasible.   
Ideally, you should minimize costs as much as possible without compromising quality service delivery. If you can find a service provider with affordable rates and pricing structures, it can help your bottom line significantly. Some logistics companies use their economies of scale to provide competitive service prices. But you'll have to conduct research to find which service providers offer the best value for money.   
8. Adaptability  
As a business grows, its needs may change. So ideally, you need to look for logistics service providers with the necessary resources, expertise, and capabilities to adapt to your unique requirements as they change over time.   
An adaptable logistics company understands that your needs may require a tailored solution based on your business model. When you start scaling your business, such service providers will be able to keep up with the changes and maintain the same level of productivity.   
9. Efficiency 
As previously noted, most consumers worldwide now anticipate receiving their orders at their doorstep promptly. Thus, timely and efficient delivery is necessary to keep customers happy. Typically, the shorter the delivery time, the more efficient the order fulfilment system. It's also critical that the packages arrive undamaged in the hands of the customer. Therefore, when choosing a logistics partner, consider how long it takes them to pick, pack, and ship to your customers.   
Efficient logistics companies can transport products using multiple modes of transportation, such as trucks, planes, ships, and vans. They'll also be able to optimize routes and determine the quickest one. Thankfully, most modern logistics companies have logistics management software to assist them in optimizing all their processes.  
Conclusion 
Choosing the right logistics partner for your business is crucial. There are many options on the market nowadays, and not all can offer the same range or level of service. Different logistics companies are likely to be competent in specific areas. You can establish the areas of specialization for each company through online research and assessing customer reviews. Then select which logistics service provider matches your needs, meets your criteria, and is within your budget.   
Moreover, it would help if you go for a reliable logistics partner with streamlined processes. Remember, efficiency and reliability are essential features that your logistics partner must have. Orders need to be delivered as quickly and safely as possible to maintain high customer satisfaction. Therefore, you need a company that is efficient at executing order fulfilment. Plus, if you work with an efficient logistics company, chances are you'll be able to reduce logistics costs throughout your supply chain.  
You may also like: Advantages of Warehousing and Storage for a Logistics Business
Image source: AdobeStock